The healthcare sector has long been known to be a defensive sector. And in an environment where this market rise seems to have defied gravity, investors may want to exercise caution within their equity portfolios by shifting some of their equity allocation to stocks that don't necessarily move with the market. With this strategy, compared to just getting out of the market, an investor can at least experience some of the upside if the market does indeed continue to trend higher. But in the event it does correct, at least the impact will be lessened and your income will be safer by holding some of the following stocks.
We looked for companies with a low beta to the S&P 500 and to add additional cushion to any possible price decline, we screened for stocks with attractive dividend yields.
Beta: Beta is the sensitivity of a stock's price relative to that of a benchmark. For example, a stock with a beta of 1.5 will generally rise by 1.5% for every 1% rise in the benchmark. The same will generally hold true for declines.
Dividend Yield: The dividend yield is the amount of the annualized dividend payment divided by the current share price. Dividends are typically paid quarterly. A high dividend provides an investor with income from the investment in that stock, and also provides somewhat of a cushion against price drops. For example, a dividend yield of 5% allows for the price of a stock to fall by 5% per year and the investor will still be breaking even. The key for the dividend is it's sustainability. The higher the cash on hand and the higher the cash flow generated, the more likely the dividend will continue or increase. And we should also be mindful of the payout ratio, which is the percentage of earnings paid out in dividends. A payout ratio that is unsustainable can threaten the viability of the dividend and the company.
We screened with a beta to the S&P 500 of less than 0.75 and a dividend yield of greater than 3.5%. Finally, we screened for companies in the healthcare sector and although not intentional, the most interesting were in the pharmaceutical industry.
The following three stocks met our criteria:
1. GlaxoSmithKline (NYSE:GSK)
GlaxoSmithKline plc is global healthcare group, which is engaged in the creation and discovery, development, manufacture and marketing of pharmaceutical products, including vaccines, over-the-counter medicines and health-related consumer products. GSK's principal pharmaceutical products include medicines in the following therapeutic areas: respiratory, anti-virals, including human immunodeficiency virus, central nervous system, cardiovascular and urogenital, metabolic, anti-bacterials, oncology and emesis, vaccines and dermatologicals.
The company operates in three primary areas of business: Pharmaceuticals, Vaccines and Consumer Healthcare. It has global manufacturing and research and development presence. On January 31, 2012, the Company completed the divestment of brands in the United States and Canada to Prestige Brands Holdings. In August 2012, it acquired Human Genome Sciences. GSK has a beta to the S&P 500 of only 0.63 and a dividend yield of 4.93%.

Click to enlarge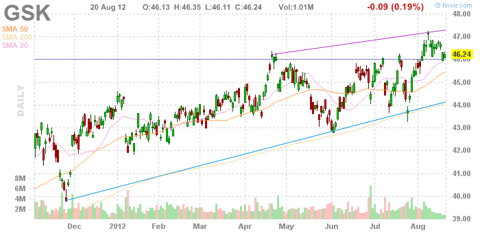 2. AstraZeneca Group plc (NYSE:AZN)
AstraZeneca PLC (AstraZeneca) is a global biopharmaceutical company. AstraZeneca discovers, develops and commercializes prescription medicines for six areas of healthcare: Cardiovascular, Gastrointestinal, Infection, Neuroscience, Oncology, and Respiratory and Inflammation. It has a range of medicines that includes treatments for illnesses, such as its antibiotic, Merrem/Meronem and Losec/Prilosec for acid related diseases. AstraZeneca's products include Crestor, Atacand,Seloken/Toprol-XL, Plendil, Onglyza, Zestril, Symbicort and Zoladex.
The company owns and operates a range of research and development (R&D), production and marketing facilities worldwide. AstraZeneca operates in over 100 countries, including China, Mexico, Brazil and Russia. In August 2012, Alliance Pharma plc's subsidiary, Alliance Pharmaceuticals Limited, acquired the antimalarial brands. In August 2012, the company announced the acquisition of Amylin Pharmaceuticals, Inc. by Bristol-Myers Squibb Company. AZN has a beta to the S&P 500 of 0.65 and a dividend yield of 6.03%.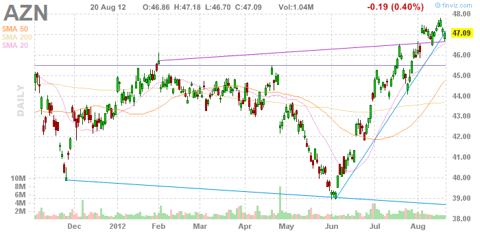 3. Pfizer Inc. (NYSE:PFE)
Pfizer Inc. (Pfizer) is a research-based, global biopharmaceutical company. The company manages its operations through five segments: Primary Care; Specialty Care and Oncology; Established Products and Emerging Markets; Animal Health and Consumer Healthcare, and Nutrition. The company's diversified global healthcare portfolio includes human and animal biologic and small molecule medicines and vaccines, as well as nutritional products and consumer healthcare products.
The company's Animal Health business unit discovers, develops and sells products for the prevention and treatment of diseases in livestock and companion animals. On August 1, 2011, it completed the sale of its Capsugel business. In October 2011, it acquired Icagen, Inc. In December 2011, it acquired the consumer healthcare business of Ferrosan Holding A/S. In December 2011, it acquired Excaliard Pharmaceuticals, Inc. Pfizer has a beta to the S&P 500 of 0.70 and a dividend yield of 3.7%.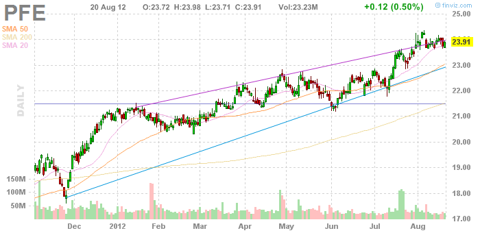 Take a closer look at each of these stocks and determine for yourself if they are a good addition to your portfolio.

Disclosure: I have no positions in any stocks mentioned, and no plans to initiate any positions within the next 72 hours.