Industry might not be booming, but many companies on the market today appear errantly priced in light of their earnings prospects and cash flows. With income investors on the hunt for sustainable yields, some of the most promising of companies appear to be passing unnoticed despite some key metrics indicative of their inherent value. As it stands, some industries are currently being held to a higher degree of scrutiny in light of the macroeconomic uncertainty now underway. Yet for income investors who believe in timely acquisitions of companies who have proven to be leaders of their own market space, the following four companies may prove worthy of future consideration. All values were taken as of August 20, 2012.
| Company Name | Market Cap. | Trailing P/E | Price/Book Ratio | Fwd. Div% |
| --- | --- | --- | --- | --- |
| Cliffs Natural Resources Inc. (NYSE:CLF) | $5.93 Billion | 4.20 | 0.96 | 6.00% |
| Corning Inc (NYSE:GLW) | $17.85 Billion | 8.37 | 0.84 | 2.50% |
| Seagate Technology PLC (NASDAQ:STX) | $13.94 Billion | 5.41 | 4.04 | 3.65% |
| Xinyuan Real Estate Co., Ltd. (NYSE:XIN) | $106 Million | 1.04 | 0.17 | 5.47% |
Cliffs Natural Resources Inc.
Cliffs operates as the largest producer of iron ore pellets in North America and is a sizeable producer of metallurgical coal. With global economic growth teetering on the edge of uncertainty, the steel industry has had a rough time finding confidence amongst the investment community. Yet with analysts expecting $6.17 in earnings this year and $7.91 by the end of 2013, Cliff's now trades at an extremely low price-to-earnings ratio. The company also trades slightly below book value and has significantly raised its dividend yield to 6% in recent history as seen in the chart below. All of these signs suggest the company has strong confidence in itself even as investors shy away from investing.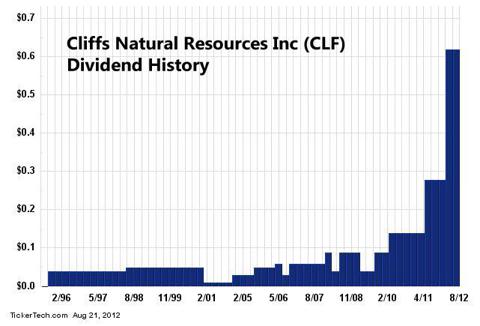 Corning Inc. (GLW)
Corning is a specialty glass and ceramic manufacturer. The company has roots stretching 160 years and has become well-established in many markets, most notably in that of display technologies with its partner Samsung. The company has lately been taking greater strides in diversifying its revenue streams and has been making headlines with some of its more novel innovations. The company's brand of Gorilla Glass for instance has practically become the industry standard in the glass market for mobile devices. Now trading with a price-to-book ratio of 0.84, this veteran company fails to be given the respect it deserves when one considers the abundant cash flows it's now realizing. With operating cash flows of $3.19 billion in 2011, the company felt comfortable in raising its dividend by 50% towards the end of the year.
Seagate Technology PLC
Seagate exists in a practical oligarchy with counterpart Western Digital (NYSE:WDC) and much smaller rival Toshiba. Thanks to many years of consolidation within the hard disk drive market, the company is now reaping benefits of strong earnings that have pushed its P/E ratio down to 5.41. As a result, the company's cash flows have remained robust thanks to pricing control. However, the company's stock has also been repressed as fears of hard disk drives becoming outdated have become a realistic possibility as solid state drives become more established. Yet with $3.26 billion in operating cash flows over the past year, the company has aggressively been buying back its stock and raising its dividend yield. Its abundant cash flows also suggest the likely ability of the company to acquire a solid state drive competitor should it find it necessary in the future.
Xinyuan Real Estate
Xinyuan Real Estate may seem out of place on this short list of names with its light market capitalization of $106 million, but this undervalued Chinese real estate developer has been running on all four wheels since it listed on the New York Stock Exchange. Chinese stocks as a whole have been largely tainted in recent history, and the fears of a Chinese real estate collapse have been rampant for several years. Yet unlike most Chinese companies on US exchanges, Xinyuan has taken the proactive step of buying back its stock and raising its dividend. Having completed a $10 million share repurchase program, the company doubled its efforts and renewed it with a $20 million share buyback. Offering an annual $0.10/ADS rate in 2011, the company broke this up into a quarterly distribution of $0.04/ADS resulting in a 60% yield increase. Now trading at an unheard of price-to-book ratio of 0.17 along with a trailing price-to-earnings ratio of 1.04, income investors might do well to familiarize themselves with this castaway company. Xinyuan is not only impressing on the earnings front, but giving the spoils back to shareholders along the way.
Disclaimer: Please refer to my standard disclaimer found here.