Those who follow my articles on Seeking Alpha, must be familiar with my coverage of the Canada based oil and gas producer Equal Energy (NYSE:EQU). Being a major shareholder in the company, I have advocated for a restructuring that could entail the divesture of the Canadian light oil assets, the U.S. Hunton/Mississippian assets or both.
In response to shareholders' demands the board of directors initiated a strategic review in collaboration with Scotia Waterous on May 3. As a result of this review Equal Energy indicated on August 9 that the strategic review has generated a number of proposals being delivered to the company.
Despite the initiation of the strategic review and the affirmation by the company that it has received a number of proposals, a number of investors continue to lack clarity about the type of potential buyer for the company U.S. assets, specifically the Hunton assets. While a successful conclusion of the review does not require a divesture of those assets - since the company has the option to divest its Canadian light oil portfolio and become a mutual fund trust - it is still constructive to explore the pool of potential buyers for the Hunton assets.
Investors have speculated that MLPs s such as Equal's Mississippian joint venture partner, Atlas Resource Partners (NYSE:ARP), or MLPs with previous involvement in the Hunton, such as LRR Energy (NYSE:LRE) and Eagle Rock Energy (NASDAQ:EROC), could be possible buyers. There is also the possibility of private equity firms with operations in the mid-continent, such as Riverstone Holdings, First Reserve Corp. and Apollo Asset Management. And finally, private Hunton operators such as New Dominion LLC could also have an interest.
Recently however an answer has been delivered about one possible buyer for the company Hunton portfolio: ICON Investments. ICON Investments is a New York based multi-billion dollar alternative asset manager which investments in oil and gas, real estate and equipment finance among others.
On July 12th, ICON investments - through its ICON Oil & Gas fund - filed an S1 registration statement with the SEC in order to raise $200m (with an optional increase to $300m) for the purposes of forming a "blank check" income generating partnership focused on acquiring assets in the Hunton formation. From the S1 filing:
The partnership has been formed to enable investors to own working interests in oil and liquids-rich natural gas development wells. The partnership expects to utilize its specialized processes, including fluid management techniques, to drill development wells in reservoirs where hydrocarbons are known to be present, located in the Mid-Continent region of the United States, with the potential investment in properties located within other types of projects and/or in other geographic areas that the Managing GP may, from time to time, identify as prospective (the "Projects"). The Projects are presently expected to comprise the partnership's entire portfolio.
Further along in the filing, ICON states:
Initially, the partnership's Projects will be primarily targeting the Hunton limestone formation in Oklahoma as well as other formations similar in profile in the Mid-Continent region of the United States. Limestone is a soft, porous rock. It is the pores within rocks in which oil, gas and water are trapped.
According to the ICON filing and fund press release, the fund will be working the local Hunton operator Special Energy to help select potential Hunton assets for acquisition and operation by the partnership:
Pursuant to a Project Proposal Agreement, Special Energy Corporation ("Special Energy") will propose to the Managing GP for investment consideration and approval certain prospects in the Hunton limestone formation and/or other formations similar in profile, as well as conventional oil and liquids-rich natural gas plays in the Mid-Continent region of the United States. Based upon the prior business relations of members of the Managing GP's management team and Special Energy, the Managing GP anticipates (but does not guarantee) that some or all of such proposals will result in Participation Agreements between the partnership and Special Energy to drill wells within the proposed project areas whereby Special Energy will hold working interests in projects in which the partnership invests. The respective ownership interests of the partnership and Special Energy, or any other operator, in each project will be determined at the time each such investment is made.
It is worth noting that Special Energy's core area of operation is directly offsetting to Equal Energy's own core operating areas in Lincoln County and further north in Garfield, Grant and AlfAlfa.
It also worth noting that Mr. Paul Bryden, vice president and senior geologist in the ICON partnership, has worked as a consulting petroleum geologist to Altex Energy (a company focused on the Hunton) between February 2003 and May 2006. Altex was acquired by Equal Energy in early 2006; Altex's assets form the basis for Equal Energy's Hunton oil and gas portfolio. Mr. Bryden has a deep involvement with the Hunton dating back to 2001 and his work with Altex (Equal) make him intimately familiar with Equal Energy's Hunton assets.
Significance for Equal Energy
The formation of this Hunton focused income partnership by ICON is a major vote of confidence in the suitability of the formation for an income based operating model. Furthermore, the involvement of a major asset manager further underpins the economic viability and strength of the Hunton in general and will further enhance the visibility of this relatively unknown formation.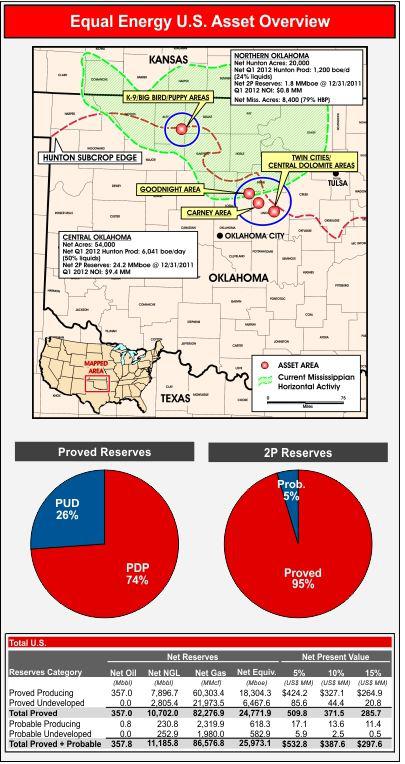 Source: Scotia Waterous
Equal Energy's assets appear to be a perfect fit for the ICON partnership: as of H1-2012, Equal's Hunton assets produced 9100 barrels (46% oil and NGLs) per day and they are expected to generate approximately $49m in annual cash flow in a normalized pricing environment using the conservative estimates of $85 WTI, $34 NGLs and $3.75 NG:
| | | | | |
| --- | --- | --- | --- | --- |
| | Total | Oil | NGL | NG |
| Current Price Assumptions | | $ 85.00 | $ 34.00 | $ 3.75 |
| Q1 2012 Production (bbls or mcf per day) | | 257 | 3890 | 29350 |
| Revenue Adjustment | $ 2.15 | $(0.11) | $ (1.79) | $ 4.04 |
| Royalty Adjustment | $ (0.52) | | | |
| Price-Adj Quarterly EBITDA, no G&A, no hedge | $ 13.49 | | | |
| Price-Adj Annual EBITDA, no G&A, no hedge | $ 53.95 | | | |
| Estimated Annual G&A after acquisition synergies | $ (4.91) | | | |
| Price-Adj Annual EBITDA, no hedge | $ 49.05 | | | |
| EBITDA Multiple | 5 | | | |
| Total Hunton Value | $ 245.2 | | | |
Table Source: GuruFocus - Adam Goldstein
The resulting Equal Hunton asset valuation is $245.2m at a 5 EBITDA multiple, which is exactly in line with the funds being raised by the ICON partnership. However, with the recent rise in oil and NGL prices, there is scope for further upside to the above mentioned valuation.
Both Equal's management and the bankers handling Equal Energy strategic review have confirmed a high level of interest in the company assets. It is highly likely that the ICON partnership is one of the above described interested parties in Equal Energy's Hunton portfolio. Nevertheless, Should ICON opt to purchase an alternative Hunton asset, their investment would still provide an excellent valuation benchmark and further raise the profile of the Hunton Lime formation.
Disclosure: I am long EQU.