I was recently directed by Seeking Alpha founder and CEO David Jackson to an article written by Richard Bloch entitled "Super Size Your Dividends Through The SuperDividend ETF." The article, and subsequent discussion, provided an excellent overview of the Global-X SuperDividend ETF (NYSEARCA:SDIV), which was launched in the middle of last year.
At first blush, there seems to be quite a lot to like about the fund. With nearly an 8% yield and paying monthly dividends, few investment vehicles are putting off this type of income stream, which exceeds the current yield on the leading high yield bond index - the Barclays Capital U.S. High Yield Index (6.82% yield to worst). The fund provides international diversification with two-thirds of the one-hundred companies based outside of the United States. Some investors might also find the equal-weighted nature of the holdings preferable to capitalization-weighted indices - a topic I covered in an article regarding the equal-weighted S&P 500 (NYSEARCA:RSP) in February.
Unfortunately, there were enough negative elements of the underlying holdings to make me pass on this encouraging opportunity. Given the limited track record of the fund, I examined the Solactive Global SuperDividend Index, which the fund seeks to track. This index has data back to February 2006, providing a longer backtest. This global index outperformed the U.S.-centric S&P Dividend Aristocrat Index (replicated loosely through SDY) over this time period, returning an annualized premium of 128 basis points (8.54% vs. 7.26%); however, the Solactive Global SuperDividend Index achieved this return with forty-seven percent more volatility than the Dividend Aristocrats and a visually larger drawdown in the market crash of 2008.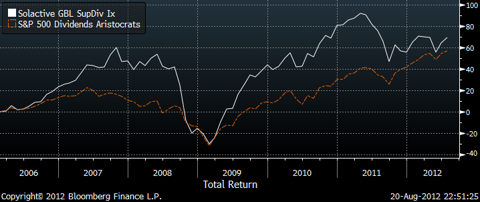 In fact, the return profile of the global dividend index that SDIV attempts to replicate has had risk that more closely resembled the most commonly referenced emerging market stock index.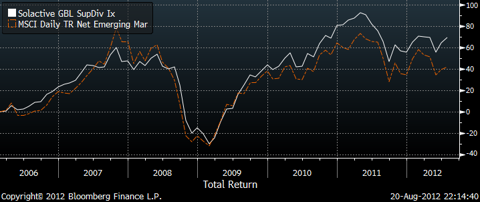 Of course, additional risk is not necessarily a bad thing as long as you are appropriately compensated. If you are using dividend-paying stocks as a low-beta approach to bridge the gap between anemic returns on fixed income and equity returns, then this fund may not be appropriate. In my June article entitled "The Dividend Sweet Spot," I referenced a Morgan Stanley (NYSE:MS) piece that demonstrated that dividend yields between 3% and 6% have produced the best total returns for dividend-paying stocks in the United States over the past thirty years. Dividends above six percent have proven unsustainable on average, driving down the total returns of securities in this higher yielding cohort.
The high beta nature of the portfolio can be seen through the domestic composition. The U.S. constituents in this fund are populated by wireline telecom companies, mortgage REITs, healthcare REITs, and business development corporations. The wireline telecom names include Centurylink (NYSE:CTL), Frontier Communications (NYSE:FTR), Windstream (NASDAQ:WIN), and Consolidated Communications Holdings (NASDAQ:CNSL). I highlighted the three larger telecom names, as well as fellow SDIV constituents Pitney Bowes (NYSE:PBI) and R.R. Donnelley (NASDAQ:RRD), in a recent article that highlighted how the dividend leaders of the S&P 500 (SPY, IVV) are in secularly declining businesses that are returning investor cash instead of generating returns.
The mortgage REITs and mortgage investment firms in the fund include: Invesco Mortgage Capital (NYSE:IVR), Two Harbors Investment Corporation (NYSE:TWO), American Capital Agency (NASDAQ:AGNC), Starwood Property Trust (NYSE:STWD), Armour Residential REIT (NYSE:ARR), CYS Investments (NYSE:CYS), MFA Financial (NYSE:MFA), Annaly Capital Management (NYSE:NLY), Capstead Mortgage Corp (NYSE:CMO), Hatteras Financial Corp (NYSE:HTS), and Anworth Mortgage Asset Corporation (NYSE:ANH). For investors who like the international diversification provided by this fund, domestic mortgage REITs comprise more than any individual country exposure outside of Australia (24%). Mortgage REITs have performed tremendously as interest rates have rallied, pushing up the value of the underlying mortgage backed securities. Low leverage costs and a steep yield curve have continued to sustain this trade. Investors should understand that they effectively own a leveraged bond portfolio through these vehicles, and that rising interest rates could dramatically crimp the value of these funds as we have seen in the modest rate selloff in the last month.
I will continue to follow the performance of this fund, and welcome feedback from other Seeking Alpha readers, but currently will not be adding SDIV to my equity allocation. Perhaps the negative correlation between the mortgage REITs, which will rise in value if domestic interest rates fall due to a weakening macroeconomic picture, and the risky equity portfolio will serve as a constructive asset mix and reward holders with high levels of current income. Investors who desire this high monthly income stream should understand that this fund bears substantially more risk than typical domestic dividend stocks.
To learn more about the fund, see the fund fact sheet, investment case, or prospectus.
Disclosure: I am long SPY, RSP, SDY. I wrote this article myself, and it expresses my own opinions. I am not receiving compensation for it (other than from Seeking Alpha). I have no business relationship with any company whose stock is mentioned in this article.