Introduction
If we could travel to the past and pick two long-term investments, top picks would be Disney (NYSE:DIS) and Boeing (NYSE:BA). For the 30 year period ended July 31, 2012, Disney and Boeing stock return was 4,300%+ and 2,700%+, respectively, This is good, compared to a return of "only" 1,100%+ for the S&P 500 Index (see graph).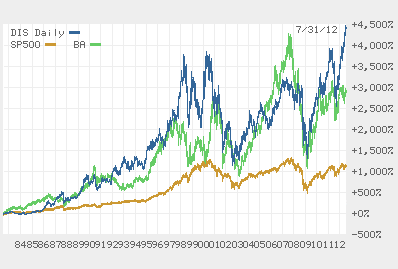 While Disney and Boeing remain solid companies, it is unlikely that their stock prices will repeat the performance of the past 30 years. This article suggests that investors looking to invest in a few companies for the next 30 years should consider Google (NASDAQ:GOOG), Amazon.com (NASDAQ:AMZN), Facebook (NASDAQ:FB), and Starbucks (NASDAQ:SBUX) or GAFS. The reasons that a portfolio of GAFS could significantly outperform the S&P 500 in the next 30 years are that each company has above average growth rates, is a leader in a fast-growth area, and has solid management teams.
GAFS Market Position
According to comScore, Google sites had 66.8% of U.S. searches followed by Microsoft (NASDAQ:MSFT) with 15.7% in July of 2012. Google's global search share is even higher at over 80%. As a result, in its latest quarter, the company reported revenues of $12.2 billion with nearly 90%, or $10.9 billion, from advertising on its own (69%) or partner (31%) Web sites. What is even more encouraging is that digital ad revenue, including mobile, is expected to grow from $21.2 billion in 2011 to $38.5 billion in 2016. Google's near complete dominance in Web and mobile search, ensures that the company will continue to grow as digital advertisement becomes more popular.
Similar to Google, Amazon.com is a leader in e-Commerce. According to Internetretailer.com, the company is the number one business-to-consumer retailer (including online and brick and mortar) in the U.S. and Canada. It is followed by Staples (NASDAQ:SPLS), Apple (NASDAQ:AAPL), and Walmart (NYSE:WMT). Amazon.com is also a leader in bookselling with 29% of the book market in the U.S. followed by Barnes & Noble (NYSE:BKS) with 20% for the first quarter in 2012. Expecting another retailer to take Amazon.com number one position is like hoping North Korea will win after its soccer team was trailing 0-7 to Portugal in the last World Cup.
Facebook and Starbucks are leaders in social networks and coffee, respectively. According to Experian, Facebook received 9% of all web visits in the U.S. and is the number one site here since 2010 and number two globally. Similarly, Starbucks is by far the largest coffee retailer in the world with $13+ billion of sales in its fiscal 2012 year. For comparison, UK based Costa Coffee, which is the second largest international coffee shop chain, had annual revenues of less than $1 billion during its most recent fiscal year.
GAFS Growth Rates And Fundamentals
The GAFS shares are not cheap. Google, Amazon, Facebook and Starbucks trade at a forward price to earnings ratios of 15, 172, 35, and 24, respectively, compared to 13 for the S&P 500. However, based on a price to earnings to growth (PEG) ratio, which takes into account the growth rate, these companies are more reasonably valued. The GAFS' PEGs ratios are 0.99, 1.50, 1.51, and 1.38, respectively. This is favorable compared to a PEG ratio of 1.94 for the S&P 500.
In addition, all of the GAFS have strong liquidity with almost no debt. Starbucks has the highest long-term debt to equity ratio of 0.1 compared to 0.7 for the S&P 500. However, Starbucks is expected to continue growing and use this capital. During fiscal 2013, it will open more than 600 stores in North America and 250 stores in China as well as register a 10-12% revenue growth.
GAFS Management
Another thing that the GAFS share is that they have proven CEOs, who also founded each one of them. The only exception is Starbucks' CEO, Howard Schultz, who joined the company in 1981. Mr. Schultz is also the only CEO among the GAFS who is over 60. However, a likely heir is Michelle Gass, who is under 50 and the president of Starbucks' EMEA division. The CEOs of Google (Larry Page), Amazon.com (Jeff Bezos), and Facebook (Mark Zuckerberg) are all under the age of 50, meaning that a CEO replacement due to old age would not be a problem for at least 20 more additional years. Despite their young age, all of these executives are proven leaders and a number of books, articles and even an Oscar winning movie have been written and made about them and their companies. Clearly, an investor in GAFS, should not be concerned about their leadership for years to come.
Conclusion
A portfolio of GAFS is not without risks. Even Disney and Boeing had periods of large declines during the 30 year period ending July 31, 2012. For example, in 2001, Boeing declined by about 40%, while the S&P 500 declined by about 12%. However, for a period of 30 years, GAFS investors should expect to weather any bumps along the road relatively well at a low cost.
Finally, a buy and hold portfolio of GAFS appears to be an attractive long-term investment idea. An investor in GAFS buys companies with established positions in growing industries that also have solid leadership. The low cost associated with this buy and hold strategy also helps the case for investing in GAFS. While their shares are not cheap, the GAFS are likely to have above average growth rates. Despite their growth rates, all of these companies have none or low-levels of long-term debt, which should ensure a long-term financial stability. I recommend GAFS shares for investors with 30+ years investment horizons.
Disclosure: I have no positions in any stocks mentioned, and no plans to initiate any positions within the next 72 hours.