The collapse of a massive project in Peru might send Newmont Mining's (NYSE:NEM) share price to a new low. Newmont's Chief Executive, Richard O'Brien, has admitted that the $5 billion Minas Conga copper and gold mine in Peru is effectively dead.
Opposition from local residents concerned about water pollution has created an environment in which Newmont and its partner, Buenaventura (NYSE:BVN), will not be able to complete the project, O'Brien told Dow Jones. O'Brien noted that opposition to the project includes the head of the regional government and many others. Newmont stopped work at Minas Conga last year after protests started.
Work at Minas Conga will only start up again if the company can build reservoirs to protect local water supplies from pollution. This action was recommended by experts consulted by the Peruvian government. The earliest that work on Minas Conga might begin is 2014. O'Brien also stated that he was concerned about protests that might hobble operations at Conga, such as farmers blocking roads.
O'Brien also admitted that Newmont will not be able to meet its projected production figure of seven million ounces a year by 2017. That obviously means that Newmont's future revenues will be lower. Newmont produced 5.2 million ounces of gold in 2011; this figure was 4% lower than the production for 2010. This indicates that Newmont will need to add additional production at some point to meet its projections and maintain its gold operating margin of $971 an ounce.
It is clear that Newmont's leveraged profits are going to take a huge hit from the Minas Conga debacle. It is also likely that this is going to drive Newmont's stock price down. The Dow Jones interview with O'Brien appeared on Friday, August 17, just before the market shutdown for the weekend, so the immediate effect on share values was not seen. Newmont was trading at $47.16 a share, and it had been going up at the time.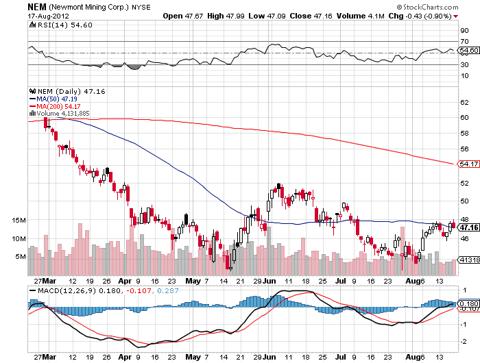 Before then, Newmont had been falling since March, likely because of news about the Minas Conga debacle. Naturally, value investors will wonder if this is a good time to buy Newmont. After all, it is a good company that seems to have made a mistake.
Newmont has a lot of resources and projects in addition to the Minas Conga project. The company has fourteen open pit mines and four underground mines in Nevada alone. It also has another Peruvian mine at Minera Yanacocha that is reportedly the largest gold producer in Peru.
Unfortunately, Minas Conga is the only new, large gold project of Newmont's that is ready to go into production. It is developing two mines in Ghana and is conducting feasibility studies for the development of the Hope Bay gold belt in the Canadian Arctic. The Hope Bay project is not currently included in Newmont's strategic growth plan, which outlines production until 2017. That plan will probably have to be revised because of the collapse of Minas Conga.
Newmont has tremendous resources in Australia. These include the Boddington Mine, which has estimated reserves of 20 million ounces of gold and 2.4 billion pounds of copper, and the Jundee mine, which produced 335,153 ounces of gold in 2010. Another operation in Australia, the Super Pit at Kalgoorie, produced 754,000 ounces of gold in 2010. The super pit's reserves are estimated at 7.54 million ounces. The Tanami mine in Australia's Northern Territory has estimated reserves of two million ounces of gold. Newmont is spending $450 million to dig a new shaft at Tanami in an effort to extend the mine's life.
That means Newmont will still be in a position to generate a large amount of cash without Minas Conga. Unfortunately, it may not have any capacity for growth unless it acquires some more mines or expands existing operations. It might also ramp up the development of some of its other projects, such as Hope. That will be reduced because it will cost money; so earnings per share will probably go down for the foreseeable future.
Newmont is suffering from its decision to concentrate production in a few large mines. Its operations are not as diversified as Barrick Gold (NYSE:ABX) or Goldcorp (NYSE:GG). Newmont is also suffering a decision to undertake a major expansion in a politically unstable South American country. This means it is more vulnerable to political pressure than Goldcorp, which concentrates its production in politically stable countries like the U.S., Canada, Mexico, and the Dominican Republic.
The problems at Minas Conga might make Newmont a good value play but not right away. The company's share values are probably going to fall for the foreseeable future. That means it might be possible to pick up Newmont at a good price in the next few months.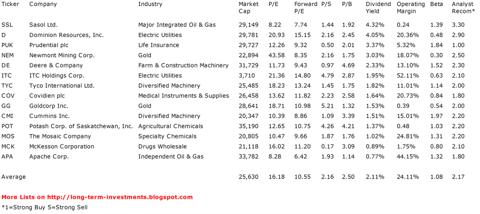 (List of Possible Berkshire Hathaway Acquisitions)
Expect to see Newmont's downward movement to continue until it can demonstrate that it has other production it can bring on line. That will probably take some time, so expect to see Newmont's share price hit some new lows. If Newmont hits new lows, the company might have a new owner, namely Warren Buffett's Berkshire Hathaway (NYSE:BRK.A). Newmont has appeared on some analysts' lists of companies that supposedly meet Buffett's criteria for acquisition. Interestingly enough, Goldcorp has appeared on the same lists. So it looks like Newmont has value, despite its problems in Peru.
Disclosure: I have no positions in any stocks mentioned, and no plans to initiate any positions within the next 72 hours.