Congress has finally decided to consider what President Reagan had proposed in the 1980s. The opening of our coastline to oil drillers seems to be a great move in trying to keep the price of oil down. Not only will it do this but it will also help the United States with its deficit as we will import less oil. It will also provide a new stream of revenue for Exxon (NYSE:XOM), ConocoPhillips (NYSE:COP) and Chevron (NYSE:CVX). This newfound growth will increase capital expenditures as companies scramble for growth.
The most important factor of this drilling is that it is not a want, but a need. Politicians can blame "speculators", world growth, or the filling of strategic oil reserves in China all they want: the most important issue is that we have a major problem. The spiral of oil to deficit to weak dollar needs to be corrected before faith is lost for investors in US currency. If faith is lost, massive selling could cause the dollar to free fall, although it is unlikely, but new investment in the dollar has slowed and needs to be stimulated as the mortgage crisis weighs on our economy.
There are many ways to play the possibility of opening up the coasts to drilling. Benefactors include: oil conglomerates, drilling companies and most importantly companies that make the jackup, semi-submersible and high specification drill ships. When a trade occurs, the first companies to benefit are the ones that get paid first. Current supplies of offshore drilling platforms and ships are already low and would move lower on this announcement. Those that build them already have a high level of backorders, so expect this to increase even more.
Politically, the Democrats and Republicans will fight over this issue, but expect a compromise with the election coming up. The Democrats will make their stand to stop the drilling of the Arctic National Wildlife Refuge, and may even win with respect to how close the drillers are allowed to work from shore. I believe that the Democrats will try to help lower oil prices by pushing through a bill that will allow deeper drilling using the "out of sight, out of mind" perspective. This will increase demand for high specification drill ships the most and provide companies such as Transocean (NYSE:RIG) with increased margins as day rates continue to skyrocket.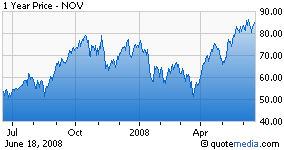 The first quarter was another good one for National-Oilwell Varco (NYSE:NOV). EPS increased 42% year over year for the first quarter. Revenues increased 24% over the same period of time. As of March 31st, their backlog increased from $9 billion (as of December 31, 2007) to $9.9 billion. New orders for the first quarter were $2 billion. NOV's Grant Prideco acquisition is also bullish for the company as they are trying to buy additional growth through offering additional products to their customers. This should continue to increase growth in a sector that is already growing briskly.
The current trend for this stock is bullish from a chart perspective. They are holding their pattern and if the trend holds, have a price objective of $105. I believe this sector is in the transformation stage as are agricultural commodities. This movement can last for many years, and unless you believe that oil will go back down to $70 a barrel, there will be continued growth. When National Oilwell and Varco merged, there seemed to be little problem even though it essentially created a monopoly in the space. There is still time to capitalize.
Disclosure: Long