By Stephane Fitch
Will China's long economic boom now be followed by a long, painful bust? The doomsdayers argue China is heading toward a Japan-like lost decade. If they're right, that could spoil demand for basic materials ranging from cardboard to zinc. The letup in Chinese demand for iron ore, to take one very narrow example, is being blamed for softness in that market: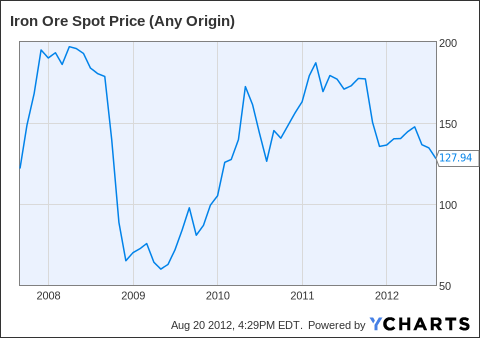 So given the weakness in iron ore prices, just how great a bargain is Cliffs Natural Resources (NYSE:CLF)?
Cliffs got 89% of its revenues last year from the sale of iron ore it pulled form its mines in North America and Asia. (Its coal-mining operations account for just 7.5% of its revenues.) Many investors have abandoned Cliffs shares, which have tumbled from a high of $100 last year to a recent $45, on the assumption that if iron ore is getting cheaper, Cliffs stock is worth less -- a lot less -- too.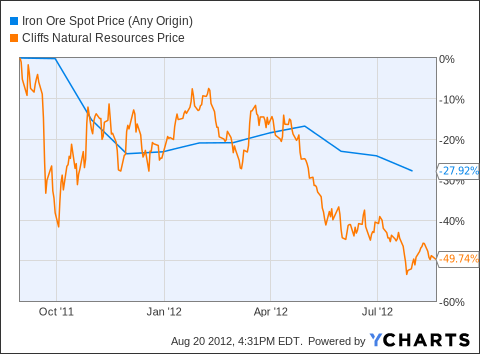 They're too pessimistic. Cliffs can weather lower iron ore prices, just like it did during the global economic meltdown back in 2008. If you don't buy into the idea of a major China meltdown and a massive falloff in basic commodity prices, Cliffs offers a very cheap way to bet against the doomdayers -- and get paid a nice dividend yield while you wait to see how your wager pays off.
Cliffs earned a solid $1.6 billion on $6.8 billion in revenue last year. Its debts, while significant, are not overwhelming. Its debt-to-equity ratio is lower than that of other mining stocks, such as Consol Energy (NYSE:CNX), Peabody Energy (NYSE:BTU), and Cloud Peak Energy (NYSE:CLD).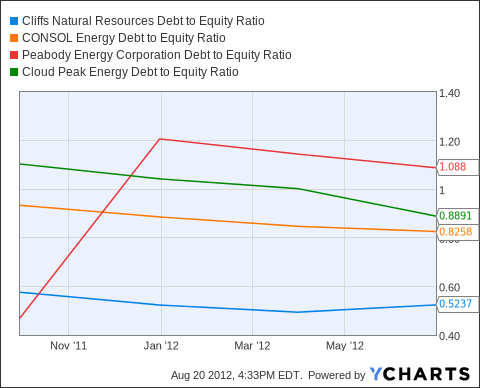 The company's stock is a component of the S&P 500. But Cliffs shares have one of the lowest P/E ratios of any stock in that index. The average S&P 500 stock is trading at 16 times earnings. Cliffs stock is trading at 4.5 times the $9.89 it has earned in the trailing 12 months and 7 times the amount it is projected to earn in 2012. In fact, Cliffs' P/E ratio is significantly lower than other mining stocks', such as BHP Billiton (NYSE:BHP) and Walter Energy (NYSE:WLT).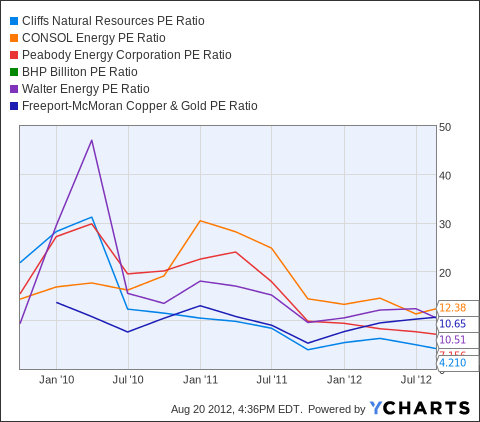 It sports a higher dividend yield than other mining stocks do as well: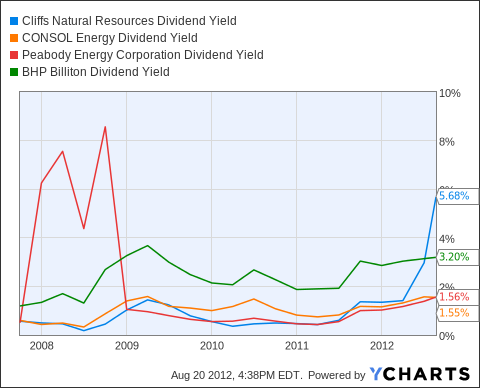 The low P/E ratio would be justified if Cliffs were heading back toward the small per-share earnings figures its investors endured before 2005.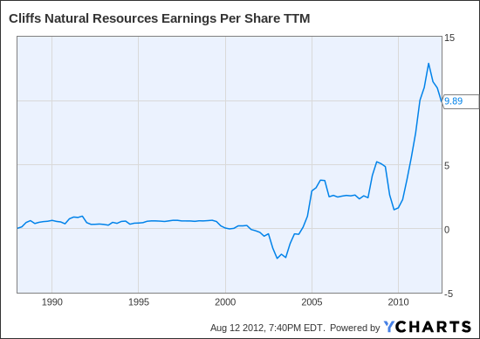 But the analysts who follow Cliffs don't expect to see those very low per-share earnings again. The company has abandoned its old cyclical sales pattern and found ways to sustain more revenue growth for longer stretches in recent years. So analysts are projecting the company will haul in well more than $7 a share in 2012.
By the way, even if Cliffs misses those earnings expectations by a dollar or two per share, there's enough cash flowing here to cover its $2.50-a-share dividend.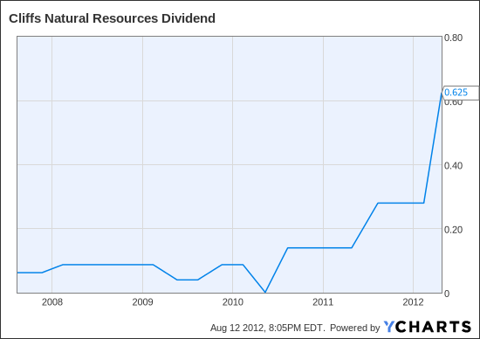 Cliffs shares have a habit of retreating to these very low P/E ratios. The last time they did, in early 2009, the stock subsequently went on a tear.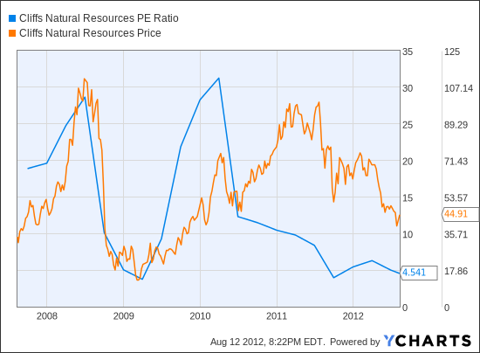 Cliffs is rated Attractive by our YCharts Pro service. If you're patient, you can buy it and collect your dividends. When the global economy finds its footing and China goes back to building skyscrapers at a frenzied pace, Cliffs could very likely deliver a windfall capital gain as well.
Disclosure: I have no positions in any stocks mentioned, and no plans to initiate any positions within the next 72 hours.