Since the end of June, the iron ore spot market in China has been falling rapidly, with prices for the 62% Fe grade going from around $138 per ton to around $110 now. These prices represent a drop excess of 20%.
This week, however, we had another significant development. The entire Platts swap futures curve also caved in, down almost 10% in a single week.
This is how things looked one week ago (source: CME):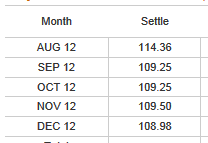 This is how they look now - the $100/ton barrier has already been breached here.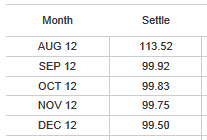 This situation is analogous to what took place from July to October 2011, when iron ore dropped from around $179 per ton to $130 per ton, for close to a 28% drop. That drop led to swift hits to the stocks of major iron ore producers, something we're yet to witness now, even as the situation unfolds.
The ongoing deterioration is not really a surprise - I've been covering and anticipating this hit for quite a while this year. However the timing and suddenness mean these drops are not yet reflected in most iron ore producers' estimates. This means that as the producers report earnings, most will have to guide down heavily and analysts will have to bring down their estimates.
Major iron ore producers are:
 
Conclusion
Iron ore spot and futures markets in China have been dropping quickly, and the drops are not yet reflected in the major producers' earnings estimates. It's likely that this movement will lead to warnings, lower guidance, lower estimates and quite possibly quick share price drops for the producers.
Disclosure: I have no positions in any stocks mentioned, and no plans to initiate any positions within the next 72 hours.