Over the past decade, many Latin America countries have experienced phenomenal economic growth as a result of one of the greatest commodity booms of all time. The phenomenal boom was created by China's rapid modernization, growing industrialization and ensuing economic growth. This has not only seen China's economy expanding at growth rates in excess of 10%, but created a commodities super-cycle with commodity prices marching ever upwards to new highs. This became a tremendous driver of economic growth in resource rich nations stretching from developed economies like Australia to the emerging and frontier economies of Latin America. Over a series of three articles, the effects this has on the economic outlook for some of Latin America's largest economies will be explored. It will also analyze the outlook for China and the impact this has on the region's economies and opportunities for investors in Latin America stocks.
The emergence of China and how it fueled Latin American growth
The Chinese economy up until the late 1970s was centrally planned and locked in a state of autarky. Much of this was driven by a mix of Cold War communist ideology and political pragmatism, with China finding itself caught in the cut and thrust of Cold War politics as the world's third largest military power and most populous state. However, when Deng Xiaoping took over the leadership in 1978, he started a series of broad reforms that saw the gradual easing of the political shackles of centrally controlled state economic planning.
China entered a period of rapid economic development, an economic revolution where the country's massive population and preponderance of natural resources, combined with substantial technology transfers, saw its economy rapidly modernize. All of which created rapid industrial and urban growth as China connected with the global economy and entered a phase of "catch-up growth."
The process was marked by China joining the World Trade Organization (WTO) in December 2001 and a drastic reduction in tariff rates and protectionist measures as the country sought to encourage foreign investment. As a result, foreign investment inflows from 2001 to 2002 surged by 17% to $53 billion and by almost 320% over the decade to $185 billion.
This continued the cycle of industrial transformation, with China becoming the world's top manufacturing nation by 2010 and surpassing the U.S. in terms of manufacturing output. Such rapid industrialization and explosive urbanization, along with a rising standard of living and newly founded wealthy business elite, fueled a massive construction boom. China by the end of the decade overtook the U.S. to become the world's largest real estate investment market.
China developed an insatiable appetite for the basic materials required to fuel this rapid economic growth, colossal manufacturing capacity and construction boom. This resulted in the creation of a commodity super-cycle as demand for the basic materials essential to energy creation, manufacturing and construction like iron ore, copper, coal, oil and steel far outstripped world supply. A massive increase in commodity prices during the period of 2001 to 2007 was created, with iron ore a key component in steel making rising in value by 180%, while copper a key manufacturing and construction component rose by 281% in value.
The massive commodities boom and the tremendous returns it generated for mining and oil companies, steel makers and commodity investors saw the injection of large amounts of foreign investment into the developing and resource rich economies of Latin America. This created an investment frenzy in those countries' mining and energy sectors. An example of which was in Brazil for the period of 1990 to 2001, foreign direct investment as a percentage of GDP grew from 0.21% to 5.08%. This also saw Brazil's rate of economic growth explode going from negative 4.5% in 1990 to positive 1.3% in 2001 and then jump almost fivefold to 6.1% in 2007. Similar experiences were repeated across the major economies across Latin America over the ensuing two decades.
China's rapid economic development could not last forever
China's incredible hunger for resources drove the economic growth that saw Brazil emerge as the world's sixth largest economy and funded the transition of Chile to the region's most advanced economy. It also saw investors in the region and particularly those in Latin American resource companies experience phenomenal returns, with many pundits believing those returns would continue indefinitely on the back of the middle kingdom's relentless economic development.
But like all booms, it came to an end and although there are still some signs of economic growth in Latin America, notably in the Andean nations of Colombia, Peru and Chile, it appears that growth in the region's largest economy has flat lined. The main culprit for this is the economic transition taking place in China, with the Chinese government having recently engineered an economic soft-landing.
Rising inflation and controlling the growth of food prices was engineered, with China's annual inflation rate for the period of 2001 to 2011 rising more than threefold from 2.1% to 7.7%. Besides the accepted economic impacts of inflation, both it and food prices are particularly politically sensitive subjects in Beijing. China's authoritarian government is well aware of the effects that rapidly rising food prices have on political stability and civil unrest, especially when it was food prices among other issues that acted as a catalyst for the Tiananmen Square protests in 1989.
The Chinese government is also determined to deflate a dangerously inflated property bubble, which was causing growing property speculation. The World Bank raised this as one of the most dangerous economic dangers faced by China. As investors have recently seen with Spain, property construction bubbles fueled by speculation can bring a country's banking system to insolvency and push the economy into deep recession. This would be disastrous for China, and now with China being the engine of global economic growth, disastrous for the global economy.
The economic soft-landing has caused Chinese economic growth to fall over the last year to its lowest level since March 2009 as the chart below shows.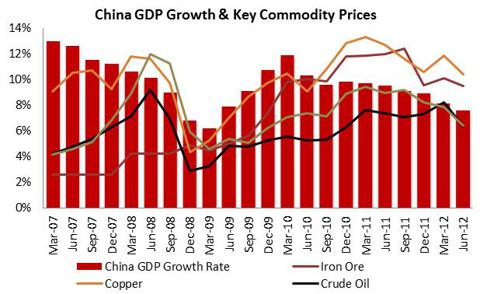 Source data: National Bureau of Statistics of China, Bloomberg, Index Mundi
This has had a significant impact on the demand for commodities in particular copper, coal, crude oil and iron ore, which has created a significant fall in their prices since March 2011. The downward trajectory of these commodity prices, as the chart above shows, has followed the decline in Chinese economic growth. This highlights the distinct and intimate link between Chinese economic growth, the demand for basic materials and the pricing of commodities.
Latin America's resource rich economies are hooked on China
The economies of South America, despite growing industrial bases, are still focused primarily on the extraction and exportation of resources, which are the primary drivers of economic growth in many of the continent's economies. Brazil, the largest economy in Latin America, is the world's largest iron ore producer after Australia and the eleventh largest oil producer, while Chile has become the world's largest single producer of copper and Colombia is now the world's tenth largest producer of hard coal and the fourth largest exporter in the world.
This has also fueled the development and profitability of resource companies operating in the region with two of the world's largest publicly tradable oil companies domiciled in the region, Brazil's Petrobras (NYSE:PBR) and Colombia's Ecopetrol (NYSE:EC). It has also seen the growth of Brazil's Vale (NYSE:VALE) into the world's largest iron ore miner and second largest mining company.
All of this indicates the importance that commodities' demand has for economic growth in these countries and the dependence this has created for other sectors of their economies that are dependent upon the income generated by commodities to grow. This includes the growing wealth in the region which is fuelling the expansion of a consumer focused middle-class that has created a surge in demand for consumer goods.
The chart below shows the key exports for the economies of Brazil, Chile, Colombia and Peru, which despite some claims to the contrary are commodities with iron ore, coal, oil, copper and precious metals forming the key export products for these economies. This is a result of the dependency of these economies on commodity demand for continued economic growth.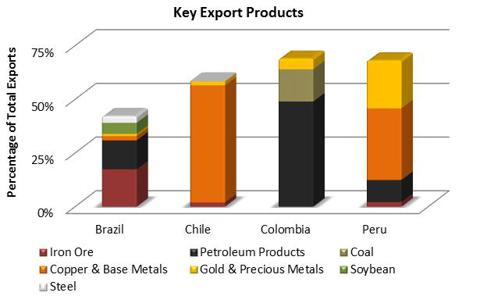 Source data: Banco Central do Brasil, Banco Central de Chile, Banco Central de Reserva del Peru, Banco de la República de Colombia
Given that China is now the single largest consumer of commodities globally, it is no surprise that as illustrated by the chart below, China is the single largest export partner for Brazil, Chile and Peru and the third largest for Colombia.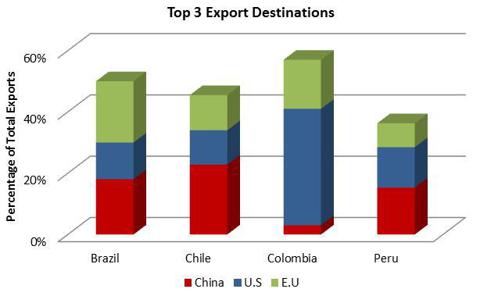 Source data: National Bureau of Statistics of China, Banco Central do Brasil, Banco Central de Chile, Banco Central de Reserva del Peru, Banco de la República de Colombia
The linkage between Chinese economic growth and the growth of Latin America's economies is illustrated by the chart below. The period of negative growth corresponds to the global financial crisis, and the decline in economic growth being experienced by Brazil, Chile, Colombia and Peru corresponds to China's economic growth slowing.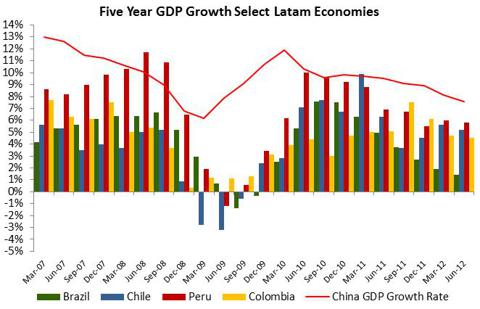 Source data: National Bureau of Statistics of China, Banco Central do Brasil, Banco Central de Chile, Banco Central de Reserva del Peru, Banco de la República de Colombia
With the majority of Latin America's companies either engaged in the production of basic materials or with consumer sectors that are heavily dependent on the commodities' demand to drive growth, it appears that investment opportunities in the region are few and far between. I also expect that despite the Brazilian government implementing an aggressive economic stimulus program, growth for the world's sixth largest economy will remain flat until China's economy returns to higher levels of growth.
This decline in demand has affected the fortunes of popular investment companies such as Vale and Petrobras, with each down for the year-to-date by 23% and 15% respectively. Colombia's national oil producer Ecopetrol has also seen recently its price drop by 12% since hitting a high of $67.48 on 1st May 2012.
This downturn has also affected the growing manufacturing industry in the region and especially Brazil's steel industry, with Companhia Siderurgica Nacional (NYSE:SID) down by 40% for the year-to-date. But its peer Geradu (NYSE:GGB) has bucked the trend, appreciating by 22% for the same period.
The Chinese soft landing along with the global headwinds coming from Europe has also seen a significant decline in consumer demand in Latin America. This has had a direct impact on the financial performance of companies focused on meeting this demand. In Brazil, this includes Brasil Foods (NYSE:BRFS), which for the year-to-date is down by 23% and the country's largest retailer Companhia Brasileira de Distribuicao (NYSE:CBD), which has fallen by 15% since hitting a 2012 peak of $49.64. For the same period, the Brazilian ETF the iShares MSCI Brazil Index (NYSEARCA:EWZ) is down by 7%.
Many of the companies operating in Colombia and Peru are not listed on U.S. exchanges but they do make up considerable portions of the U.S. listed ETFs for those countries that are available to investors. In the case of Colombia the Global X FTSE Colombia 20 ETF (NYSEARCA:GXG) is down by 11% since the end of May and the iShares MSCI All Peru Capped Index (NYSEARCA:EPU) is down by 12% in the same period.
Chile also has not escaped unscathed, with the Chilean ETF iShares MSCI Chile Investable Market Index (BATS:ECH) down by 12% since hitting a 2012 peak on 2nd April of $69.51. One of the largest publicly tradable copper mining companies operating exclusively in Peru, Mexico and Chile is Southern Copper Corp. (NYSE:SCCO). It is down by 10% since the hitting a 2012 peak on 27th January of $36.12.
What this means for investors
While this has seen many investors incur losses, it has also created investment opportunities. However, investors must realize these opportunities will come through astute stock picking and they will need to identify those companies that have either been oversold by the market on sentiment or are well positioned to capitalize on upcoming events or gaps in the market.
This could include taking advantage of the forecast uptick in consumer demand that will accompany the FIFA World Cup and Olympics in Brazil. They could do this by investing in companies in the service sector such as Brazil's largest department and grocery store chain Companhia Brasileira de Distribuicao. Investors could also consider investing in the Global X Brazil Consumer ETF (NYSEARCA:BRAQ) to gain broad exposure to a variety of Brazil's largest service companies.
But it increasingly appears despite growing optimism in the market regarding an impending recovery in China that the market-wide growth previously witnessed will not recommence. The next two articles in this series will analyze recent commodity prices and Chinese economic data in an attempt to identify both the direction of economic growth in the region and opportunities for investors.
To read part 2 of this story click here