Gold and silver are providing additional support for a bullish stance on stocks and commodities. The Fed and European Central Bank want to reinflate asset prices. Bullish moves in gold and silver this week tell us inflation expectations are rising. Rising inflation expectations, coupled with the reduction in European Armageddon fears that we described on August 20, continue to support the case for higher highs in stocks.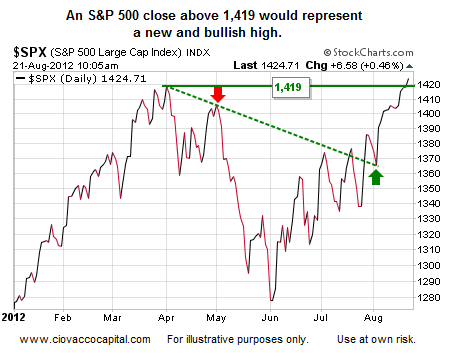 As we noted on July 3, bullish divergences in crude oil (NYSEARCA:USO) and oil-related stocks (NYSEARCA:OIH) supported the bigger picture bullish set-ups for stocks and commodities. Since July 3, our position in oil (NYSEARCA:DBO) has gained 9.2% and OIH has tacked on 12.6%. Silver (NYSEARCA:SLV) and gold (NYSEARCA:GLD) currently have similar looking charts to those that helped us participate in recent oil gains.
A positive or bullish divergence occurs when price makes a new low and an indicator makes a higher low, which is indicative of slowing bearish momentum. A clear bullish divergence in silver can be seen below by comparing the slope of the red line near point A to the slope of the green line near point B. The divergence increases the odds of silver being able to sustain recent bullish momentum.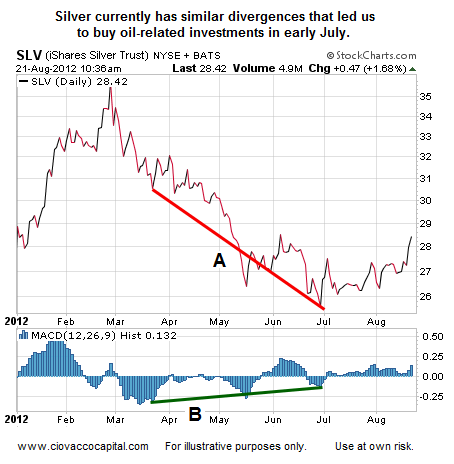 Just as we identified bearish concerns about Treasuries back on May 28, we have seen bullish set-ups patiently forming in both gold and silver. It took some time for Treasuries to break down. It has also taken some time for gold and silver to "breakout" to the upside.
As shown in the chart below, silver is in the process of trying to establish a new bullish trend. Step 1 was the bullish break above the downward-sloping blue trendline (see 1 below). Step 2 was completed when silver made a higher low (see slope of green line near 2). The trend change was completed when SLV made a higher high (near 3).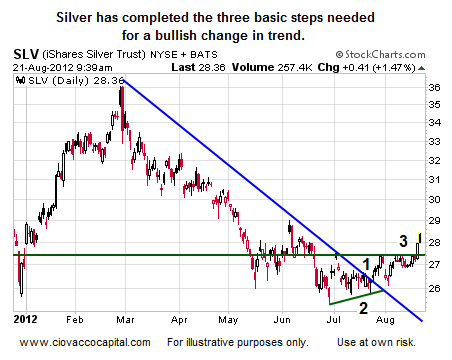 The final piece of the bullish reflation puzzle will be in place if gold can complete a trend change similar to the one shown for silver above. The "confirmation" of the trend change would take place if GLD can close above 157.93.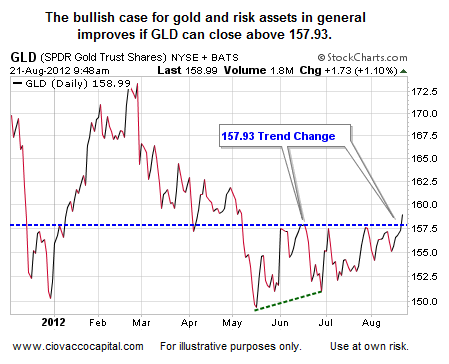 We would feel even better about our positions in technology stocks (NYSEARCA:XLK), foreign stocks (NYSEARCA:EFA), and commodities (NYSEARCA:DBC) if GLD can post a higher high above the intraday high shown below.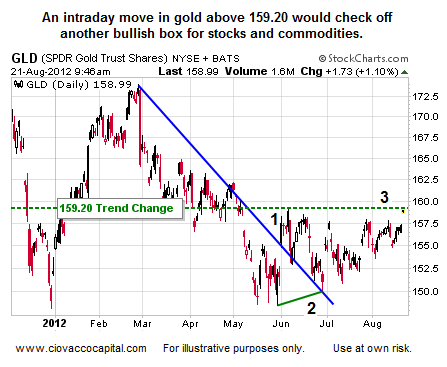 In an August 19 video, we outlined numerous "last time this happened stocks went up" conditions present in today's market. The bullish list includes the relationship of defensive utilities (NYSEARCA:XLU) to the S&P 500, short bonds (NYSEARCA:TBT) relative to stocks, and technology stocks (NASDAQ:QQQ) relative to the S&P 500. Our confidence in the bullish case will only improve if gold and silver can exceed the levels provided above.
Disclosure: I am long EFA, DBO, OIH, DBC. I wrote this article myself, and it expresses my own opinions. I am not receiving compensation for it (other than from Seeking Alpha). I have no business relationship with any company whose stock is mentioned in this article.