If you are a Seeking Alpha reader, then you are likely an investor and you know that sometimes you wished you had some extra money to buy a discounted stock. It happens a lot. I wanted to find an investment plan that can be used to buy stocks when there is a selling spree or when the prices are depressed.
You can hold cash at all times, but you will be losing value steadily if the market enters into a bull run. As I kept digging, I thought it would be interesting to couple a broad-based market ETF with gold. The results are interesting. The index plus gold portfolio beats the market most of the time, and it's a lifesaver during a recession.
For analysis, I used SPDR Gold Trust (NYSEARCA:GLD), the heavily traded gold ETF, and the SPY, which tracks the S&P 500. GLD only started trading in November 2004, so we will start our analysis from there.
Performance Since 2004
We are assuming that we are buying one GLD and one SPY every month starting November 2004. Dividends are not reinvested. Historical monthly price data from Yahoo Finance is used. For monthly prices, Yahoo uses the closing price on the last trading day of the month.
Portfolio Performance
Click to enlarge image.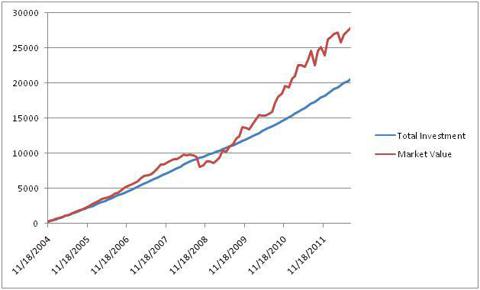 Out of 94 months analyzed, market value dipped below total investment value for 14 months. (10 months during 2008-09).
Gold kept trading closer to 52-week highs during 2008 and 2009, while SPY kept making new lows.
Between May 2007 and February 2009 (peak to low), SPY price dropped 52.20% while SPY plus GLD price dropped 28.60%.
The table below provides a comparison between the GLD and SPY portfolio against a SPY-only and GLD-only investments. For SPY-only and GLD-only investments, we use the same method (buying one ETF every month starting November 2004). No dividends are reinvested. Twelve-month return is derived by calculating monthly returns.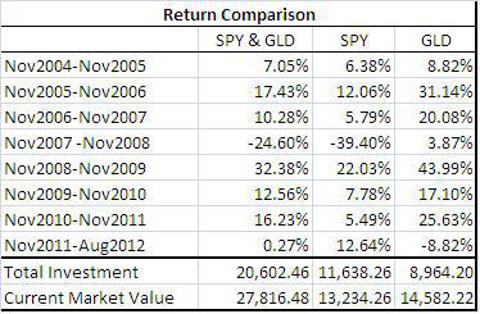 Conclusion
Gold is in a extended bull run that may end at some point, but the portfolio will be able to absorb some of the pain as it has equal number of SPYs. If the market enters into a recession, then investors will flee to safer instruments such as gold pushing it to new highs as happened in 2008, insulating the portfolio from heavy losses.
The portfolio can be used for many reasons. It can be used as an emergency cash vehicle or it can be used to buy stocks that are cheap. I think I will be better off buying SPY and GLD instead of holding cash or buying whole life insurance for my retirement. The returns are much better than some mutual funds and I don't have to worry about inflation.
Disclosure: I have no positions in any stocks mentioned, and no plans to initiate any positions within the next 72 hours.
Disclaimer: The analysis is for illustrative purposes only. Brokerage commissions will reduce the returns.