A few days ago I appeared on the George Jarkesy show and recommended his listeners take a look at Freeport-McMoRan Copper and Gold Inc. (NYSE:FCX). I intend for this article to be the look they were hoping for. This company trades at the will of its macro environment, thus calling for a macro picture to be painted. Uncertainty has littered the markets recently, so to say I write this article with a long term approach in mind is unfair. I do believe in the impending strength of the company, but a swift exit/profit taking is similarly advised.
The first chart below shows the strength of Chinese Equities vs. the Vanguard World equity index . Strength is a loose term, considering there hasn't been much of it over the past four years. Overall fear of Chinese equity market credibility, as well as the fear of a hard landing, has suppressed much of its strength. However, nearing long term lows, this indicator points toward the need for more stimulus. China has had a quick stimulus trigger recently, so to say more is on the way is not out of the question. Upon doing this, certain assets will catch a bid. Commodities is an area that looks to benefit.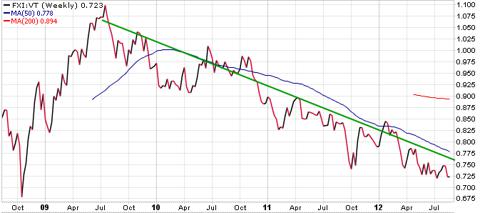 Among the commodity realm, copper and gold have a lot to gain from this decision. The charts below highlight both commodities - inflationary - versus the anti-inflationary 20+ year treasury index. With copper being of major importance to physical growth in China and gold being an overall inflation hedge, both could break out in the near future. They are both in multi-month consolidations, essentially waiting for the macro picture to make its move. Stimulus from China, ECB or the Fed could ignite either ratio higher.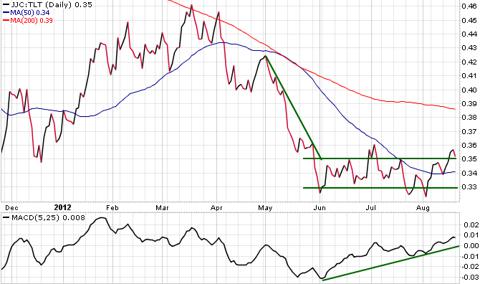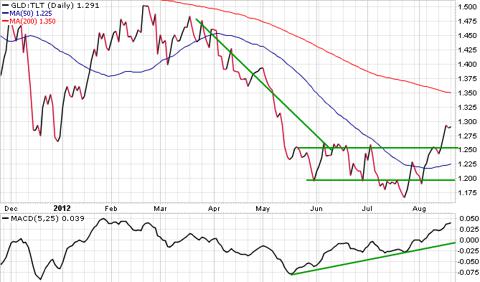 A look into the equity market confirms the current argument. The copper miners equity index has also consolidated versus broader equity markets as well. The MACD oscillator has shown strength over the past few months, and looks to enter bull territory. If the picture plays out as expected, then a break higher is similarly anticipated.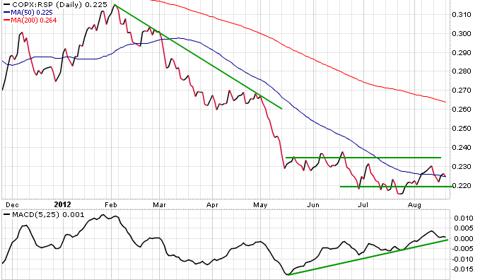 In order to gain exposure to this move, a look into Freeport is a good bet. Freeport has a lot of exposure to both copper and gold prices, mostly copper. They are weighted about 70% copper mining vs. 30% gold. With the high correlation between copper, China and Freeport, it has obvious trade potential. Again looking into ratios as a good indicator, FCX is on the cusp of bottoming out and potentially leading vs. equity markets . This makes it an overweight candidate, and along with the fundamental picture, gains are a possibility.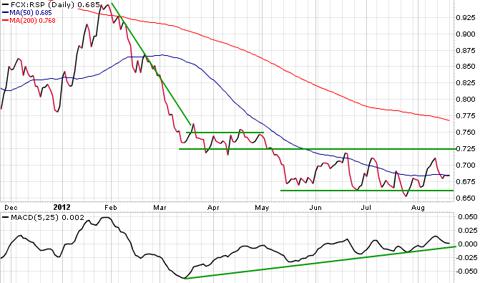 Lastly, and without a ratio, we look at FCX alone. Much like the charts above, a consolidation has been present over the past few months. A false break higher occurred over the past few weeks, but more is needed for a legitimate push higher. The move is to buy in near the 35 support zone and set a stop somewhere near the middle of the consolidation pattern. This will limit the losses, yet give potential for a move higher in an inflationary environment. Hope this article was clear, and good luck.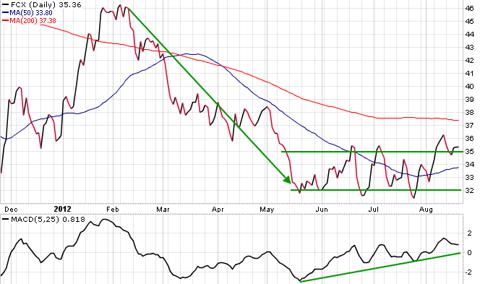 Disclosure: I have no positions in any stocks mentioned, and no plans to initiate any positions within the next 72 hours. I wrote this article myself, and it expresses my own opinions. I am not receiving compensation for it (other than from Seeking Alpha). I have no business relationship with any company whose stock is mentioned in this article.