Most of the North American railroad companies are strong investment prospects for the long term. Usually the large railroad operators come to mind: Union Pacific Corporation (NYSE:UNP), CSX Corporation (NYSE:CSX), and Norfolk Southern Corporation (NYSE:NSC). However, for this article, I want to highlight a small railroad that has a great track record of growth: Genesee & Wyoming, Inc. (NYSE:GWR). Although it is a small railroad, GWR has high potential for above-average stock growth, perhaps enough to surpass the growth of the larger railroads.
Genesee & Wyoming started out as a 14-mile railroad with one customer in upstate New York. The company now has over 10,000 miles of track serving over 800 customers in five countries. GWR operates short line and regional railroads in the United States, Canada, Australia, the Netherlands, and Belgium.
Click to enlarge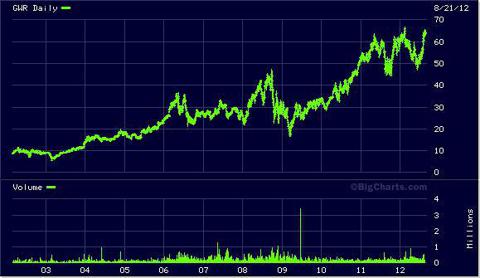 In July, the company entered into an agreement to acquire RailAmerica, Inc. (NYSE:RA-OLD), a $1.38 billion small-cap railroad. This acquisition will combine the largest U.S. short line regional railroad operators. After the merger is complete, the United States will account for 70% of GWR's revenue. Australia will account for 20% of the company's revenue, while Canada will account for 10%.
GWR is currently fairly valued with a forward PE ratio of 17.85, a PEG of 1.22, and a price to book ratio of 2.5. It has a profit margin of 14.64% and an operating margin of 22.17%. For the past twelve months, the company has hauled in $212.34 million in operating cash flow.
The most compelling thing about GWR is its earnings growth. For the past five years, the company has grown earnings annually at 16.28%. The company is expected to grow earnings annually at a healthy 17.87% for the next five years. This growth rate should be enough of a catalyst to allow a $10,000 investment to be worth over $22,000 in five years. If this growth rate is maintained, your investment could double approximately every four years.
Let's see how the growth rate of Genesee & Wyoming stacks up against its larger competitors. I will also add in dividends to provide a total yield (earnings growth plus dividends).
| | | | | |
| --- | --- | --- | --- | --- |
| | GWR | UNP | CSX | NSC |
| Dividend | 0% | 2% | 2.5% | 2.7% |
| 5-Year Expected Annual Earnings Growth | 17.87% | 14.33% | 13.48% | 14.1% |
| Total Yield | 17.87% | 16.33% | 15.98% | 16.8% |
The table above shows how Genesee & Wyoming's high growth rate provides the highest total yield even without paying a dividend. All of these railroads look like great investments, but I wanted to illustrate how GWR compares to the bigger players. Union Pacific, CSX, and Norfolk Southern should also perform well over the long term. However, GWR's smaller size may provide the company with an edge on overall growth as it becomes a larger mid-cap company on its way to being a large-cap railroad.
Disclosure: I have no positions in any stocks mentioned, and no plans to initiate any positions within the next 72 hours. I wrote this article myself, and it expresses my own opinions. I am not receiving compensation for it (other than from Seeking Alpha). I have no business relationship with any company whose stock is mentioned in this article.