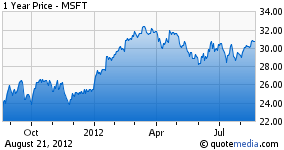 It comes as no surprise to know that Microsoft (NASDAQ:MSFT) has an almost complete monopoly on the enterprise market with its Microsoft Office Suite. As happens with most monopolies, Microsoft did little to innovate and improve its Office offerings. This stagnation, as well as the low price points of other entrants into the market such as Google (NASDAQ:GOOG) scared Microsoft into improving Office. With Office 2013, Microsoft has created a more collaborative, cloud-based product that directly targets its competition. The innovation in Office 2013 is an effort to maintain its extremely high market share in a market that nets it greater than $15 billion per year.
Of course, Office 2013 revenue would coincide with other boosts in revenue that the company has seen. It recently announced it beat out analysts estimates for revenue stemming from multi-year software deals ($20.1 billion, analysts predicted $19.4b). This came as several analysts upgraded Microsoft to "buy" status, and its price target moved from $34 up to $36. This news is made all the more better considering its recent $6 billion write-off. In short, the hit was minimal and Microsoft is still coming out with strong numbers.
A new, improved suite of Office programs will be welcomed by anybody who has used this product. There are limitations to these products that have been addressed by other entrants to the market, namely Google's collaborative, cloud-based free applications. Fortunately for Microsoft, it is not too little too late. Actually, based on the preview that it is releasing for Office 2013, it appears to address many of these issues.
First and foremost, Microsoft is integrating Office in the cloud. Those familiar with Office 365 will note that Microsoft already hosts its suite of applications in the cloud. This is absolutely true; however, Office 365 is not widely adopted by enterprise, something that Microsoft hopes to change. One of the main draws for a cloud-based suite of applications is the prospect of seamless transition from phone to tablet and desktop. With Microsoft releasing its own tablet this fall, you can expect it will tailor Office 2013 to this new device.
Microsoft's business division brought in 35% of its revenue last quarter (up 7% from the previous year). This is good news. What's even better news is that Microsoft is starting to really challenge Salesforce.com (NYSE:CRM), as its noted increased success in its own CRM (customer relationship management) dealings. There's no doubt that Microsoft is gaining market share in CRM, the question is whether it can outpace salesforce.com. In February, Salesforce.com had about a 5% lead in CRM market share, but Microsoft Dynamics software seems to be making waves. All this is to say, if Office 2013 can compliment Microsoft's progress elsewhere, it will make the software giant a serious force in the industry.
You can be sure that businesses will pay for seamless transition of Office applications between devices. Currently, Google is beating Microsoft in this regard, but its applications for tablets and smartphones are very sluggish at best. With Microsoft taking a mobile first approach, it has the potential to slow Google's inroads into enterprise. Namely, its Office applications for tablet and mobile will have touchscreen functionality as Office 2012 was built to optimize touch functionality. With Google's applications, you can only touch the screen in similar ways as you can any website on these devices.
Possibly the most important new feature is the integration of social into Office 2013 with the acquisitions of both Skype and Yammer. With the integration of these two products, Microsoft has more functionality to keep customers in its platform. Now, much like users can do with Google Apps, users of Office can collaborate on documents, making their work infinitely more collaborative. The feature was absolutely necessary, as it is standard on Google Docs. Not to mention that it sets the barriers of entry higher if Facebook (NASDAQ:FB) ever wanted to get into document sharing or storage.
So great, Microsoft has introduced a lot of new technology to its Office suite, big deal. Well, that is exactly it. It has been estimated that one out of three new businesses to enterprise chose Google's applications. So a big deal is exactly what Microsoft needs. Losing one out of three potential customers would put a big dent in that $15 billion per year cash cow.
In general, I don't expect new functionality to do much. With SkyDrive integration, Office 2013 could be a potential driver of converts to its particular cloud solutions. However, the cloud is very low margin and Microsoft would need customers to convert to its cloud solution en masse for it to make a reasonable difference.
With Microsoft's price point much higher than Google or other start-up companies, Microsoft will need these features to give customers more value. For major enterprises, it is a no brainer. These companies choose Microsoft time and again due to the vast amount of corporate resources in its line of products. Additionally, due to the high value on security, Google is typically seen as a less desirable option.
But for smaller start-up companies, opting out of Office is a big cost cutting technique. Why pay for Office when you get very similar products for free or very cheap. Microsoft is betting that touch screen optimization will be a huge driver, especially due to the recent BYOD movement in businesses.
For the most part, Microsoft just needs to keep its share of customers. With a near 90% share of the market, I don't see Office as a source of revenue. In fact, there is likely no way to go but down in this situation. There are only two options, keep charging high prices and lose some new customers or lower the price, keep the market share and lose profits anyway.
To be honest, there is little reason to talk about competition. The main driver of competitors business is the fact that the products they offer are free or near free. Yes, Apple (NASDAQ:AAPL) does offer enterprise applications, but these solutions have very low market share and still have relatively high price points. By adding features, Microsoft is hoping to get some who would otherwise go to Google Apps to purchase Office 2013. Since Office users are pretty much customers for life, this is crucial to maintaining its cash cow.
Disclosure: I have no positions in any stocks mentioned, and no plans to initiate any positions within the next 72 hours. I wrote this article myself, and it expresses my own opinions. I am not receiving compensation for it (other than from Seeking Alpha). I have no business relationship with any company whose stock is mentioned in this article.