It hasn't been the greatest start to public trading for Facebook (NASDAQ:FB). Shares, which were sold to the public at $38 initially, have lost half their value since then. The stock hit a new 52-week low this week of $18.75, and closed Tuesday at $19.16. The latest culprit was the expiration of the first lock up period this past week, which allowed 271 million shares to be added to the float and thus, those insiders could sell those shares. It was not a surprise that Facebook's stock dropped on this event, I like many saw it coming. But even after the terrible fall we've seen in this name, there still could be plenty of pain for investors. Here's why.
1. Growth estimates still creeping down:
As more and more analysts have covered the name and since we have finally gotten an earnings report from the company, analysts are starting to develop their models more, which has led to several estimate changes. The following table shows Facebook's 2012 and 2013 expected revenue and earnings per share growth, as determined by analyst estimates.

I'll get to the asterisk in a minute. First, let's start with revenues. The overall growth forecast has been taken down almost weekly. Even after the reported quarter, when analysts turned around and raised 2012 revenue estimates, they cut 2013 estimates at the same time. Even since my last Facebook update, the average revenue forecast for 2013 has come down from $6.37 billion to $6.35 billion.
Analysts have also whacked their profit forecast for the company. Early on, analysts were expecting $0.55 this year. Even into earnings, they were expecting $0.51. Now they are expecting $0.49, which isn't that much growth compared to last year's $0.43.
Now I put the asterisk there for a reason. While it looks like the growth forecast for 2013 earnings per share was increased, it really wasn't. Analysts were still at $0.65 for 2013, it just was that the 2012 number kept going lower so the 2013 number looked like more growth. In fact, over my last two updates, the average analyst estimate for 2013 has come down a penny each time. For the August 7 update, the average forecast was down to $0.64, but again, since the 2012 numbers were cut, the 2013 growth number looks higher. Analysts currently expect a $0.63 profit for 2013. If estimates continue to decline, there won't be a ton of growth for this name and that's a problem.
2. There are more lock-ups:
Let me remind you of the lock-up expiration schedule.
The first batch of 271 million locked-up Facebook shares will become available for trading in just two weeks, on Aug. 16, with another 249 million shares free to hit the market starting Oct. 15, an additional 1.32 billion Nov. 14 and 149 million more Dec. 14. The final 47 million shares will be available for trading next May.
Last week's expiration was a decent size one but none of them compare to the November 14 one, which will be a true test for shares. Also, one must consider that the October 15 date is probably a week or two before Facebook's next earnings report. I wouldn't be surprised, given the stock's performance around its first earnings report, if a couple of insiders get a little nervous and dump some shares before Facebook reports again. We've started to hear about big names reducing their positions, like Peter Thiel just did.
An interesting thing to consider as well is possible tax implications. With the capital gains rate currently scheduled to increase from 15% to 20% at the end of this year, there might be a few who will sell shares to lock in a lower tax rate on their gains. Think about it this way. A 15% tax rate on $1 million in gains is $150,000, and $200,000 on a 20% rate. That's $50,000 per every million in gains. Now imagine an individual or entity that could have $100 million, or maybe even $1 billion in potential gains. Assuming nothing changes on the tax front before then, it is a very interesting thing to consider.
3. What's a proper valuation:
When you have a name like this that hasn't traded for long, and really, all the names in this space fit that profile, figuring out a proper valuation can be difficult.
I'll show you what I mean, comparing Facebook to both LinkedIn (LNKD) and Groupon (NASDAQ:GRPN). The following table will show each company's revenue and earnings growth for this year and next, as well as the P/E for each based on that year's expected earnings. For purposes of this argument, all earnings are non-GAAP.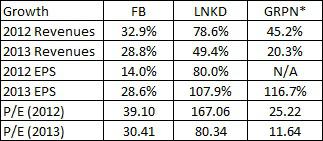 *Groupon expected to swing from 72 cent loss in 2011 to 18 cent profit in 2012.
So when you look at valuation, Groupon looks vastly undervalued to Facebook. But recent accounting issues, problems with potential growth, and cash flow have shares down 75% since the IPO. Then you have LinkedIn, which is much more expensive but offers a lot more of growth. What are investors comfortable with? Well, considering LinkedIn has been consistently strong and earnings reports have been good, that's the favorite in this space currently.
4. 50% can become 75%:
Just because Facebook is down 50% from the offering price doesn't mean is has to go back up, not right away anyway. The following table shows the three names from above, plus Zynga (NASDAQ:ZNGA) and Pandora (NYSE:P), two other names in this space.

Facebook is down 50% so far. But that doesn't mean it can't be down 70% or 75% and that means there could still be plenty of downside.
Conclusion - I think we go lower:
I think there are still a few too many issues with Facebook and that leads me to believe shares will go lower. Analysts have been taking down growth estimates and we still have several major lock up expirations that will flood the market with shares to be sold. The valuation may also be a stretch for some.
In my personal opinion, I've been stating that a fair valuation for Facebook is 25 to 30 times forward earnings, which in this case is the 2013 figure. With that estimate currently at $0.63, we get a fair value range of $15.75 to $18.90, with a midpoint of $17.325. That's about 10% below where we stand now.
Disclosure: I have no positions in any stocks mentioned, and no plans to initiate any positions within the next 72 hours. I wrote this article myself, and it expresses my own opinions. I am not receiving compensation for it (other than from Seeking Alpha). I have no business relationship with any company whose stock is mentioned in this article.