We were impressed with the fact that Amazon.com (NASDAQ:AMZN) was able to overcome its early history as an overrated, overpriced dot-com and transform itself into the world's leading internet retailer. Amazon generated its first profit in 2003 and has seen rapid revenue growth in the last 10 years (from $3.9B in 2002 to $48B in 2011). Amazon's operating income hasn't seen the impressive level of growth as its revenues though. While Amazon saw its operating income more than quadruple from 2002 ($64M) to 2003 ($271M) and while it increased from $271M in 2003 to $1.4B in 2010, this was at a slower pace than its revenue growth from 2003 ($5.3B) to 2010 ($34B). Unfortunately, Amazon seems to be regaining its reputation as an overrated, overvalued dot-com chasing sales growth as the expense of profitability.
The real concern is that after Amazon released its FY 2010 results, it announced that Q1 2011 operating income was going to be significantly lower than Q1 2010's results even though AMZN was expecting a 35%-40% revenue increase year-over-year. AMZN's FY 2011 operating income ended up 39% lower than FY 2010 even though revenue grew by 40.6% in 2011 versus 2010. We are seeing the same phenomenon in YTD 2012, as the company's revenue grew by 31.6% year-over-year yet its operating income dropped by 43%. Even if Amazon meets the $2.30 consensus analyst expectations for FY 2013, it is still trading at almost 105X estimated 2013 EPS. But the real surprise is that although this 2013 estimate of $2.30/share is 9% less than what was achieved in 2010, the company's stock has increased by 45% since it bottomed out in January 2011 after reporting its expectations of lower operating income.
By any standard measure, Amazon is overvalued. Amazon's P/E based on expected 2012 EPS exceeds 300 and we already established that it is trading at over 100X expected 2013 EPS. Amazon enjoyed 24% EPS Growth in 2010 versus 2009 levels and even if Amazon had replicated that feat in 2011 and 2012, 2012 EPS would only be $3.89 and Amazon's stock would still be at a rich P/E of over 60X. Amazon did not see any EPS growth in 2011 and 2012; in fact, Amazon saw its EPS drop significantly from its 2010 all-time high of $2.53. Analysts are expecting Amazon to regain its EPS growth momentum in Q4 2012 and earn $.77 in 2012 and $2.30 in 2013. Even if Amazon is able to meet the lofty expectations of the investment community, it will have done this with a 9% reduction in its 2013 EPS relative to 2010 levels and would have a significantly lower profit margin in 2013 relative to 2010 levels.
A concern for us is the decline in its operating margins. Amazon's operating margin has declined sharply over the last 10 years. Amazon's management says that it is "investing in its future." We're glad that the investment community is so understanding because we are wondering when it will see its operating margins pick up. The real concern is in its international operations. Amazon's North American operations did not see a dramatic decline in operating income in 2011 as North American operating income only declined by 2% versus 2010 levels, despite the massive investments the company made that year. Amazon North America's Q2 2012 operating income enjoyed a 61% jump versus prior year levels and its H1 2012 operating income grew by 37.5% versus H1 2011 levels. Unfortunately, Amazon's International operating income has collapsed relative to 2010 levels. Amazon International earned $439M in H1 2010. In H1 2011 it earned $347M and in H1 2012 it earned $65M. Amazon International can't blame its results on currency because even on a currency neutral basis, Amazon International's Q2 2012 operating income declined by 74% versus Q2 2011 levels.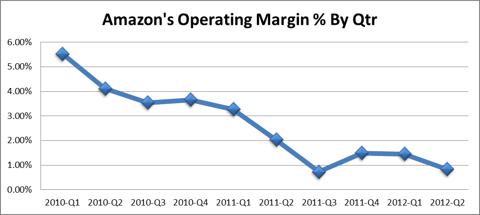 Source: FactSet Marquee
One thing we noticed with regards to Amazon's operating margin is that gross margin percentage is holding somewhat constant or registering incremental growth depending on which quarter one is talking about. Amazon first quarter Gross Margins over the last three years have increased from 22.8% in Q1 2010 to 24% in Q1 2012. We noticed that second quarter, third quarter and fourth quarter gross margins also showed the same pattern. Unfortunately, the company has increased its sales, general and administrative expenses from 17% in Q1 2010 to 25% in Q2 2012. The drivers of operating expense growth included Marketing (up 52% YTD 2012 versus prior year levels), Technology (up 59%), Fulfillment (up 48%) and Administrative (up 44%).
In conclusion, we believe that Amazon is overvalued and overrated. We believe that investors have bid this company up to an unsustainable high of over 100X expected 2013 earnings. We are also especially concerned that it is trading at over 34X TTM operating cash flows and nearly 100X TTM free cash flows. We see significant operational and execution risk in Amazon and are concerned that the recent run of rapid revenue growth has not translated into increased profits for Amazon. We are concerned with the rapid run-up in its CapEx and its declining Returns on Investment Capital. We think that investors are too willing to overlook profit growth in exchange for revenue growth at Amazon. Being that Amazon is a technology company, it needs to maintain a strong stock price in order to attract and retain talent. Unfortunately, because the stock price is already so high relative to its earnings power, we believe that it will have a tougher time going forward with regards to attracting and retaining talent. While we were hesitant to short it because of its cloud exposure, we believe that investors who have been long-time holders of Amazon may want to consider steadily reducing their exposure to Amazon. We also took note that Amazon's cloud services and other solutions segment only accounts for 4.3% of its revenues. We think it would be prudent for investors to sell their shares at a gain and pay the maximum 15% tax rate rather than stick around for a significant potential decline in its shares.
Disclosure: I have no positions in any stocks mentioned, and no plans to initiate any positions within the next 72 hours. I wrote this article myself, and it expresses my own opinions. I am not receiving compensation for it (other than from Seeking Alpha). I have no business relationship with any company whose stock is mentioned in this article.
Additional disclosure: This article was written by an analyst at Saibus Research. Saibus Research has not received compensation directly or indirectly for expressing the recommendation in this article. We have no business relationship with any company whose stock is mentioned in this article. Under no circumstances must this report be considered an offer to buy, sell, subscribe for or trade securities or other instruments.