Last week Cisco (NASDAQ:CSCO) hiked its dividend by 75% to $0.14 quarterly, a dividend which the company only began paying last year. Along with this increase came the promise to return at least 50% of free cash flow to shareholders, presumably through both dividends and share buybacks. Cisco's TTM free cash flow is around $10 billion, or about $1.87 per share, meaning that the payout ratio is currently just shy of 30%. I've written about Cisco before and believe that my estimate of the fair value of about $25 per share is reasonable. Cisco currently trades at just $19.16, having traded just above $15 only one month ago.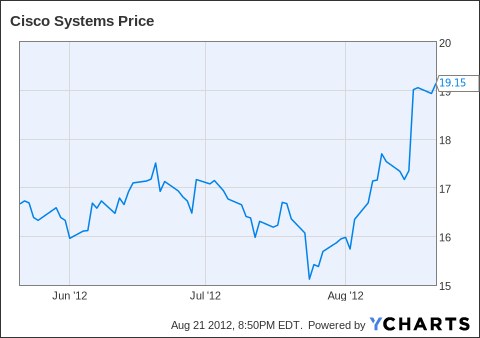 With a P/FCF ratio of 10.25 (8.02 for a share price of $15) and a balance sheet consisting of net cash to the tune of $32 billion, or $5.89 per share, the effective P/FCF is closer to 7.1 (4.9 for a share price of $15). Simply put, the valuation is ludicrous. Why a company with the dominance that Cisco maintains in its key markets is priced so low is beyond me. Anyone who was able to pick up shares for under $17 (like me) received a fantastic bargain. And after years of paying no dividend whatsoever, the company has finally transitioned to one which returns its profits to the shareholders.
With a payout ratio of only 30% and a promise to return 50% of free cash flow to shareholders, we should see the dividend grow quickly over the next few years. The current yield after the increase is roughly 2.9%, significantly higher than the S&P average of just 1.94%. If the dividend were to increase by 10% each year for the next 5 years the payout ratio relative to this year's free cash flow would still be less than 50%. Factor in growth and the dividend has ample room to run.
Conclusion
During the tech boom of the early 2000's Cisco rose to be the most valuable company on the planet only to collapse under its own ridiculous valuation. Now, Cisco again has a ridiculous valuation, only this time the stock is undervalued instead of overvalued. With a dividend yield around 3% and the company's commitment to returning profits to shareholders, Cisco offers an incredible value even after the post-earnings rise. You can buy it for the yield, buy it for the valuation, or buy it for both, but one thing is abundantly clear: Cisco is a bargain no matter how you slice it.
Disclosure: I am long CSCO. I wrote this article myself, and it expresses my own opinions. I am not receiving compensation for it (other than from Seeking Alpha). I have no business relationship with any company whose stock is mentioned in this article.