By Paul Tracy
It's the biggest thing to happen to the oil industry since the 20th century Texas oil boom.
Thanks to new technology like horizontal drilling and hydraulic fracturing -- better known as "fracking" -- America has unlocked waves of oil and gas reserves that were previously thought unprocurable. But with volatile energy prices and many of the oil majors involved in expensive deep-water drilling across the globe, companies that provide products to the booming fracking business are an enticing alternative.
Exploration and production (E&P) companies have long avoided drilling in shale because it is an expensive endeavor. In 2010, E&P companies spent $76 billion on the shale industry. By 2015, that number is expected to top $118 billion -- a 55% increase in just five years.
What E&P companies like Exxon Mobil (NYSE:XOM) and Chesapeake Energy (NYSE:CHK), the top two natural gas producers in the United States, are spending money on right now is a relatively unknown chemical compound called silicone dioxide, or silica -- a special compound that has been recognized for its extreme hardness. But before I get into silica's importance to the oil and gas industry, to really understand the investment opportunity here, it's important to understand how fracking works.
Shale is a type of sedimentary rock that forms in layers over millions of years. These massive geological formations stretch across continents. The Marcellus Shale, for example, runs from New York and Pennsylvania through West Virginia and Ohio.
One of the key properties of these formations is their fissility, which is a fancy way of saying they break easily. And that's the kicker -- if you drill a hole vertically through shale, you only get a tiny bit of hydrocarbons. Imagine a tray of brownies. Stick a drinking straw in from the top and you only get a little taste. But if you can figure out a way to put the hole in horizontally, running sideways through the formation, then you get a lot more. That's idea behind fracking: increase the contact surface area of the well stem.
After the horizontal well is drilled, thousands of gallons of water mixed with chemicals are pumped into the well under extremely high pressure. That causes the shale to fall away like snow on your windshield, unlocking tons of crude oil and natural gas. But adding pressure alone won't do much. Engineers also add a special material called proppant, or "shrapnel." This material ricochets around inside the formation, ripping apart stone and increasing the contact area of the well.
That's where silica comes in. Its extreme hardness makes it one of the best proppants around.
That's great news for U.S. Silica Holdings (NYSE:SLCA). Founded more than 100 years ago, it is a leading producer of industrial minerals with more than 138 million tons of proven silica reserves. The growth in the shale space has contributed mightily to the growth at U.S. Silica. The company's top line looks great: A lovely compound annual growth rate of 22.4% is expected between 2008 and the Bloomberg estimate for 2013.
This looks like a phenomenal opportunity. At the current 13.5% net margin, U.S. Silica should record a 2013 profit of $71 million. At 20 times earnings, the company would be fairly valued at $1.4 billion, or more than double its current market cap of $655 million.
The question for U.S. Silica: Will the shale boom continue?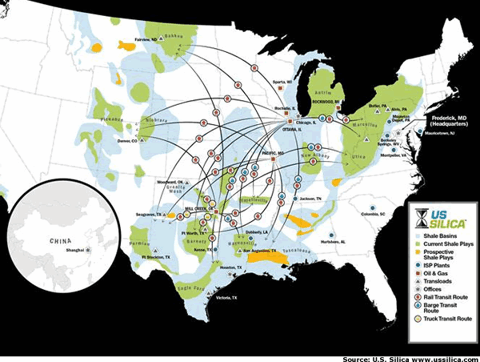 Right now, every indication is that it will. Investors -- along with the rest of the oil and gas industry -- are betting billions on current petroleum pricing dynamics.
The only risk to consider is a drastic economic slowdown that would push the price of oil to the $60 to $70 range, which would make fracking less cost effective. As long as oil stays above $80 a barrel, producers should clamor to explore shale. And if we start to see an economic recovery, the price of crude could go even higher, which is great for oil bulls and owners of U.S. Silica.
Disclosure: Paul Tracy does not personally hold positions in any securities mentioned in this article. StreetAuthority LLC does not hold positions in any securities mentioned in this article.