Sentiment deteriorated further during the past week as oil prices rebounded, more bad news in the financial sector surfaced, economic woes mounted and inflationary pressures intensified, compounding the already-jittery investors' anxiety.
Status Quo's lyrics "Down down deeper and down" came to mind as global stock markets took a battering. For example, the Dow Jones Industrial Index, plunged by 3.8% over the week to below 12,000 – its lowest level since March. Commensurate with extremebearishness, short interest on the New York Stock Exchange jumped to an all-time high during the week.
At the center of investors' angst was the perception that the credit crisis has not yet played itself out. These fears were supported by Goldman Sachs (NYSE:GS) analysts who said last week they did not expect the credit crisis to peak before 2009, and that U.S. banks might need to raise $65 billion of additional capital (on top of $159 billion raised so far) to cope with additional losses from the sub-prime fallout.
On a related note, Moody's downgraded the credit ratings of Ambac Financial (ABK) and MBIA (NYSE:MBI), citing their limited ability to raise new capital and write new business. Banks were also in focus as analysts cut their price targets for, among others, Goldman Sachs (GS), Citigroup (NYSE:C) and Wachovia (NASDAQ:WB).
In one of the most bearish reports for a while, The Royal Bank of Scotland (NYSE:RBS) advised clients to brace themselves for a full-fledged crash in global stock and credit markets over the next three months as inflation paralyses the major central banks. "A very nasty period is soon to be upon us – be prepared," said Bob Janjuah, the bank's credit strategist (who gained credibility after his warnings last year about an impending credit crisis).
Richard Russell, 83-year old author of the Dow Theory Letters, expressed concern about the stock market's negative breadth and said:
I did a double-take when I read Lowry's statistics … Buying Power Index at a multi-year low and Selling Pressure Index at a multi-year high. And the two Indices at about their widest (most bearish) spread in history or since the 1930s. What the devil could this mean? My guess can be summed up in one word – trouble.
However, there is still hope, according to David Fuller (Fullermoney), who pointed out that Investors Intelligence's sentiment index (bottom section of the chart on the left) was extremely bearish.
There has never been a reading at current or lower levels that was not soon followed by a sharp rebound, including during the last bear market. This indicates to me that we are within a week or two of a bear squeeze, providing at least a tradable rally …

Lousy Fridays are often followed by rotten Mondays.
To which I add: When in doubt (and there is a ton of doubt), better to err on the side of caution than to do something stupid.
Let's briefly review the financial markets' movements on the basis of economic statistics and a performance round-up:
Economy
The Survey of Business Confidence of the World conducted by Moody's Economy.com, reported that:
Global business sentiment appears to have turned a corner. It remains weak, but it has moved measurably higher since hitting bottom in late April. Confidence remains weakest in the U.S. where it suggests the economy is still contracting, and it is strongest in Asia where it is consistent with an economy growing near its potential.
Economic reports in the U.S. were largely overlooked last week as market participants focused on corporate news, although there were several notable releases:
The NAHB Housing Market Index fell by 1 point to 18, bringing it back to the record low reached in December and before that not seen since 1985.
After plummeting since the beginning of this year, consumer confidence is showing tentative signs of stabilizing, according to the ABC News/Washington Post Consumer Comfort Index.
Industrial Production fell by 0.2% in May, following an outsized 0.7% decline in April. Overall, the report is consistent with continued modest declines in manufacturing.
The Producer Price Index for finished goods rose by a large 1.4% in June as expected, following a 0.2% increase in April. Inflation was once again led by large price increases of food and energy products.
Summarizing the U.S. economic scenario, Paul Kasriel, chief economist of Northern Trust, said:
 … despite the Fed's aggressive Federal funds rate reductions, money and credit growth have slowed significantly … to absolutely low rates. The implication of this is that real economic activity is likely to be very sluggish until financial institutions rebuild their capital positions and that the inflationary flames are likely to subside as they are deprived of the 'oxygen' of credit growth.
The highlight of next week's economic news will be the FOMC policy announcement on Wednesday. Economists expect the Fed funds rate to remain unchanged at 2.0%, but uncertainty regarding the wording of the policy statement means it has market-moving potential.
Kasriel also said:
We fully expect that the FOMC will devote a relatively large amount of 'ink' to the inflationary threats in its no-change policy statement on June 25, but we also expect the FOMC to reiterate that the downside risks to economic growth still dominate its policy decisions in the near term.

 Elsewhere in the world, escalating inflation concerns are at the top of policymakers' agendas. In addition to rampant inflation in emerging markets, the Eurozone and U.K. are also shouldering strongly rising prices.
Consumer price inflation in the Eurozone was up 3.7% in year-ago terms in May. The rate is far above the European Central Bank's 2% inflation target and, given the ECB's more hawkish tone lately, markets are increasingly expecting the bank to tighten.
Consumer prices shot ahead in May in the U.K., rising by 3.3% in year-ago terms. The deteriorating inflation outlook has reduced the likelihood of imminent monetary easing, while a recent statement by Bank of England Governor Mervyn King suggests that rate increases are also unlikely.
WEEK'S ECONOMIC REPORTS
| | | | | | | | |
| --- | --- | --- | --- | --- | --- | --- | --- |
| Date | Time (NYSE:ET) | Statistic | For | Actual | Briefing Forecast | Market Expects | Prior |
| Jun 16 | 8:30 AM | NY Empire State Index | Jun | -8.7 | 0.0 | -2.0 | -3.2 |
| Jun 16 | 9:00 AM | Net Foreign Purchases | Apr | $115.1B | NA | $63.2B | $79.6B |
| Jun 17 | 8:30 AM | | May | - | 960K | 950K | 978K |
| Jun 17 | 8:30 AM | Core PPI | May | - | 0.2% | 0.2% | 0.4% |
| Jun 17 | 8:30 AM | | May | - | 1000K | 980K | 1032K |
| Jun 17 | 8:30 AM | | May | 1.4% | 1.0% | 1.0% | 0.2% |
| Jun 17 | 8:30 AM | Core PPI | May | 0.2% | 0.2% | 0.2% | 0.4% |
| Jun 17 | 8:30 AM | | May | 975K | 1000K | 980K | 1008K |
| Jun 17 | 8:30 AM | | May | 969K | 960K | 960K | 982K |
| Jun 17 | 9:15 AM | | May | 79.4% | 79.8% | 79.7% | 79.6% |
| Jun 17 | 9:15 AM | | May | -0.2% | 0.2% | 0.1% | -0.7% |
| Jun 18 | 10:30 AM | Crude Inventories | 06/14 | -1242K | NA | NA | -4560K |
| Jun 19 | 8:30 AM | | 06/14 | 381K | 370K | 375K | 386K |
| Jun 19 | 10:00 AM | | May | 0.1% | 0.0% | 0.0% | 0.1% |
| Jun 19 | 10:00 AM | Philadelphia Fed | Jun | -17.1 | -10.0 | -10.0 | -15.6 |
Source: Yahoo Finance, June 20, 2008.
In addition to the FOMC's interest rate decision on Wednesday, June 25, next week's economic highlights, courtesy of Northern Trust, include the following:
Conference Board's June Index of Consumer Confidence (June 24) – Consensus: 56.5, Previous: 57.2.
May Durable Goods Orders (June 25) – Consensus: 0.0%, Previous: -0.5%.
May New Home Sales (June 25) – Consensus: 515K, Previous: 526K.
FOMC decision (June 25) – Consensus: no change in Fed funds target.
Q1 Final GDP (June 26) – Consensus: 1.0%, Previous: 0.9%.
May Existing Home Sales (June 26) – Consensus: 5,000K, Previous: 4,890K.
May Personal Income (June 27) – Consensus: 0.4%, Previous: 0.2%.
May Personal Consumption Expenditures (PCE) (June 27) – Consensus: 0.7%, Previous: 0.2%.
May Core PCE Price Index (June 27) – Consensus: 0.2%, Previous: 0.1%.
June Final University of Michigan Consumer Attitudes Index (June 27) – Consensus: 56.9, Previous: 56.7.
Markets
The performance chart obtained from the Wall Street Journal Online shows how different global markets performed during the past week.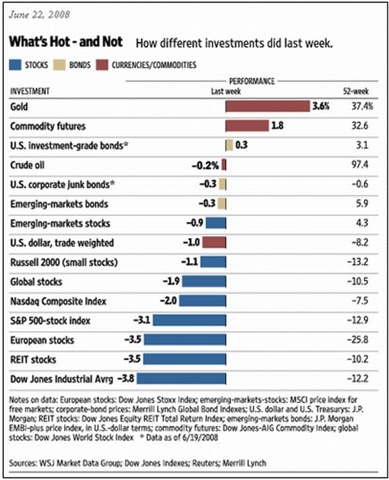 Source: Wall Street Journal Online, June 22, 2008.
Equities
The MSCI World Index dropped by 1.9% during the past week as concerns about surging inflation, further credit-related trouble and deteriorating corporate earnings spooked investors.
The Nikkei 225 Average (-0.2%) was the only developed market to survive the sell-off relatively unscathed. David Fuller (Fullermoney) regards Japan as "the best industrialized stock market for today's economic climate".
The performance of emerging markets (-0.9%) – the big casualties of the previous week with a steep decline of 5.3% – varied from the Hong Kong Hang Seng Index (+0.7%) and the Russian Trading System Index (+0.8%) that ended the week in the black, to the less fortunate markets such as the Brazilian Bovespa Index (-3.9%) and the Indian BSE 30 Sensex Index ( 4.1%). Year-to-date returns show the performance of emerging markets (+12.0%) still handsomely ahead of mature markets (-9.7%).
The U.S. stock markets faced the brunt of heavy selling pressure and closed on a very weak note on Friday – option and futures expiration day. The index movements tell the story: Dow Jones Industrial Index -3.8% (YTD -10.7%), S&P 500 Index -3.1% (YTD -10.2%), Nasdaq Composite Index -2.0% (YTD 9.3%) and Russell 2000 Index -1.1% (YTD -5.3%).
At the center of the sub-prime fallout, the Philadelphia Bank Index dropped to its lowest level in five years, closing down 5.9% on the back of further credit-related concerns and analysts downgrading their price targets for a number of companies.
Fedex (NYSE:FDX), viewed as a bellwether for the broader economy, reported earnings that missed the consensus estimate and issued 2009 earnings guidance well below expectations, citing a weak U.S. economy and record fuel prices.
Ford (NYSE:F) and General Motors (NYSE:GM) retreated by 8% and 16% respectively for the week after Ford said it would be difficult to "break even" in 2009, and Standard & Poor's put a negative credit rating watch on both companies. It makes one wonder about the old adage stating that "As GM goes, so goes the nation" …
Gold stocks (+4.8%) and platinum stocks (+4.6%) were among the few to keep head above water during the sell-off.
The Dow Jones Industrial Index and the S&P 500 Index are solidly below both their 50- and 200-day moving averages, and are now challenging their March lows of 11,740 and 1,273 respectively. The Nasdaq Composite Index has also now succumbed to both moving averages, whereas the Russell 2000 Index is right at its 50-day moving average (and already below the key 200-day line).
I penned some (rather sobering) thoughts on the fundamental outlook for the U.S. stock in a post a few days ago. Here is the link: U.S. Stock Market: Muddling Through the Fundamentals.
Fixed-interest instrument
Last week, Federal Reserve and European Central Bank officials moderated market participants' expectations of interest rate increases, resulting in rates coming off the boil as seen in the U.S. three-month Treasury Bill rate dropping by 16 basis points to 1.80%. Fed funds futures moved to price in only a 10% chance that the Fed will raise rates by 25 basis points at Wednesday's FOMC meeting, compared with 22% a week ago.
The front end of the Treasury yield curve, being most sensitive to Fed policy moves, gained, with the yield on the two-year Note dropping by 19 basis points during the week to close at 2.85%. The yield on the 10-year Note, which is more sensitive to inflation pressures, declined by 12 basis points to 4.14%.
As far as the rest of the world is concerned, short-dated bond yields were mostly lower. For example, the yield on the U.K. two-year Gilt declined by 16 basis points to 5.29%, whereas the German two-year Schatz yield dropped by 9 basis points to 4.60%.
Safe-have considerations played a role pushing up bond prices, but BCA Research warned that "… government bond markets will remain at risk until oil prices correct decisively or there is evidence that the disinflationary impact of the ongoing slowdown in the G7 economy is starting to unfold".
US mortgage rates were virtually unchanged, with the 15-year fixed rate declining by 1 basis point to 5.99% and the 5-year ARM 1 basis point higher at 5.88%.
Credit market stress increased as shown by the widening spreads in both the U.S. and Europe. The CDX (North American, investment grade) Index rose by 11 basis points to 126, and the Markit iTraxx Europe Crossover Index by 14 basis points to 500.
Currencies
A realization that the Fed might not hike interest rate as quickly as expected caused the US dollar to trade lower. The euro rose by 1.4% against the dollar in anticipation of the ECB carrying out its threat of increasing interest rates a notch next month. Other major currencies – the British pound (+1.4%) Swiss Franc (+1.0%) and Japanese yen (+0.9%) – also made headway against the greenback.
Commodities
Commodity markets as a whole rose by 1.8% as a softer U..S dollar encouraged buying of precious and industrial metals.
However, movements in the crude oil price remained the focal point. West Texas Intermediate closed a volatile week nearly unchanged at $134.62 per barrel after trading as high as $139.89 (a new record) and as low as $131.19. Trading triggers included the US government's oil inventories report that showed a mixed picture of demand, an announcement that China was increasing its gasoline and diesel prices, and news that Israel performed a military exercise to simulate the bombing of nuclear facilities in Iran.
The chart below shows the past week's performance of various commodities: