Do it yourself (DIY) dividend investing requires buying, selling, or holding stocks. Warren Buffett advised investors to wait for the fat pitch. My belief is facts trump speculation or hope. This article will identify two dividend stocks to buy for the do it yourself investor. I will also focus on three stocks to avoid for the do it yourself income investors.
At the end of the day, one must earn income. Excuses are not part of the do it yourself investor's vocabulary.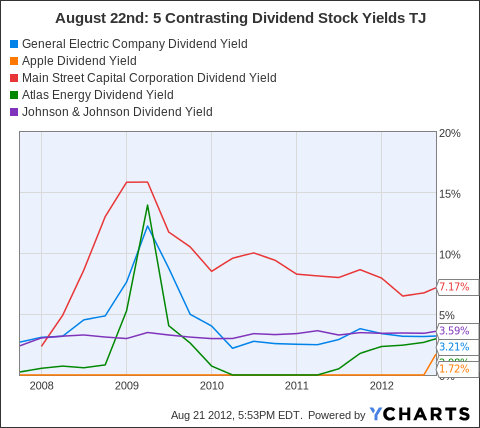 GE Dividend Yield data by YCharts
General Electric (GE)
General Electric pays a 3.2% annual dividend. Quarterly dividends are 17 cents per share. General Electric has moved up in price in recent months. The stock's total performance over 5 years, including dividend payouts, have been less than stellar. Per the below chart, GE's 5 year return as provided in the below chart, indicates investors received a negative 33.56% return.
Valuation
The company is trading at a 18x price to earnings multiple. Earnings grew at 3%.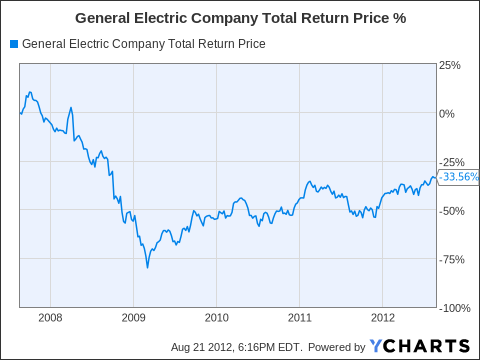 GE Total Return Price data by YCharts
GE 2nd Quarter
The company's earnings before interest, depreciation, taxes, depreciation, and amortization (EBITDA), operating margins, and net margins declined on average 8.7% in year over year comparisons.
The company's 2nd quarter SEC filings show the results. Revenues were up 2%. Revenues and earnings per share go hand in hand. GE Capital, the finance unit which caused the Federal Government bailout, earned $2.1 billion.
The GE Capital Unit increased earnings by 31%. GE Capital earned $2.1 billion. I want to avoid GE Capital's involvement as an investment thesis. Transparency is difficult to extrapolate based upon quarterly changes in tier 1, tier 2, and tier 3 holdings. I want to see GE move away from the GE Capital unit and possess growing revenue and earnings' segments.
The continuing operation's profit was up 3% for the 2nd quarter. I don't find any compelling reasons to own GE. The brand name is strong, but net earnings and net revenues are weak at sub 5% per annum. I advise avoiding General Electric shares. It is a stock with a two character symbol that failed during the turbulent 2008-2009 market time.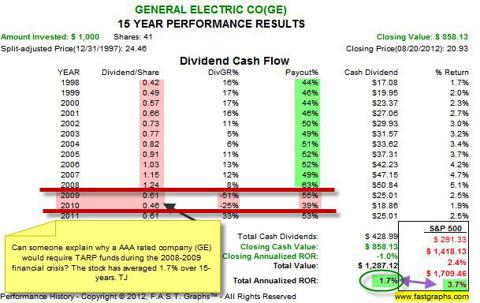 Johnson & Johnson (JNJ)
Johnson & Johnson currently yields a 3.6% annual yield. The quarterly dividend is 61 cents. The company trades at a 21x price to earnings multiple. The 2nd quarter revenue growth declined by 67 basis points in year over year comparisons.
Johnson & Johnson is truly a blue chip company. The problem is they don't make investors money. Revenues and earnings have stalled over the past two years. The net returns, per the above table, have not outperformed the S&P 500 over 15 years.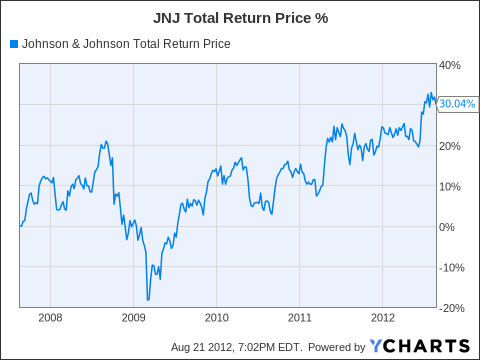 JNJ Total Return Price data by YCharts
Johnson & Johnson is simply underperforming the S&P 500. The revenue growth is weak. The S&P 500 (NYSEARCA:SPY) outperforms the Johnson & Johnson stock over a 5 year period.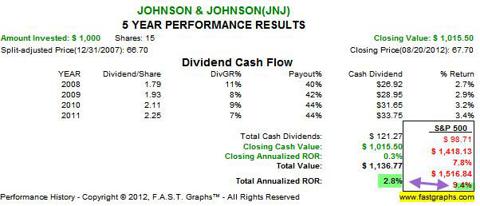 Johnson & Johnson's stock yields 3.6%. The capital appreciation is absent. New products, new revenue sources, and increasing earnings per share are needed to increase the price per share. As of now, they are absent.
3 Reasons to Avoid Johnson & Johnson
Johnson & Johnson is trading at a 21x price to earnings multiple. 2011 earnings per share were $5.00. 2012 earnings per share are expected to be $5.07. This lack of earnings growth does not warrant a 21x price to earnings multiple.
The company did not beat the S&P 500's 5 year performance per the above table. Johnson & Johnson delivered a total annualized rate of return of 2.8% versus the S&P 500's 9.4% return.
Main Street (MAIN)
Main Street had a secondary in early July. This was about 6 weeks ago. The stock exploded upwards for a 20% return. This opportunity has to be sold. A 20% gain in 6 weeks is ridiculous.
Although Main Street remains a top business development corporation (BDC), the sudden valuation increase is not warranted in my view. BDC's, by their very nature, offer secondaries to accumulate new monies for investments. This would cause the stock to decline as new shares are offered to the market place.
I sold my shares and am awaiting the next Main Capital secondary.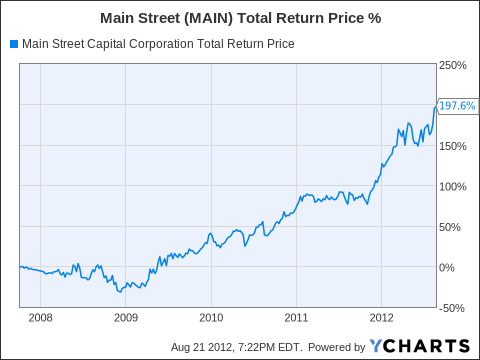 MAIN Total Return Price data by YCharts
Current shareholders receive an annual 7% dividend. I will take advantage of management and the secondary offerings announced at the last moment.
A 20% return in 6 weeks is equivalent to almost 3 years of Main Capital dividends. This is an easy decision to sell and wait for another secondary.
Atlas Energy, LP (ATLS)
Atlas Energy, LP currently yields 3% with a 25 cent quarterly dividend. Mr. Ed Cohen, the CEO, discussed the growth prospects during the 2nd quarter conference call.
Atlas Energy, LP is a partnership with a General Partnership benefiting from incentive distribution rights in energy related income producing securities. The partnership, and its affiliates, have aggressively purchased midstream pipeline assets and upstream assets. The distributions should benefit from these purchases.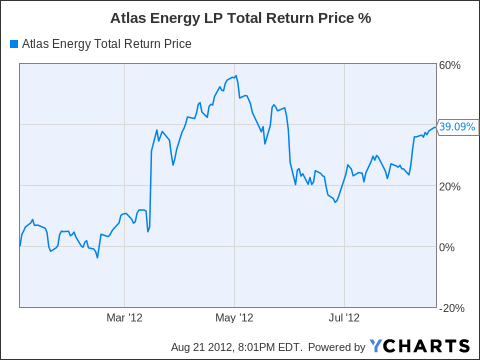 ATLS Total Return Price data by YCharts
Growth Strategy
Atlas Energy, LP owns a 2% General Partner interest in Atlas Pipeline Partners LP (NYSE:APL) and Atlas Resource Partners, L.P. (NYSE:ARP). Both companies have committed substantial resources to assets expected to increase earnings per share. These acquisitions are ongoing since the first quarter of 2012.
As presented in the company's 2nd quarter conference call, investors should expect enhanced dividends in the 3rd quarter and 4th quarter. This is due to multiple midstream and upstream purchases by its affiliates.
The General Partner earnings accelerate faster than the affiliates due to incentive distribution rights.
Apple (AAPL)
Apple pays a quarterly dividend of $2.65 per share. This equates to a 1.6% annual yield on the $665 stock price. Apple's recent quarterly profit increased by 20.7% in year over year comparisons. The profit increased to $8.8 billion from the year earlier profit of $7.3 billion.
Valuation
This past quarter Apple paid its first quarterly dividend. The $2.65 per share dividend went ex-dividend on August 9th. I anticipate the company to increase this as its cash rich balance sheet grows. The company's balance sheet has $27 billion for acquisitions and business opportunities.
Apple is expected to earn $50 per share for 2012. Based upon a $665 stock price, the stock is trading at a 13.3x price to earnings multiple. The company is expected to grow 2013's revenues and profits by 22%. The stock's current price to earnings multiple is 63% of its forecasted earnings and revenue growth.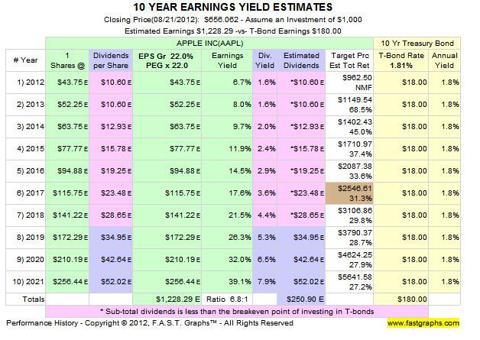 Apple has gone from $580 to $655 in a few short weeks. The company remains one of the cheapest stocks in the stock world. The forecasted growth rate exceeds its current price to earnings multiple.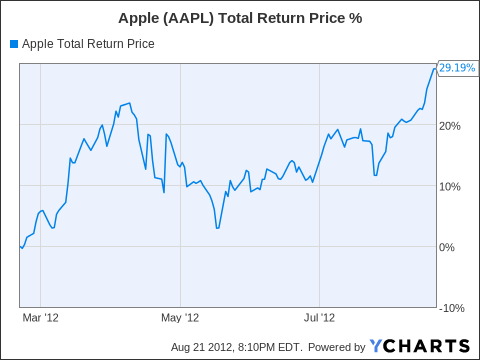 AAPL Total Return Price data by YCharts
Apple earned $9.32 in the 3rd quarter of 2012. Analyst year end total estimates range from $45.00 in 2012 to $55 in 2013. These project a 12x - 15x price to earnings multiple on current and future earnings' expectations.
The company is expected to have a strong September thru December 2012. The iPhone 5 is expected out for the holiday season. The iPad continues to gain traction. The Apple TV is a deserved item and could become a core item amongst the Apple ecosystem.
Apple product owners know the ecosystem. Each iTunes purchase each application purchase, each new product offering enhances customer loyalty and the net profits drops down to the bottom line.
Although Mr. Jobs did not believe in stocks splits and dividends, current management has taken a different path.
Dividend
On July 24th, Apple announced a quarterly dividend of $2.65 per share. This should grow as Apple's ecosystem expands, new product offerings increase, and market share is gained against heavily competed against Samsung, Microsoft, and Google products.
Action
Cash cow dividends are typically tobacco based dividends or utility based dividends. If one can find a growing dividend stream, along with earnings and revenue increases, then the changes for enhanced returns have increased. Apple and Atlas Energy, LP are two such examples.
Disclosure: I am long AAPL, ATLS. I wrote this article myself, and it expresses my own opinions. I am not receiving compensation for it (other than from Seeking Alpha). I have no business relationship with any company whose stock is mentioned in this article.