We recently wrote an article on Vivus Inc. (NASDAQ:VVUS) providing a strategy for individuals who were looking for a chance to get into the stock at a lower price. However, given the potential for much higher prices, the following strategy could prove to be very useful for those who are looking for a means to leverage their position without incurring too much of a cost.
Some reasons to consider Vivus Inc
According to Bloomberg, 42% of Americans will be obese by 2030. This is very good news for both Vivus and Arena (NASDAQ:ARNA) as they both received approval to market their respective anti-obesity drugs. Vivus however holds the advantage as its drug is scheduled to hit the markets earlier. Qsymia is expected to be available by the end of 2012. According to Rodham & Renshaw sales for Qsymia could come in as high as $42 million this year and $290 million by next year. Even if sales should fall short of this mark, Vivus will certainly experience a surge in revenues by next year.
Clinical studies demonstrated that Qsymia was more effective than Arena's Belviq. Patients who took Qsymia on average lost 10% of their body weight as opposed to 4% for those who took Belvig.
What makes Vivus more interesting is that it received approval for a secondary drug called Stendra. Stendra is to be used for the treatment of erectile dysfunction. This puts it in a better position than Arena, as it does not have to be completely reliant on the success of its anti-obesity drug. According to Bloomberg, Stendra works 50% faster than Pfizer's (NYSE:PFE) Viagra. Pfizer booked $2 billion in sales from Viagra last year, so this is a rather lucrative market. As Stendra works better, it could give Viagra a run for its money.
Suggested strategy for Vivus Inc.
Technical outlook
After trading as high as $31.20 it has pulled back to the $20 ranges. Most likely, those who got in early were banking some of their profits. It has a pretty decent amount of support in the $18.50-$19.00 ranges. This is a rather volatile stock so traders need to be prepared for wild swings. If it closes below $18.50 on a weekly basis on high volume, it could potentially trade down to the $13.50-$14.00 ranges. The key word being potentially and not definitely and if this were to occur, it would probably make for a good buying opportunity unless the move down was triggered by some negative development. We would wait for the stock to trade in the stated ranges before putting this plan into action. If you are not willing to wait, then consider dividing your money into two lots. Deploy one lot now and then one lot if and when the stock trades to the suggested ranges.
Part 1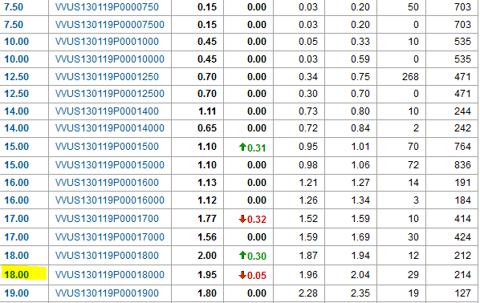 The Jan 2013, 18 puts are trading in the $1.96-$2.04 ranges. As stated earlier, it would be better to wait for a test of the $18.50-$19.00 ranges before selling these puts. If the stock pulls back to the stated ranges, the puts should trade in the $2.55-$2.80 ranges. We will assume that the puts can be sold for $2.55 or better. For each contract sold, $255 will be deposited into your account.
Part 2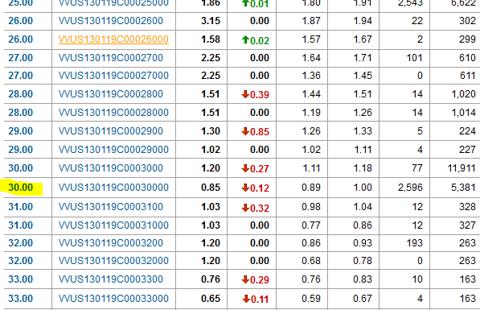 If the stock pulls back to the stated ranges, the Jan 2013, 30 calls should trade in the $0.65- $0.78 ranges. For this example, we will assume that the calls can be purchased for 75 cents or better. For each put sold, you will be able to purchase up to 3 calls and still have net credit of $30.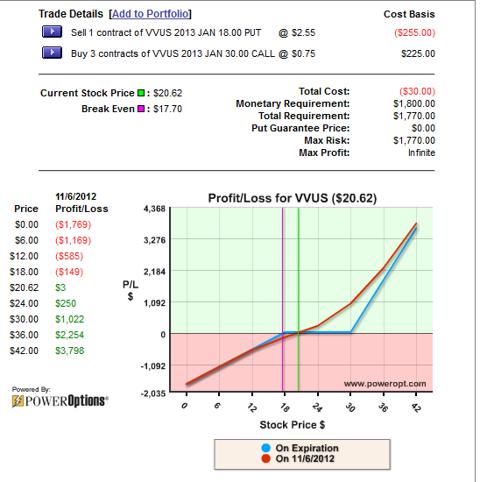 Benefits of this strategy
The main benefit of this strategy is that it provides bulls with a low cost method of leveraging their position. In this case, it would cost you $1,800 to secure each put, but you would now be able to control up to 300 shares. If you purchased those shares today you would have to put up roughly $6,200.
The second benefit is that you have a chance of getting into the stock at a lower price. If the stock trades below the strike price you sold the puts at, the shares could be put to your account. Depending on the number of calls you purchased, your final price would range from $16.20 (if you purchased one call only) to $17.70 (if you purchased three calls). As long as you are bullish on the stock, the possibility of having the shares assigned to your account should not be an issue. Assignment typically occurs on the day the option expires.
Risk factors
The only real risk is that you have a change of heart and you now feel that the stock could trade well below the strike price you sold the puts at. In this case, you could roll the put. Buy back the old puts and sell new out of the money puts.
Conclusion
The markets are in volatile phase right now. The SPX could very easily pull back to the 1360-1375 ranges before trending higher. This is also a volatile stock so traders need to be ready to deal with sharp moves in either direction. If you are bullish on the stock at the current price, you could put the above strategy to play immediately.
Our recommended approach is to divide your money into two lots. Deploy one lot when and if the stock trades down to the suggested ranges and deploy the second lot if it should spike down to the $13.50-$14.50 ranges, provided this downward move was not triggered by any negative news. We would not hold our breadth for it to trade down to these ranges. If this does occur, think of it as a potential gift, as long as the drop is not accompanied by some terrible news. If there is some negative news, watch how the stock reacts over the next few days. Sometimes, to create a sensation and grab the headlines, some sites might create a mountain out of a mole hill.
EPS, company vs industry and Price vs industry charts obtained from zacks.com. A major portion of the historical/research data used in this article was obtained from zacks.com. Options tables sourced from yahoofinance.com. Option Profit loss graph sourced from poweropt.com.
Disclaimer
It is imperative that you do your due diligence and then determine if the above strategy meets with your risk tolerance levels. The Latin maxim caveat emptor applies - let the buyer beware.
Disclosure: I have no positions in any stocks mentioned, and no plans to initiate any positions within the next 72 hours. I wrote this article myself, and it expresses my own opinions. I am not receiving compensation for it (other than from Seeking Alpha). I have no business relationship with any company whose stock is mentioned in this article.