Since the time I joined Seeking Alpha, November 2011, I have written 6 articles on VIX related products:
TVIX ETN Sell-Off Explained March 23, 2012
VXX Will Not Repeat TVIX's 60% Drop, But Holders Should Sell Into Any Rally March 27, 2012
TVIX: Sell The Rally March 28, 2012
TVIX Surges, But Investors Should Stay Away June 22, 2012
TVIX Hits All-Time Low Despite Market Weakness July 2, 2012
TVIX Hits All-Time Low, But It's Not Too Late To Sell July 18, 2012
In all of these articles, I have continuously pointed out the same reason why investors should avoid these products.
The primary reason why I am bearish about the VIX products, Velocity Shares Daily 2x VIX Short-Term ETN (NASDAQ:TVIX), iPath S&P 500 VIX Short-Term Futures ETN (NYSEARCA:VXX), Pro Shares Ultra VIX Short-Term Futures ETN (NYSEARCA:UVXY) , and others has nothing to do with where volatility itself is going. Rather, the structure of these VIX related products.
Contango Flaw
The main reason that products such as TVIX, VXX, and UVXY are flawed has to do with contango in VIX futures. Over time, the contango in the VIX futures leads to losses for these volatility products as the "roll" effect eats away at the NAV of the fund. The phenomenon is discussed in more detail here.
Current Contango
Right now, with the VIX trading at five year lows, contango is a major factor in the VIX futures market. In short, the reason for this, is that the market is pricing in more volatility in the future than we are currently experiencing. It is almost inevitable that at some point in the next few months, volatility will increase. However, investors cannot take advantage of this because VIX futures prices already reflect an increase in volatility in the future. VIX Futures prices are shown below.
Spot VIX: 13.45
August Futures: 15.09
September Futures: 18.17
October Futures 20.28
The steep contango will result, as it has in the past, in significant "roll" losses for the leading VIX products.
Trading Vehicle
One of the reasons why the VIX related products have become so popular is their ability to move sharply higher in a very short period of time given a market panic. For example, as shown by the chart below, when fears over the European situation were at their highest in mid 2011, VIX products surged.
While the move higher was impressive, the move down in the time that has followed, as previously discussed, has been even more dramatic. It should be noted that during the time period shown above, the VIX related products not only kept pace with the VIX itself but actually outperformed. The reason for this was a change in the VIX futures curve. As discussed in commentary here, during the time shown above, the VIX was actually in backwardation, not contango. The normal state for VIX futures is contango. As the VIX futures curve ultimately returned to a state of contango, VIX related products got crushed. The current contango, as previously discussed, does not lead me to believe that there will be a major trading opportunity in these products anytime soon. However, if we were to see a catalyst such as war in the middle east causing oil prices to soar, an uncontrollable spiral downward in the European situation, or another panic causing event the VIX could move into backwardation and a trading opportunity could emerge for VIX related products.
Avoiding VIX Products
As I have always said, I would avoid the VIX related products, especially TVIX, VXX, and UVXY because of the contango. This is not to say that these products cannot move up very quickly for a short period of time, they can and have done so in the past. Any unexpected rise is short-term volatility will cause such a move. However, over the medium-long term, these products cannot be owned under any circumstances. My advice for investors looking to hedge their portfolios or make a negative bet on equities, has been and remains buying inverse ETFs. While imperfect, ETFs such as Pro Shares Short S&P 500 (NYSEARCA:SH), and Pro Shares Short Dow 30 (NYSE:DOG) are, in my opinion, a much better play than VIX products. The chart below shows how over the medium term, inverse ETFs offer a stronger inverse correlation with equities than VIX related products.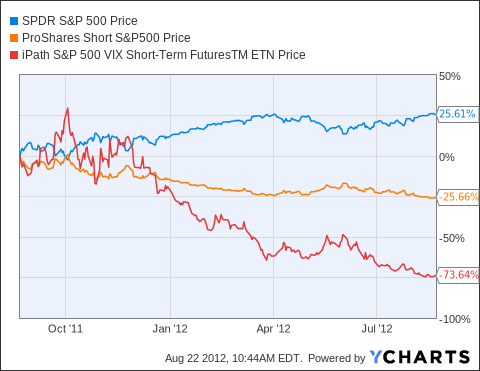 Disclosure: I have no positions in any stocks mentioned, and no plans to initiate any positions within the next 72 hours. I wrote this article myself, and it expresses my own opinions. I am not receiving compensation for it (other than from Seeking Alpha). I have no business relationship with any company whose stock is mentioned in this article.