The exchange traded fund that tracks gasoline prices has been on a tear over the past few months on supply disruptions and higher oil prices. However, drivers may soon see some relief as refineries switch out of the summer-grade gas.
U.S. Gasoline Fund (NYSEARCA:UGA) is up about 30% from the June low.
David Hackett, the president of Stillwater Associates, believes that gas prices should drop in a few weeks as refineries switch out of the summer grade, Bloomberg reports.
"Refiners can't make as much gasoline to the summer grade as they can to fall and winter," Hackett said in the Bloomberg article. "That'll increase supplies in the East and help take the pressure of prices."
Gasoline futures jumped 19% over the past two months, pushing up retail prices 7.2% over the same period, The Wall Street Journal reports.
The national average gasoline price rose 2.3 cents to $3.744 a gallon this week, compared to the $3.581 a gallon for the same week last year AAA expects gasoline prices to break daily records for at least several more weeks.
"So much occurred in the last couple of weeks that has led to current pump prices," Jessica Brady, AAA spokeswoman, The Auto Club Group, said in a Gulf Breeze News report. "Elevated oil prices, domestic supply disruptions, tropical storms and more have led to the spike at the pump. It looks as though prices will continue to increase throughout the month. Hopefully, retail prices will drop after the Labor Day holiday when demand tends to fall and we switch to a cheaper fuel blend."
Meanwhile, crude futures are trading above $96 a barrel.
Oil is rising partly on supply concerns. North Sea Brent is experiencing short-term supply outages while heightened tensions in the Middle East, notably concerns stemming from Iran's nuclear ambitions, has helped put a premium on oil.
U.S. Gasoline Fund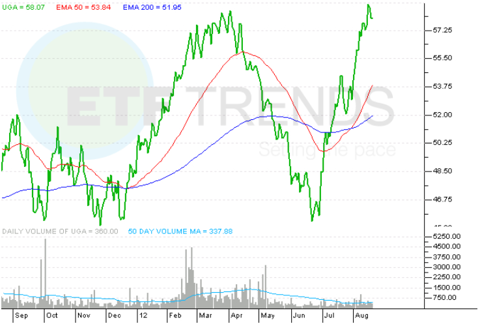 Max Chen contributed to this article.
Disclosure: I have no positions in any stocks mentioned, and no plans to initiate any positions within the next 72 hours. I wrote this article myself, and it expresses my own opinions. I am not receiving compensation for it (other than from Seeking Alpha). I have no business relationship with any company whose stock is mentioned in this article.