Nomura strategist Bob Janjuah is of the opinion that S&P 500 is likely to drop by 20-25% over the next three months.
I am also of the opinion that equities will correct over the next 2-3 months. I had discussed the reasons in detail in one of my recent articles. However, I don't foresee a correction of 20-25% in such a short time.
Further, I also believe that markets might not take a cut of 25% in the medium-term (3-5 years). On the contrary, I expect the markets to do well and outperform government bonds meaningfully over the next 3-5 years.
I had discussed the medium to long-term outlook for the markets in two of my recent articles on the corporate profit bubble and valuation and outlook for S&P.
In this article, I will discuss the rationale for equity markets not correcting meaningfully from a different perspective. The perspective to be discussed provides a strong reason for policymakers to be concerned about a decline in equity markets.
The investment company institute report for the first quarter of 2012 shows that the total U.S. retirement market has increased to USD18.9 trillion. Of the total, the IRA and defined contribution plan constitutes USD10.0 trillion of retirement assets.
(click images to enlarge)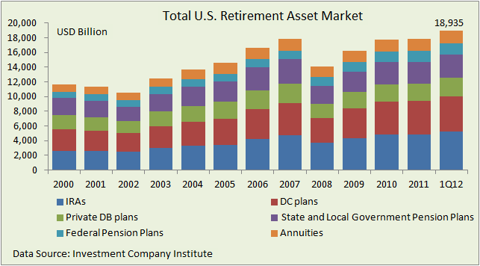 `
I have specifically focused on the IRA and DC plans, as approximately USD3.4 trillion of retirement assets in these accounts is invested in equities (through mutual funds).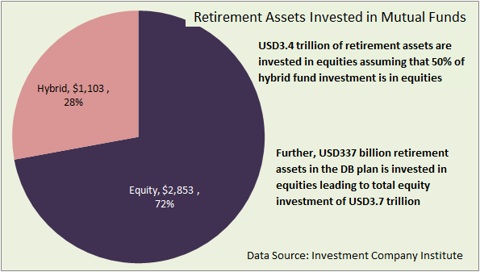 Further, equity exposure in private DB plans is not included in the USD3.4 trillion. In the same report from ICI, the Federal Reserve Board data indicates that mutual fund assets held in private sector DB plans amounted to USD337 billion.
This USD3.7 trillion of retirement funds in equities forms the basis of this article and of the view that the S&P will not witness any meaningful correction. A 25% correction would mean that nearly USD1 trillion of retirement funds would be wiped off.
This would be a completely undesirable situation for policymakers and the government, which has gigantic unfunded liabilities. Therefore, it is not surprising to see policymakers step into action, even if the markets correct by 10%.
The importance of healthy equity markets to preserve the wealth of retirees is indicated by the next chart.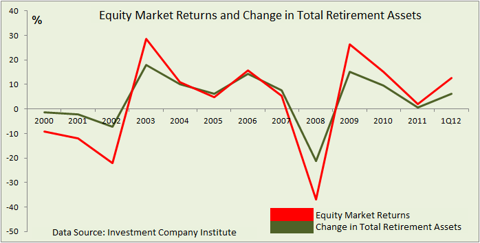 Very evidently, growth or decline in total U.S. retirement assets is in sync with returns on the S&P 500 index. This explains the deflation fear in the minds of policymakers. Also, this explains the commitment to further stimulus, despite the fact that previous packages have done little for the real economy.
One might argue that equities declined by 37% in 2008, and such a scenario is entirely possible in a weak economic environment. It is important to understand that the Lehman collapse resulted in a complete credit freeze, leading to the crash.
In the current scenario, the banking system has ample liquidity, and the policymakers are even more committed to avoiding another Lehman scenario. Therefore, I don't foresee a market crash resulting from very tight liquidity positions.
Markets can surely correct due to a recession or weak growth. Even in such a situation, ample liquidity is available, and investors will go bargain hunting.
In the last 16 years, the S&P 500 index has corrected by over 20% in just two years (2002 and 2008). The first instance was on negative cues of a TMT bubble, recession and the 9/11 attacks, while the second was on a complete credit freeze.
A 25% or bigger correction is only possible if the entire financial system is again on a verge of collapse. I don't see that scenario panning out in the next few years. Therefore, one can remain relatively bullish on equities in times of negative returns on bonds.
Further, corrections of 10-15% would provide excellent long-term investment opportunity in the index or selected quality stocks.
In conclusion, having trillions of dollars of retirement assets in equities might still sound undesirable and very risky. However, policymakers will do whatever it takes to preserve those retirement assets.
Investors need not trust the policymakers when it comes to doing something really beneficial for the real economy. Investors can completely trust policymakers when it comes to inflating asset markets. My suggestion would be to consider exposure to equities on every correction.
Having exposure to equities will increase the probability of returns beating inflation. I personally like the idea of index investing and the SPDR S&P 500 (NYSEARCA:SPY) ETF, which tracks the performance of the S&P 500 index, is a good investment option.
Disclosure: I have no positions in any stocks mentioned, and no plans to initiate any positions within the next 72 hours. I wrote this article myself, and it expresses my own opinions. I am not receiving compensation for it (other than from Seeking Alpha). I have no business relationship with any company whose stock is mentioned in this article.