Devon Energy Corporation (NYSE:DVN) is one of the largest energy exploration and production companies in North America. It is typically viewed as a Nat Gas play, but actually generates most of its revenues from oil and liquids. Devon Energy first caught my attention a few months ago as I was trolling through the charts of energy stocks that had been beaten down. Devon Energy's 20-year chart caught my attention. It is the essence of what I like to see: a stock that has been beaten back to the support level of long-term uptrend.
Click to enlarge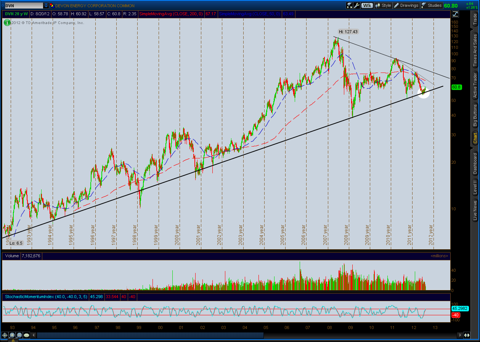 My interest in a particular trade idea is always piqued by the chart. Charts may be mumbo-jumbo to some, but to me they are the story of a stock. They reflect the history of investor sentiment, complete with all of the fundamental and speculative considerations of the market. That view may be a bit naive in this day of HFT algos... but I think the gist remains accurate.
Devon Energy has a 20-year history of steadily rising investor support, as evidenced by the chart above. That history of support suggests to me there can be a defined exit strategy. Should the stock break meaningfully below the rising trendline and hold for a few sessions, it's time for me to get out. At the time of my initial entry, there was less than 10% of downside. The downside risk is a little greater now, but still pales in comparison the upside potential.
The upside is not just on the chart (where the next resistance is around $66), but in the fundamentals. Oil has rallied off its bottom and could ramp back into the triple digits should the Fed green-light QE3. Natural Gas has been beaten down mercilessly since 2008, but has its staunch supporters who believe a turnaround is at hand. Those two factors provide two strong legs on which Devon Energy could leap higher.
Morningstar recently listed Devon Energy as its top conviction buy, based on new positions from some of their top-rated stock pickers. In his letter to investors, Oakmark fund manager Bill Nygren summarized the fundamental case for DVN pretty succinctly:
"With nearly 60% of its reserves in natural gas, Devon is widely perceived to be a gas company, and its stock price has traded down with natural gas prices. However, 80% of Devon's revenues and over 80% of our business value estimate stem from the company's oil and liquids business. Based on our estimates, the stock is now trading at just over half of its 2013 asset value. And we are not assuming any oil price recovery in our numbers. An additional reason we are attracted to Devon is the way management allocates capital. It seems that most oil and gas managements have a 'bigger is better' mentality. Devon instead focuses on per-share value. In the past two years, Devon has used excess cash to reduce its share base by 10%. Selling at less than 10 times expected earnings, at half of estimated asset value, and with a history of repurchasing its shares, we are pleased to add Devon to our portfolio."
With that story of fundamental upside as context, I want to look at the chart again. Devon Energy has chopped around the long term support trendline (chart at top of the page) through most of the summer. Even in the last month, as the market pushed higher on hopes and prayers for more QE from any Central Bank willing to oblige, Devon Energy continued to chop. Until this week. This week, DVN has finally broken out of the range it had occupied all summer, and pushed above the falling trendline of its spring high and into the clear. It appears DVN may finally be ready to march higher.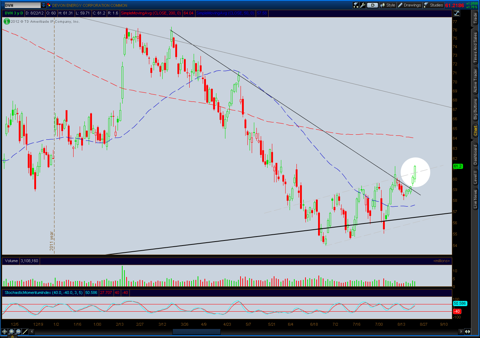 With all that said, I must also note that I remain in perma-bear mode. I have been generally bearish for two years now. While I embrace chart-driven periods of bullishness, I am ever cognizant that I fully expect this house of cards to come tumbling down in another epic collapse at some point in the next few years. It is possible that we are currently topping out for the year, as both the QQQ and the S&P are facing long-term trendline resistance.
A broad market tumble would likely take Devon Energy down with it, although energy stocks did continue to rally ferociously in early '08, while the broader market fell. If QE3 is the final nail in Central Banks' failed reliance on the printing press, it's possible that commodities (and commodity-based stocks) would rally, while the broader market falls as the world economy weakens, as happened in 2008.
To summarize, I think Devon Energy offers significant upside, with a definable and proximate exit should the trade prove to be mistimed. In addition to once again holding at its rising trendline this summer, verifying rising investor confidence, Devon Energy has more recently broken to new highs. This most recent move may prove to be a bullish catalyst for the coming weeks or months.
Disclosure: I am long DVN. I wrote this article myself, and it expresses my own opinions. I am not receiving compensation for it (other than from Seeking Alpha). I have no business relationship with any company whose stock is mentioned in this article.