Gilead Sciences, Inc. (NASDAQ:GILD), engages in biopharmaceuticals research, and is primarily involved in discovering and developing drugs for HIV, Hepatitis B and C, and metabolic and respiratory conditions. The company is also involved in commercializing its own products. In our previous article, dated June 11, we recommended a long position in Gilead Sciences. The stock, at that point, was trading at $49.5, and is now trading near $57, an increase of approximately 15% in the last two months. Gilead's main drug, Truvada, has been given FDA clearance to be used as an AIDS prevention drug. The drug was already being used by HIV positive patients since 2004. Considering the company's strong performance and expected growth in revenues, we maintain our long position for Gilead.
Click to enlarge

Figure 1: Comparative % change GILD, BTK, S&P500
Gilead has given a YTD return of 38%. The company posted EPS of $0.99 in its second quarter of 2012, which was 8 cents more than the previous quarter; beating analyst estimates of $0.95. Figure 1 compares the stock's performance with the AMEX Biotech Index and the S&P 500 index, both of which Gilead has outperformed during the last year.
If we look at EPS estimates for Gilead, steep increases in profitability can be seen from the graph. These are due to expectations of continued demand increases for its drugs, and increased profit margins due to a reduction in R&D expenses. Revenues will also grow by a CAGR (Cumulative Aggregate Growth Rate) of 8%. Considering the fact that Gilead's products are fast approaching the mature stage of their life cycles, 8% is a solid growth rate.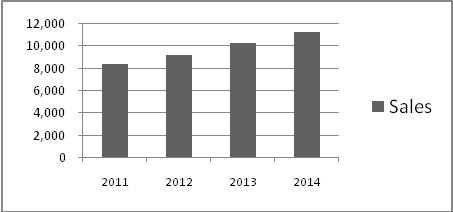 Figure 2: GILD Sell side Revenue Forecast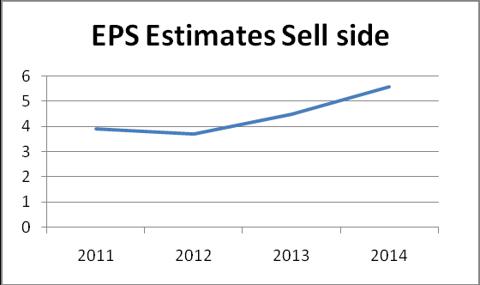 Figure 3: EPS Estimates
The two largest revenue generators for Gilead are Atripla and Truvada. FDA approval of Truvada will increase its revenues, as the HIV negative population (people who do not have HIV, but regularly interact with HIV positive patients) will use it as a precautionary drug. Truvada was approved in mid-July for the prevention of Aids. Access to the prevention drug market will give a huge boost to Gilead's future prospects.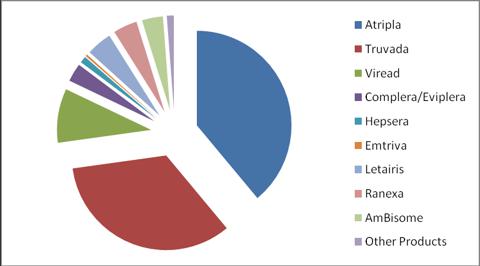 Figure 4: Product wise Revenue Distribution as of 2Q2012
The market for HIV treatment products is showing continuous growth. According to JPMorgan (NYSE:JPM), there was steady growth in different classes of HIV prescription drugs. NNRTI, NRTI and PI are all showing single-digit growth. If we look at Gilead's competitor drugs, Pfizer' (NYSE:PFE) Selzentry and Merck's (NYSE:MRK) Isentress are also showing solid growth.
Valuations
We are using a P/E multiple of 18x, considering the fact that the company's stock is beyond the phase of initial growth, displayed by most biotechnology companies in their initial years of inception. The multiple has been calculated as an average of the last five year's P/E. However, HIV detection and diagnosis is becoming more sophisticated. Moreover, with the increased focus on 'prevention', combined with Truvada's FDA approval, a multiple of 18x is on the lower side.
| | | | | |
| --- | --- | --- | --- | --- |
| | | 2012 | 2013 | 2014 |
| P/E | 18x | | | |
| EPS Estimates | | $3.7 | $4.5 | $5.6 |
| Price Target | | $67 | $81 | $101 |
The stock is currently trading at a multiple of 13x using our EPS estimates for 2013. Using a multiple of 18x, we can calculate a December 2012 price target of $67; and $81 for 2013. JPM analysts are using a more conservative multiple of 15x.
Analyst Opinion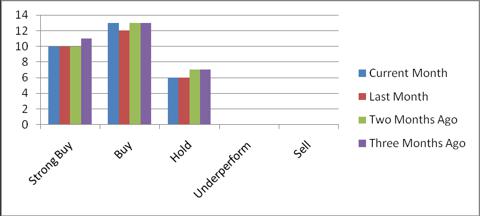 If we look at analyst opinions, we can see a consensus on a long position for GILD. Ten analysts have a strong buy position on GILD in the current month. No analyst is currently recommending a short/sell position on the stock.
Conclusion
The company has presented another major drug for approval in the United States and the European Union. Quad is a combination of two Gilead drugs, namely Emtriva and Viread. The drug, along with Truvada, received a favorable review from a U.S. government advisory panel back in May. Truvada received approval last month, and Quad might receive one soon. Quad can be a star drug for Gilead if approved.
The company is expected to show strong growth well into 2015, as can be seen from our revenue estimates. If we analyze Gilead's stock with its competitors, it is currently trading at a discounted price, based on our 18x multiple. Therefore, we maintain a long position on Gilead Sciences.
Disclosure: I have no positions in any stocks mentioned, and no plans to initiate any positions within the next 72 hours. I wrote this article myself, and it expresses my own opinions. I am not receiving compensation for it (other than from Seeking Alpha). I have no business relationship with any company whose stock is mentioned in this article.