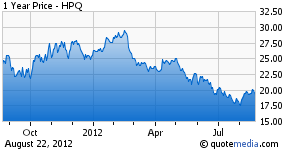 Shares of Hewlett-Packard (HPQ) fell up to 5% in afterhours trading on Wednesday. The troubled global information technology, and personal computer producer, reported its largest quarterly loss in its corporate history.
Third Quarter Results
Hewlett-Packard reported third quarter revenues of $29.7 billion, down 5% on the year. Excluding the adverse effects from a strong dollar, revenues were down 2%. On average, analysts expected HP to generate revenues of $30.2 billion
The big news was the $10.8 billion after-tax charge, or $5.49 per share, which Hewlett-Packard took. The company took massive impairments on intangible assets, goodwill, restructuring charges and acquisition related charges. As a result of the charge, GAAP losses per share came in at $4.49, compared to a profit of $0.93 last year.
Non-GAAP earnings per share fell 9% to $1.00 per share. This came in ahead of HP's previous guidance of $0.94-$0.97 per share. On average, analysts expected HP to earn $0.98 per share.
CEO Meg Whitman commented on the results, "HP is still in the early stages of a multi-year turnaround, and we're making decent progress despite the headwinds. During the quarter we took important steps to focus on strategic priorities, manage costs, drive needed organizational change, and improve the balance sheet."
Segmental Information
Personal Systems Group
Revenues in the PC division fell 10% to $8.6 billion. Sales of notebooks fell 13% to $4.4 billion, while desktop sales fell 8% to $3.5 billion. Consumers were hesitant to buy PCs in anticipation of Microsoft's new operating office system. Operating earnings fell by 28% to $409 million. Operating margins fell by 120 basis points to 4.7%.
Services
Revenues at the service division fell by 3% to $8.8 billion. Infrastructure Technology Outsourcing revenues fell 6% to $3.7 billion, while technology services fell 1% to $2.6 billion. Operating earnings fell some 23% to $959 million, for an operating margin of 11.0%. Margins fell 270 basis points compared to last year.
Imaging and Printer Group
Imagining and printer revenues fell by 3% to $6.0 billion. Supplies revenues fell by 3% to $4.0 billion. Commercial hardware revenues rose by 4% to $1.4 billion. Operating earnings increased 8% to $949 million. Operating margins rose 160 basis points to 15.8%.
Enterprise Servers, Storage and Networking Software
Revenues at HP's enterprise servers, storage and networking division fell by 4% to $5.1 billion. Weakness was seen across all subdivisions: industry standard servers, storage and business critical systems. Operating earnings fell 19% to $562 million, resulting in operating margins of 11.0%.
Software
The only positive point, were the developments at the software division. Revenues rose by 18% to $1.0 billion. Operating earnings rose 9% to $175 million, resulting in operating margins of 18.0%. Performance at the software division was driven by the acquisition of Autonomy.
Outlook
For the full year of 2012, Hewlett-Packard now estimates non-GAAP diluted earnings per share in the range of $4.05-$4.07, which is at the low end of the previously guided outlook.
On a non-GAAP basis, the company is expected to lose approximately $6.30 per share. This relates primarily to the amortization of intangible assets, impairment of goodwill and restructuring and acquisition charges. In the third quarter, these charges came in at $10.8 billion, after-tax.
Valuation
Hewlett-Packard ended its third quarter with $9.5 billion in cash and equivalents. The company operates with $29.7 billion in short and long term debt. As such, Hewlett Packard operates with roughly $20 billion in net debt.
For the first nine months of 2012, the company reported revenues of $90.4 billion. The company reported a net loss of $5.8 billion, or $2.93 per share. Excluding the $10.8 billion charge, the company earned $5.0 billion, or almost $2.50 per share. The company is on track to generate revenues of around $120 billion for the full year, on which it could earn $8 billion in non-GAAP earnings, around $4.06 per share.
Factoring in a 5% decline in after hours trading, shares are valued around $36 billion. This values the firm at roughly 0.3 times annual earnings and 4 times annual non-GAAP earnings.
Currently, Hewlett-Packard pays a quarterly dividend of $0.132 per share, for an annual dividend yield of 2.9%.
Investment Thesis
Year to date, shares of Hewlett-Packard trade with losses of roughly a quarter. Shares advanced to $30 in February, but fell steadily to lows of $17-$18 in the summer months. The fall was despite the fact that CEO Whitman announced to merge the company's printer and PC's business. Furthermore, Whitman announced massive job losses. In 2014, some 27,000 jobs must be cut, resulting in a $1.8 billion charge in restructuring and severance payments.
Over the past five years, shares have lost about 60% of their value. Between 2008 and 2012, annual revenues stabilized around $120 billion. Net income came in little over $8 billion in 2008, similar to non-GAAP earnings for 2012. Note that the company will report a large loss this year, on the back of the one-time charges. In the meantime, the company repurchased roughly a fifth of its shares outstanding.
Hewlett-Packard might have seen the competitive changes coming; however it pursued the wrong strategy. Rather than driving internal change, the company pursued to acquire promising companies in growing industries. In 2008, it bought Electronic Data Systems for almost $14 billion, which resulted in today's large write-downs. Last year, Hewlett Packard bought UK-based Autonomy for $11 billion, not a winner either. In the meantime, other billion dollar deals have been done including, 3Com, Palm, 3PAR and ArcSight.
In April I took a detailed look at the prospects of Hewlett-Packard. CEO Whitman announced the combination of the printer and personal computer business. At that point, I felt the measures taken were not aggressive enough, given the dramatic changes in the competitive environment. Since that time, shares have lost roughly another quarter of their value.
Today, shares trade at their lowest levels in the past eight years. While valuation levels based on non-GAAP earnings and revenues look attractive, the fundamentals keep deteriorating. At the same time, the massive acquisition spree has resulted in a net-debt position of $20 billion, a sizable amount for a shrinking and less profitable company.
Despite the recent declines, I still remain on the sidelines. Today's report does not offer triggers for a short term rebound. I am hopeful that the company is on track tough to drive long term change.
Disclosure: I have no positions in any stocks mentioned, and no plans to initiate any positions within the next 72 hours. I wrote this article myself, and it expresses my own opinions. I am not receiving compensation for it (other than from Seeking Alpha). I have no business relationship with any company whose stock is mentioned in this article.