Stern Agee came out today with a positive piece on gold miners. The analyst firm called the sector "underowned and underpriced." Highlighted below are two of its top picks in the space, which are both cheap given their growth prospects and valuations.
"Gold Resource Corporation (NYSEMKT:GORO) is an exploration stage company that engages in the exploration for and production of gold and silver in Mexico". (Business description from Yahoo Finance)
Four reasons GORO is undervalued at $18 a share:

The stock was just initiated as an "accumulate" at Global Hunter Securities, and the median analysts' price target on the stock is $27 a share.
GORO yields a robust 3.9% and the company has doubled its dividend payout over the last two years.
After breaking even in FY2011, analysts expect almost a $1 a share in earnings per share in FY2012 and close to $1.50 in FY2013. The company has net cash on its balance sheet and projections are for over 25% revenue growth in FY2013.
The stock has solid technical support at these price levels. (See shart below)
Click to enlarge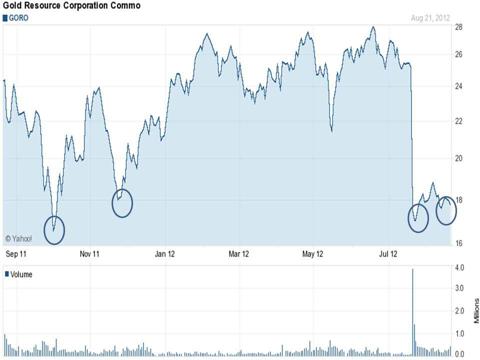 "Coeur d'Alene Mines Corporation (NYSE:CDE) has silver and gold mining properties primarily located in the United States, Mexico, Bolivia, Argentina, and Australia". (Business description from Yahoo Finance)
Four reasons CDE should appeal to growth investors at $22 a share:

The stock is near the bottom of its five-year valuation range based on P/B, P/E, P/S and P/CF.
The company is showing impressive earnings growth. CDE made $1.37 a share in FY2011, but is on track to make $1.78 this year. Analysts have it earning $2.64 a share in FY2013.
Insiders have made several purchases in August. The stock is also very cheap at 91% of book value and just over 8 times forward earnings. CDE also sports a minuscule five year projected PEG (.22)
The stock recently bounced off long-term technical support and just crossed its 100-day moving average (See chart below)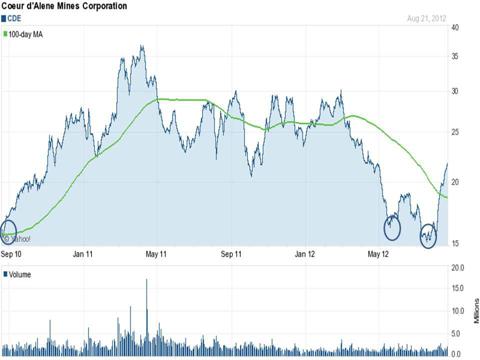 Disclosure: I am long CDE. I wrote this article myself, and it expresses my own opinions. I am not receiving compensation for it (other than from Seeking Alpha). I have no business relationship with any company whose stock is mentioned in this article.