US Bancorp (NYSE:USB) has a strong balance sheet and liquidity position. The bank's net interest income will take a hit due to the record low interest rate environment. However, to offset the effect of this decline, we believe USB will continue to expand its fee based income on favorable activity in U.S. housing markets, and the upcoming consumer spending event. These are the reasons why we are bullish on the stock.
Bank Business Description
USB, based in Minneapolis, operates as a regional bank in the U.S. financial sector, and caters mostly to the Midwestern population, providing a complete range of financial products, including insurance, mortgage banking, leasing and brokerage services. For the purpose of reporting, the company is organized into five segments; Consumer and Small Business Banking, Wholesale Banking and Commercial Real Estate, Wealth Management and Securities Services, Payments Services, and Treasury and Corporate Support.
2Q2012 Financial Review

The bank reported a stronger than expected second quarter performance on July 18, 2012. USB reported a turnover of $5.1 billion and earned $0.71 per share. The table above shows how revenues and earnings exceeded analyst estimates by approximately 2%. The following table illustrates the performance in detail.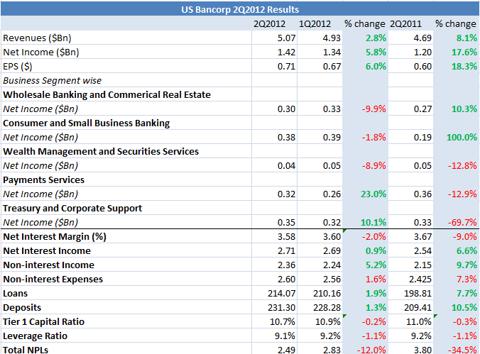 The bank generated revenues of $5.07, 3% above what it generated during the prior quarter, and 8% above the prior year's figures. EPS of $0.71 surpassed the prior quarter and prior year earnings by 6% and 18%, respectively. On average, approximately 46% of the revenues for the bank came from non-interest income. However, we believe that in the coming quarter, fee based income's contribution will increase, owing to increased credit & debit card service fees and higher mortgage related fees.
Much of the strength in the performance was attributed to non-interest income of $2.36 billion, which increased 5% sequentially and 10% on a YoY basis. Most of the growth in fee based revenues was attributed to higher mortgage related revenues, revenues accruing from corporate payment products, and higher processing fees from credit & debit cards. Fee based income from mortgages increased 8.4% sequentially, primarily due to higher mortgage originations and sales. This reflects the bank's ability to capitalize on the near zero interest rate environment and resultant record low mortgage rates. We believe that since the interest rates will be kept low until 2014, a possible U.S. housing rebound will help the bank to continue to expand its fee based income from mortgage-related revenues. Revenues accruing from corporate payments and credit & debit cards fees increased 8.6% and 16%, respectively. In an economy hit by weak consumer spending, high unemployment and low consumer confidence, the bank processed higher transaction volumes, which led to the increase in fees accruing from debit and credit cards. This reflects the bank's ability to tap the market even in a sluggish economic environment. Successful legislative-mitigation efforts partially contributed to the growth. We believe that going forward, the bank will gain from the second biggest consumer spending event, Back-to-School Spending, where parents restock their children's needs.
Despite a decline in the net interest margin that the bank earned during the quarter, USB was able to moderately enhance its net interest income from $2.69 billion in the first quarter to $2.71 billion in the second quarter. The net interest spread of 3.58% that the bank earned during the quarter was only 2bps below what it earned during the prior quarter. Both, assets yield and interest paid on interest bearing liabilities, fell by 6bps and 5bps, respectively. The decline in yield and interest paid on interest bearing liabilities was attributed to the general low interest rate environment, which is expected to continue until 2014.
Non-interest expenses increased from $2.56 billion in the first quarter to $2.6 billion in the second quarter. The 156 bps surge was primarily due to an increase in expenses from professional services, partially offset by a decline in marketing and business development and employee benefits.
Balance Sheet Strength
Loans and deposits for the bank increased 2% and 1.3%, respectively. Total loans reached $214 billion, 2% above the loan balance at the end of the first quarter, and 8% above the last year's same quarter's loan balance. The improvement in loans was primarily associated to the sequential growth of 6%, 2.4% and 3.5% in commercial loans, commercial mortgages and residential mortgages, respectively.
Total deposits of $231 billion increased by 1.3% from the last quarter. The improvement in deposits was largely attributed to a sequential growth of 1.5%, 2.5% and 16.5% in non-interest bearing deposits, savings accounts and time deposits greater than $100,000, respectively.
Capital and Liquidity Position
The bank was not able to improve its capital position, and kept its Tier 1 capital ratio at 10.7%, 30bps below the prior year's capital ratio. However, the bank was able to improve its liquidity position significantly. Historically, the bank has kept a loans-to-deposit ratio of above 100%. After the second quarter, the bank was able to reduce it to 89.55%.
Valuations
The bank has a P/B value of 1.89 times, while historically it traded at an average multiple of 2.1 times. However, when compared to its regional peers, USB's trades at a premium to Regions Financial (NYSE:RF) and Fifth Third Bancorp (NASDAQ:FITB).
Conclusion
Based on the above analysis and outlook, we recommend our investors buy USB.
Disclosure: I have no positions in any stocks mentioned, and no plans to initiate any positions within the next 72 hours. I wrote this article myself, and it expresses my own opinions. I am not receiving compensation for it (other than from Seeking Alpha). I have no business relationship with any company whose stock is mentioned in this article.