It appears that Alcatel-Lucent (ALU) might have scored a major victory. After just launching its new flagship product the "7950XRS," it managed to lure a major service provider like Verizon (NYSE:VZ) from its key rival Cisco systems (NASDAQ:CSCO). This should be a wake up call for Cisco, especially when a key customer like Verizon decides to jump ship.
Verizon said consistency between the 7950 and other Alcatel products already in its network will make it easier to integrate the 7950 than another vendor's router might have been. Verizon already uses the Alcatel 7750 SR edge router. The new routing system will be part of Verizon's solution for fast-growing wired and wireless network traffic. In addition to speed, the 7950 will provide flexibility and efficiency. It will allow the carrier to extend MPLS (Multiprotocol Label Switching), a technology for prioritizing different streams of IP traffic, from the heart of its global transport network to the cores of its metropolitan networks in specific cities.
This is a rather remarkable achievement considering that it's starting from scratch in a field that is predominantly dominated by Juniper Networks (NYSE:JNPR) and Cisco. The 7950XRS is estimated to be five times faster and 66% more energy-efficient than its competitors' products. It would take 10-12 routers from Cisco or Juniper linked together to produce the same results as the 7950XRS. At this point, it simply blows the competition away.
Lucent entered the edge core router market eight years ago with zero market share, and now controls roughly 24% of the market. The core router segment represents a $4 billion market. If it can mimic its past success and achieve a similar market share, it could represent an additional $1 billion in revenues. Getting Verizon to embrace its new core router is a strong vote of confidence and sends a firm message to other service providers that 7950XRS is among the best products on the market right now.
Some other reasons to be bullish on Alcatel-Lucent
It has over 29,000 patents
Cash flow increased from $-0.22 in 2009 to $.050 in 2011
Annual EPS before NRI increased from $-0.27 in 200y to $0.47 in 2011
Zacks has a target price of 2.50
Projected year over year growth rates of 147% for 2013
An adequate interest coverage ratio of 1.72
Net income increased from $-703 million in 2007 to $1.48 billion in 2011
A projected 3-5 year EPS growth rate of 10%
A decent current ratio of 1.4
A decent levered free cash flow of $127 million
A high beta of 2.13 makes it a good candidate for covered writes and for selling naked puts
It's trading $0.60 below book value
Swelling growth in mobile broadband data traffic has increased the expenditure in wireless equipment spending in North America. This has pushed carriers to add more capacity and upgrade their 3G data networks, which should lead to a boost in revenues from its wireless division.
It just recently launched the API lifecycle methodology which is a new consulting and service practice that will allow communications providers to deliver new services to market faster and create new revenue opportunities. Essentially it gives communications service providers the expertise and technology to better manage interactions with application developers. The information posted on Alcatel-Lucent's website states the following:
These new practices will bring service providers the tools they need to effectively organize and implement the creation, management and use of application programming interfaces (APIs), which software developers rely upon when writing applications and which support the sharing of data and content between applications.

Alcatel-Lucent's flexible methodology follows three phases of Definition, Design and Deployment. Each phase can be offered on a standalone basis or combined depending on where the service provider is with their current API strategy.
Technical outlook
After trading to a new 52-week look ($0.99), it bounced of nicely and generated several positive divergence signals. It also traded below the -1 standard deviation Bollinger band. Usually when this occurs, it has a tendency to trade up. As long as it does not close below 99 cents on a weekly basis the outlook will remain neutral. A weekly close above 1.50 will turn the outlook to bullish and should result in a test of the $1.90-$2.10 ranges.
Under these circumstances, a great way to leverage one's position without incurring a large cost is to sell puts and use the proceeds to purchase calls.
Suggested strategy for Alcatel-Lucent
Part I

Then Jan 2014, 1.00 puts are trading in the $0.25- $0.30 ranges. These puts recently traded as high as 0.35. As the stock is still putting in a base, it could dip down to the 1.00-1.10 ranges before trending higher. At that point, it should be easy to sell the puts for 30 cents or better. For each contract sold, $30 will be deposited into your account. We will use this money for step 2 of the transaction.
Part II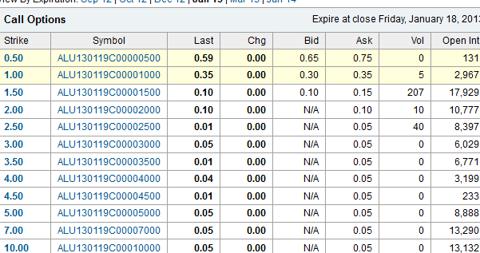 If the stock pulls back to the stated ranges, the Jan 2013, 1.50 calls should trade in the $0.08-$0.10 ranges. We will assume that the calls can be purchased at 10 cents or better. For each put sold, you will be able to purchase up to three calls.
Benefits of this strategy
The main benefit of this strategy is that it provides bulls with a low-cost method of leveraging their position. In this case, it would cost you $100 to secure each put, but you would now be able to control up to 300 shares. If you purchased those shares today you would have to put up roughly $360.
The second benefit is that you have a chance of getting into the stock at a lower price. If the stock trades below the strike price you sold the puts at, the shares could be put to your account. Assignment typically occurs on the day the option expires. Depending on the number of calls you purchased, your final price would range from $.80 (if you purchased one call only) to $1.00 (if you purchased three calls).
Risk factors
The only real risk is that you have a change of heart and you now feel that the stock could trade well below the strike price you sold the puts at. In this case, you could roll the put. Buy back the old puts and sell new out of the money puts.
Conclusion
The stock has taken a massive beating; it is extremely oversold and appears to be putting in a base. Its new product, the 7950XRS core router, has received a huge stamp of approval from Verizon, a major service provider. In addition, it has just launched a new consulting service that aims to help service providers deliver new services to market faster and create new revenue opportunities. At this point in time, it would make sense to risk a few hundred dollars as the potential rewards could be lucrative, especially if the above strategy is put into play.
Options tables sourced from yahoofinance.com.
Disclaimer
It is imperative that you do your due diligence and then determine if the above strategy meets with your risk tolerance levels. The Latin maxim caveat emptor applies - let the buyer beware.
Disclosure: I have no positions in any stocks mentioned, and no plans to initiate any positions within the next 72 hours. I wrote this article myself, and it expresses my own opinions. I am not receiving compensation for it (other than from Seeking Alpha). I have no business relationship with any company whose stock is mentioned in this article.
Additional disclosure: This article was prepared for Tactical Investor by one of our analysts. We have not received any compensation for expressing the recommendations in this article. We have no business relationships with any of the companies mentioned in this article.