The Soros Fund Management, which famed billionaire investor George Soros founded in the late 60's, and fellow billionaire John Paulson's hedge fund, two of the most watched and emulated funds there are, have been sending some strong signals to the investing world about precious metals recently. Recent filings with the Securities and Exchange Commission show that the Soros fund has now doubled its gold holdings. It now holds over 800,000 shares of the SPDR Gold Trust (NYSEARCA:GLD). John Paulson raised his stake in the same SPDR Gold Trust by 26%, to bring the total amount of his hedge fund which is tied into the precious metal to an overwhelming 44%.
Paulson feels that out of all the ideas he has, gold is his best long-term bet. According to him the protection it provides is against currency debasement and rising inflation, in addition to any possible breakup of the Euro. Soros, with beliefs contrary to most who bought gold to protect from possible inflation, instead claimed his original purpose years ago was to protect from possible deflation.
With the Soros fund it wasn't that long ago when it nearly eliminated all of its position in the SPDR Gold Trust, and did eliminate its entire holding of the iShares Gold Trust (NYSEARCA:IAU). During the first quarter of 2011, its holdings of GLD were less than 50,000 shares. During this time George Soros himself claimed that gold was the "ultimate asset bubble". Although, he did offer that he felt it could have a few more years to go. While it is interesting that after offering sentiments like this his namesake fund jumped back in, it tends to make myself believe the Soros fund's engagement with the precious metal is of a more speculative nature, while Paulson's on the other hand is not.
Where I personally feel the sweet spot is for any potential investment with gold is that which is of the speculative nature. Popular sentiment for gold's protective ability against inflation are not well founded in my opinion, and claims of imminent sharp rises in inflation in the face of prior quantitative easing have failed to be realized anyway. Nevertheless, they remain popular sentiments which are frequently espoused by people, and gold still remains very susceptible to bandwagon jumping investors at this time. It is in vogue.
It becomes a self-fulfilling prophecy for people, at least partially. That is, gold should rise in response to any potential monetary stimulus, save for the fact that what it is supposed rise in response to directly (namely inflationary fears) fails to come into existence.
As the latest Fed minutes reveal, officials at the U.S. central bank are now in fact favoring another round of monetary stimulus in the near future, which bodes well for positive price action with gold. This comes after a time period in which they appeared more ambivalent with taking further action. The Fed meeting occurred July 31st to August 1st, which places it before some recent key economic data was released, which was of a positive nature. The Fed minutes did say that economic improvement could remedy the need for the stimulus, but despite the positive nature of the data I don't feel that it changes the overall picture of an economy not being able to get itself into full stride.
This comes after a quarter in which we have seen a dip in the price of gold, with the SPDR Gold Trust dropping around 4% during it, and a year in which gold only recently got back into positive territory.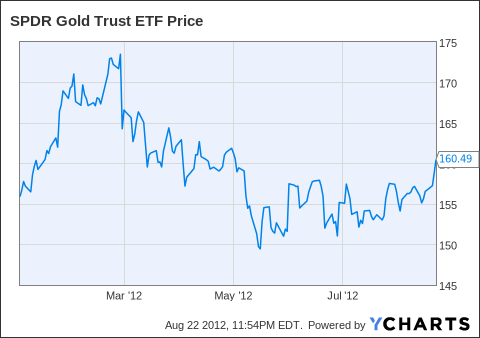 Already since the news of the Fed minutes has been made public we have seen a jump in price. For those willing to set aside a portion of their portfolio for speculative purposes, it could be a rewarding bet to purchase some gold now in the event of Fed action.
Disclosure: I have no positions in any stocks mentioned, and no plans to initiate any positions within the next 72 hours. I wrote this article myself, and it expresses my own opinions. I am not receiving compensation for it (other than from Seeking Alpha). I have no business relationship with any company whose stock is mentioned in this article.