Commodity chart of the day - Daily Silver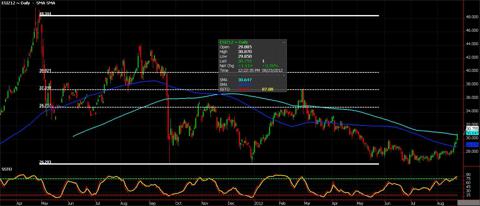 Hi-Ho silver as the next leg higher appears to be under way. Prices of December silver futures have advanced nearly 15% in the last month. In fact prices have traded up to their 200 day MA, a level that has not been penetrated since February when prices were trading close to $35/ounce.
Prices have advanced in a relatively short time frame but take a look at the big picture over the last 1 ½ - 2 years and silver is 17% off its lowest prices and 38% off its highest price. While I do not think there will be an immediate leap back near $50/ounce I do expect prices to make it to those levels again in the coming years.
My favored plays are either bull call spreads into 2013 or getting long futures while simultaneously selling out of the money calls 1:1. With a close above the 200 day MA my target is $34.50 into the fall ... trade accordingly.
Risk Disclaimer: The opinions contained herein are for general information only and not tailored to any specific investor's needs or investment goals. Any opinions expressed in this article are as of the date indicated. Trading futures, options and Forex involves substantial risk of loss and is not suitable for all investors. Past performance is not necessarily indicative of future results.
Disclosure: I have no positions in any stocks mentioned, and no plans to initiate any positions within the next 72 hours. I wrote this article myself, and it expresses my own opinions. I am not receiving compensation for it (other than from Seeking Alpha). I have no business relationship with any company whose stock is mentioned in this article.