Despite a plethora of macroeconomic barriers, the Dow Jones Industrial Average (NYSEARCA:DIA) is up about 8 percent in 2012 after a solid 5.5 percent gain in 2011. From a purely technical basis, this indicates that the longer term bull market is still intact. The occasional corrections are simply based upon rumors regarding overblown societal collapses.
More importantly, in 2012 a dozen Dow 30 stocks have unperformed the index, including four that are in the red thus far in 2012. I will be taking a look at two technology stocks and determine which of these are worth an investment. Some underlying factors that need to be remembered are that there is an economic slowdown in Europe and the U.K. While I am not one of those "end of the world" hopefuls, it is a simple fact that those regions are going through a recession. This, along with China's economic slowdown, will negatively impact companies with a large portion of revenues from outside the U.S. Two examples of this from the auto industry are Ford (NYSE:F) and GM (NYSE:GM).
Hewlett-Packard (NYSE:HPQ) has gone through a decade's worth of changes in less than a year. Some of these changes include a proposition to spin off the firm's PC and tablet business, a new CEO, the purchase of the meaning information firm Autonomy, and a restructuring plan that consists of massive layoffs and cost cutting measures. Because of these changes, and other debt problems, HP's stock has shed over 60 percent of its value since February 2011.
Despite a difficult PC environment, HP is doing what is needed to save the firm over the long term. While many people may say the PC is dead, it is not. Millions of families across the nation still prefer a stable computer at home. In fact, tablets are seen more as an on-the-go gadget while a PC or laptop is a necessity at home or work. However, I also find it important for HP to produce a tablet to attempt to keep pace in that market.
With that said, the truth is HP is losing market share across the board and this will continue to put pressure on the firm's revenue and income. One of the biggest problems is that other PC producers, such as Dell (DELL) and Lenovo (OTCPK:LNVGY), are cutting prices in order to lure customers to purchase new PCs or laptops. This will inevitably lead to a price war that will continue to beat down PC and laptop producer's margins.
Over the long term I am confident HP will continue to turn things around. However, I am expecting to see more downside because HP receives a significant portion of revenue from Europe and Autonomy's main business segment is in the U.K. In fact, Wednesday's earnings report proved that HP is still an unpredictable blue chip with more layoffs and changes to come. Investors should expect to see these changes and lower costs possibly offset lower product prices.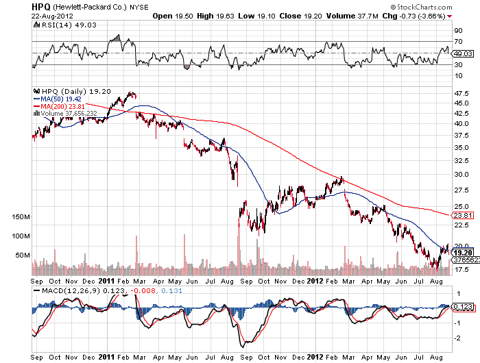 (Source: StockCharts.com)
Cisco (NASDAQ:CSCO) was the second worst performing Dow 30 stock thus far in 2012 before the firm's most recent earnings report. Digressing a bit, Cisco's stock collapsed 40 percent during the first half of 2011, but this was followed by a second half rally that left Cisco's investors with a loss of 5% in 2011.
Thus far in 2012 Cisco has shown signs that the company is improving. Along with improving operations, I am very happy with Cisco's cost cutting measures over the past 16 months and investors are beginning to see impressive profits and an increased dividend.
Cisco beat revenue and income expectations by $90 million and $0.01 per share when the firm reported fourth quarter earnings after the bell on Wednesday, August 15th. I was expecting to see Cisco's overall revenue improve after EMC (EMC) reported a decent quarter last month. However, it is important to note that we did not see grand slam results, but the numbers were good enough to boost the stock over $19.
The problem with Cisco's share price being above $19 is that the stock is valued too high for a new purchase, but low enough to where a new position is relatively safe. On the other hand, in a serious bull market we can expect to see Cisco push upwards into the $21-$22 range, which makes the stock an excellent buy. Again, the problem with this is that you will be hoping for a serious bull rally.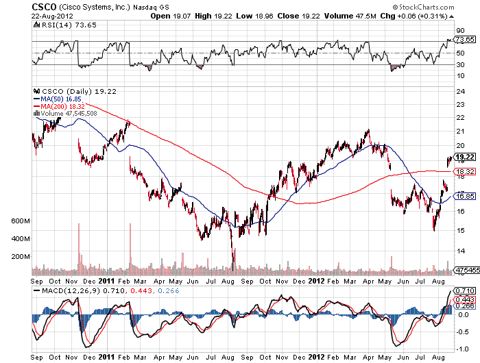 (Source: StockCharts.com)
If you must purchase one of these stocks, Cisco is the better choice. In a sense HP is where Cisco was at just over a year ago. Now that Cisco's cost cutting measures are on firm footing we are seeing positive results. This is why I am expecting to see HP turn around before 2014. The problem is that we do not know where the bottom is and if HP presents gloomy business results and more changes then the stock will continue to sink. Cisco on the other hand has already been there and will now begin to impress investors that once deemed the company the next bankrupt blue chip.
Disclosure: I am long EMC. I wrote this article myself, and it expresses my own opinions. I am not receiving compensation for it (other than from Seeking Alpha). I have no business relationship with any company whose stock is mentioned in this article.