Globalization. Exports. Emerging markets. Buzzwords repeated almost haphazardly by the talking heads, pundits and experts on TV and in the Wall Street Journal. Repeated so much so that we, the investing public, often take them for granted. We accept that globalization is happening. We accept that the world is getting smaller. We see the "Made in China" sticker on seemingly everything we buy. But how does this new economy actually work in practice? How do these "globalized" economies really interact? What makes this new reality move?
The answer of course, is ships. Really big ships. Ships that can carry over 180 thousand tons of goods (equivalent to 45,000 elephants). Ships that can be too large to make passage through the Panama or the Suez canals. Some so large they could transport the entire Sears Tower laid down on its side-all 1,454 feet and 440 million pounds of it. These are the backbone of globalization-moving iron, fertilizer, grain, finished goods, and everything else circulating in the global economy.
Today we highlight a company that owns and operates really big ships. This company has strong cash flow, a solid balance sheet, and a history of very big dividends.
Navios Maritime Partners - Big Ships. Big Dividends
Navios Maritime Partners L.P. (NYSE:NMM), a global dry cargo operator, transports an assortment of dry bulk goods around the world, with strong market presence in Europe, Asia, North America and South America. The company owns a fleet of 21 dry bulk vessels, including two Ultra Handymax. In addition to operating their fleet, they strategically charter certain vessels to enhance cash flow and stabilize revenue.
NMM is fundamentally sound, has positive trends in all significant financial metrics, and is a solid value play for the long term. Further, since the stock has dipped significantly since the Q2 ex-dividend date on 8/8/2012, buying now is an opportunity to buy into the Q3 dividend at a discount.
The fundamental financial performance is the core of this recommendation. NMM has positive trends in revenue, net income, EBITDA, and operating cash flow. The company has a strong balance sheet both in the current accounts and for the long term. Based on this, we anticipate a continued strong dividend and recommend buying on dips while the stock is less than $15.
Revenue has increased 149% from $75 million for year end 2008 to $187 million for 12/31/2011. Earnings have increased 132% from $29 million to $61 million over the same time period. Even more significant for the continuation of the dividend is the 205% increase in Cash Flow from Operations from $42 million to $127 million. We expect these trends to continue as the company is proactively positioning itself for growth. It should be noted that earnings as a percentage of revenue decreased in FY 2011 driven primarily by increased depreciation expense related to the acquisition of 8 vessels during the fiscal year. We anticipate this trend to reverse as these charters begin generating their full revenue potential; however, continued acquisitions could result in a lower net income margin on a go-forward basis.
In the 6 months ending 6/30/2012, the company purchased three new vessels with estimated impact of $12.8 million increase to annual EBITDA and $9.3 million increase to annual operating cash flow. This investment will net a baseline 8% return on investment ($9.3M operating cash flow increase divided by $116M investment) and 13% return on equity ($9.3M operating cash flow increase divided by $72.1M equity in the acquisitions). These return figures will likely be higher as the largest of the acquisitions, the $67.5 million purchase of the Navios Buena Ventura, includes a 50/50 profit sharing agreement when certain conditions are met.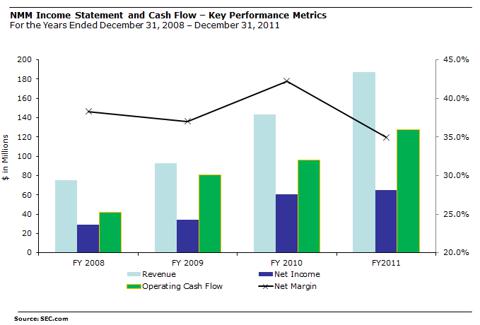 Interim 2012 results have continued the positive trend:
Increase in cash distribution to $0.4425 per unit for Q2 2012
7.4% increase in quarterly Revenue to $49.1 million
18.2% increase in quarterly EBITDA to $36.4 million
2.8% increase in quarterly Operating Surplus to $29.5 million
23.7% increase in quarterly Net Income to $16.7 million
The company's balance sheet has a reasonable amount of leverage, adequate working capital, and sufficient cash to support a continued dividend payout. Long term debt is at a reasonable level with a Long Term Debt to Equity ratio of 0.45. Quarterly interest coverage is 7 times, showing that there currently is no significant risk of default and debt levels are appropriate relative to both capital and cash flow. The company has a quick ratio of 1.13 and cash ratio of 0.81 (excluding restricted cash-including would improve the cash ratio to 1.03), primarily driven by a cash position of $41 million and total current liabilities of $50.6 million. At these levels, the cash in the company is sufficient to continue day-to-day operations and cash flow is sufficient to fund growth, thus allowing for continued dividends.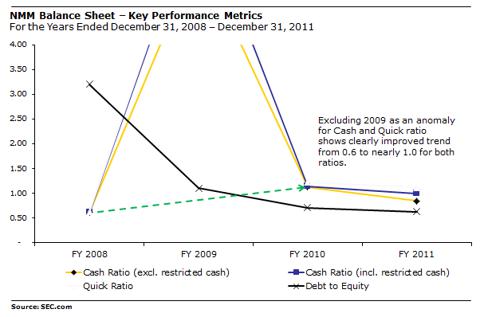 The company paid a $0.44 dividend per share for Q2 (12.2% yield) on 8/13/2012 for owners as of 8/8. The passing of the ex-dividend date spurred the stock to drop from $15.2 to $13.98 (an 8% overnight decrease). The 5 year average dividend yield is 11.33%, and dividend per share has increased every year since the IPO (a 67% increase from 2008). We anticipate this dividend to continue. Cash flow generation is more than sufficient, the balance sheet is strong and supports the payout, and the company's management and board have a history of distributing excess cash back to shareholders.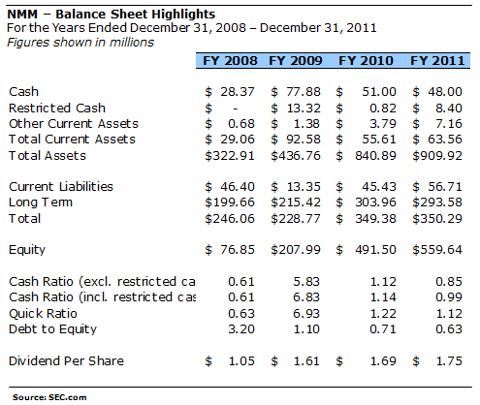 NMM is structured as a limited partnership. As such, the company does raise new capital through equity offerings from time to time. Because of this, we expect earnings per share to remain flat and the stock price to remain at or near its current range ($13-$17). This is acceptable, as the returns from this stock will be driven by the dividend. Further, the tax advantage of the limited partnership structure is that the dividend payments will be taxed on IRS Form 1099 and will avoid the "double taxation" of C-Corps.
Navios Maritime Partners has a strong balance sheet, excellent cash flow, and positive financial trends in all key metrics. The company has a conservative management philosophy with appropriate leverage, a stable growth strategy and is structured for tax advantages. The WSF recommends accumulating this stock below $15 per share over time with returns generated from future dividends.
Disclaimer: As with any investment, we recommend you consult with your personal financial advisor before taking any position.
Disclosure: I am long NMM. I wrote this article myself, and it expresses my own opinions. I am not receiving compensation for it (other than from Seeking Alpha). I have no business relationship with any company whose stock is mentioned in this article.