In June, we analyzed and evaluated Wisconsin Energy (NYSE:WEC) versus the utility sector powerhouse (no pun intended) Southern Company (NYSE:SO) in the wake of the Wisconsin gubernatorial recall. We concluded that as good as Southern Company was, Wisconsin Energy was better. Then again, Wisconsin Energy had a keen eye for talent and recruited Southern Company CFO and Milwaukee native son Gale E. Klappa to succeed Richard A Abdoo as President of WEC in 2003. We then followed that up with our analysis and evaluation of Wisconsin Energy versus Duke Energy (NYSE:DUK). We concluded that although Duke Energy is similar to Wisconsin Energy in that it is a preeminent utility company, it falls short of Wisconsin Energy.
Our June thesis is reinforced due to the management brouhaha between James E Rogers and Bill Johnson at Duke/Progress while we believe that Wisconsin Energy has already chosen Klappa's heir apparent in Allen Leverett, who is currently President and CEO of We Generation. Prior to serving as President and CEO of We Generation, Leverett was CFO and as CFO assisted in the development of a comprehensive corporate strategy focusing on all Company operations and affairs, executed corporate divestitures and oversaw WEC's American Transmission Company equity investment, which currently represents nearly 7.5% of WEC's consolidated earnings. In recognition of his significant responsibilities and contributions to the strategic direction of WEC, we have concluded that Leverett is the most likely candidate that will succeed Klappa, especially since Klappa was CFO at Southern and Leverett served eight years as CFO at WEC. Also, Klappa's successor at Southern Company Tom Fanning became CEO of Southern in 2010.
In this report we will analyze and evaluate Duke Energy versus Southern Company. Regardless of how the companies have performed financially over the short and intermediate term period and regardless of the fact that Duke's dividend yield of 4.6% is slightly higher than Southern Company's 4.25%, we believe that Southern Company offers dividend-seeking investors better short and intermediate return prospects, as well as potentially long-term return prospects than Duke Energy. Also, we believe that Southern Company's financial and operating performance has at least been comparable to or better than Duke's.
Source: Duke Energy and Southern Company Q2 Earnings Releases
Our Comparative Evaluation of Company Business Segments
Utility Subsidiaries: One difference we notice between Southern Company and Duke Energy with regards to each company's respective utility subsidiaries is that Southern has four separate reportable segments for its utility operations on its 8-K earnings release. Southern's utility subsidiaries are Georgia Power, Alabama Power, Gulf Power and Mississippi Power. Duke Energy also has separate reporting segments for its utility subsidiaries (Duke Energy Ohio, Duke Energy Indiana and Duke Energy Carolinas) however an investor has to wait for the 10-Q report to see that information.
Duke U.S. Franchised Electric and Gas represents Duke's traditional utility operations businesses. Duke USFE&G saw its Q2 2012 revenues increase by 5.8% versus Q2 2011 levels. This was primarily due to increased customer rates in its Carolinas territory and this action not only contributed $.14/share of net income to Duke Energy's consolidated operations during the quarter, was the primary driver behind Duke USFE&G's 13.5% increase in segment income in Q2 2012 versus Q2 2011 levels. This helped partially offset a $268M impairment on the Edwardsport IGCC project incurred in Q1 2012. The increase in rates in Q2 2012 was partially offset by increased depreciation expenses, less favorable weather and higher interest costs. Duke Energy Carolinas saw a 3.1% decline in GWH Sales, which was partially offset by the 2.3% increase in GWH sales from Duke Energy Midwest.
The Southern Company's Utility Subsidiaries: Southern Company saw its four utility subsidiaries register a collective 8.13% decline in Q2 2012 versus Q2 2011 levels primarily due to lower fuel costs, partially offset by incremental price increases granted by the regulators. Southern Company was able to increase its gross margin for its utility subsidiaries by 1.28% year-over-year. Operating income and net income was flat as strength at its Gulf Power Company subsidiary and its Mississippi Power Company subsidiary offset a slight decline in net income at its Alabama Power and Georgia Power Company subsidiaries. Southern also saw a 3% decline in its KWH sales in Q2 2012 versus Q2 2011 due to the slightly cooler beginning of summer.
Power Generation and Unregulated Activities: We are surprised that although Southern and Duke are two of the largest utility companies in America and the world, both companies have a small presence in the wholesale power generation segment of the utility industry in comparison to its utility operations.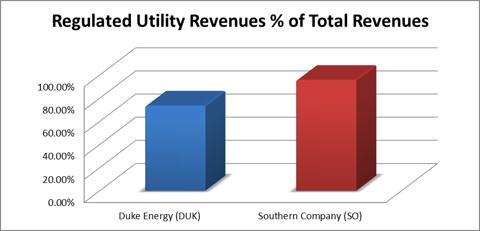 Source: Duke Energy and Southern Company Q2 Earnings Releases
Duke Commercial Power and International Energy: Each of Duke Energy's power generation and unregulated operations (Commercial Power and International Energy) generate more revenue than Southern Power Company. Southern is more profitable than Duke Commercial Power however Duke International Energy is more profitable than both organizations. Collectively, Duke's unregulated operating subsidiaries saw a 10.2% decline in Q2 2012 revenue versus Q2 2011 levels. Both companies saw reduced operating expenses primarily from fuel and other purchased power however it wasn't enough to avoid a 16% decline in pre-tax business segment income.
Southern Power Company: Southern Power Company generated $286M in revenue and $169M in gross profit in Q2 2012, which compares to the $305M in revenue and $162M in gross profit in Q2 2011. Revenue declined because fuel and purchased power declined, which is why we have been focusing on gross profit growth in the utility sector. Gross profit grew by over 4% year-over-year and operating income grew by 3.7%, as the increase in gross profit and stable operating expenses and excise tax expenses were partially offset by increased depreciation and amortization. Business segment net income grew by 4.5% as reduced interest expenses were partially offset by a higher effective corporate income tax rate for the business.
Dividend Yield and Growth
Southern Company has increased its dividend every year since 2002 and in 32 out of the last 40 years. Southern's split-adjusted annual dividend has nearly tripled from $.65 per share in 1972 to $1.9425 in 2012. Duke has increased its split-adjusted, spin-off adjusted dividend since 2005. Duke had increased its dividend annually from 1983 to 1997 and froze it for eight years in the wake of its merger with PanEnergy in 1997. While neither company has explosive dividend growth despite primarily serving the fast-growing Southern United States, we found that both companies can be counted on for a stable dividend, a relatively high-yielding dividend and incremental dividend growth rates that could be used in a Gordon Dividend Growth Model. Duke has a dividend yield of 4.6% and Southern has a yield of 4.25% and this is in excess of the 3.78% for the SPDR S&P 500 Utilities Sector ETF (NYSEARCA:XLU).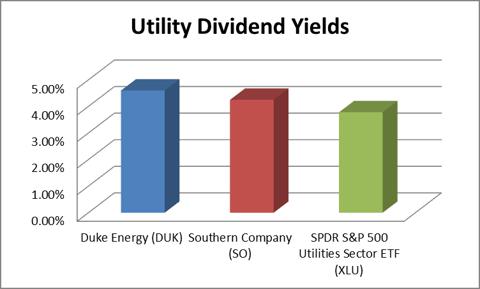 Source: Morningstar Direct
Conclusion
In conclusion, despite the fact that Duke Energy has seen a higher recent growth in its financial performance and despite the fact that it offers a higher dividend yield, we believe that Southern Company offers better risk/return prospects versus Duke. We would like investors to take into account that utilities have enjoyed a strong run-up earlier this year due to the flight to safety caused by macroeconomic worries. While these world-class utility powerhouses offer significantly higher dividend yields than what you'd find on bonds and bank deposits, we would like investors to take note of the fact that utilities strongly outperformed the S&P 500 since 1998 (as represented by the XLU versus the SPY) but we don't expect this to happen again from 2013-2027.
Still, we take note that there are a number of people who will always have a strong interest in high-quality utility companies and we believe that Southern and Duke are two of the best utility companies in the industry. We would expect both of these companies to at least meet or slightly exceed the XLU ETF, especially because both companies are in the fast-growing Sun Belt region. When we were evaluating our position in Wisconsin Energy, we specifically chose to compare it against Southern and Duke because we had a longtime respect for these companies, and we felt that those two were the two best companies we could compare WEC against. We were surprised that although Southern and Duke had power generation and other unregulated operations, these subsidiaries were small in comparison to the regulated utility subsidiaries of DUK and SO. The reason why we believe that Southern offers better risk/return prospects is because it isn't involved in integrating a complex merger deal, it didn't have to offer $875M in concessions to win approval for a complex merger deal and because it didn't have any management succession issues.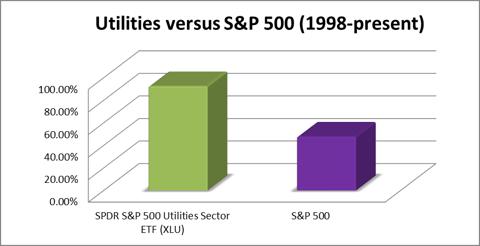 Source: Morningstar Direct
Disclosure: I am long WEC. I wrote this article myself, and it expresses my own opinions. I am not receiving compensation for it (other than from Seeking Alpha). I have no business relationship with any company whose stock is mentioned in this article.
Additional disclosure: This article was written by an analyst at Saibus Research. Saibus Research has not received compensation directly or indirectly for expressing the recommendation in this article. We have no business relationship with any company whose stock is mentioned in this article. Under no circumstances must this report be considered an offer to buy, sell, subscribe for or trade securities or other instruments.