The IPO market stinks. Near as I can tell, there hasn't been a single venture-backed IPO in the second quarter of 2008, which would be the first quarter in which that has happened since ... well, as long as I have data. Admittedly, the first quarter was no hell either, with only 5 VC IPO babies making it out the door.
Here is the quarterly VC IPO data from 2005 until today: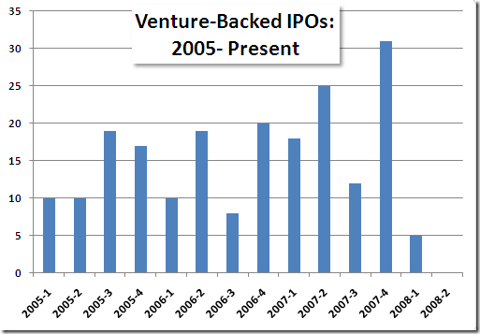 Interestingly, however, while it sucks to be a VC relying on IPO exits, it hasn't been so bad for IPO investors. Consider: There have been 22 IPOs this year with market caps greater than $100m and initial share prices over $5 (a decent naive screen for likely institutional interest).
If you had bought an equal-weighted portfolio of said IPOs so far in 2008 here is how you would have done year-to-date:

The biggest gainer? Intrepid Potash (NYSE:IPI), up 71% from the first-day close. The biggest loser? Verso Paper (NYSE:VRS), down 17% from its first-day close. Overall, however, fairly impressive performance from 2008 IPOs considering what a crummy investment most people think said offering have been this year.