General Motors (NYSE:GM) announced its second quarterly earnings on August 2, in which the company beat analyst expectations for earnings by 20%. However, revenues for the quarter missed Wall Street estimates, depicting the soft global demand for cars.
Even though margins for all GM divisions were well below last year's performance, the company delivered high enough margins to beat estimates. The most unexpected phenomenon was the lower than expected loss in Europe, which shows GM's ability to resist the declining market.
Due to a modest rise in market shares across the globe, a positive gradual change in the management style (introduced by the new CFO), an offer from China to buy the company's underfunded pension fund, newer products in the market, including energy efficient vehicles, and the CEO boosting his stakes in the company, GM seems an attractive investment.
However, there are certain problems that GM needs to address. With replenished inventory levels and increased sales incentive, Japanese automakers have been partially successful in snatching a market share from the 'Detroit Three' i.e. GM, Ford (NYSE:F) and Chrysler. Also, GM's plan to restrict its Opel unit in Europe is underway.
The stock will be a great player when a revival of the global Auto Industry is triggered.
Press Release

Despite European headwinds, the company managed to beat analyst estimates for earnings. However, GM, in its tenth straight profitable quarter, could not beat revenues. The loss in Europe was less than expected. However, estimates for the year's loss from European operations were raised from $1 billion to $1.4 billion after GM's CEO said that it would take the company five years to return to profits in the continent.
U.S. SAAR
Following shows the revenues contributed by different divisions of GM: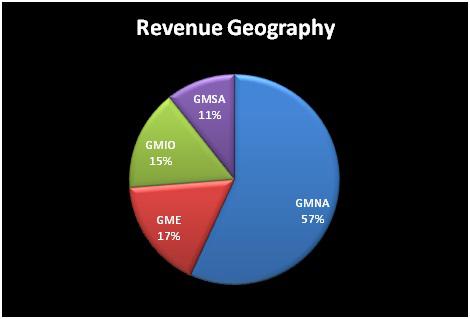 GM North America (GMNA) has the largest share of the pie. Auto sales in the U.S. have shown a weak but gradual recovery over the past 2-3 months. The U.S. Seasonally Adjusted Selling Rate (SAAR) has floated around the 14 million mark. A U.S. SAAR of 14.05 million for July, even though lower than that for June, is 14.5% higher YoY despite having two lesser selling days. This gives a positive signal to the market. Following table shows the sales of major OEMs:

Japanese firms Toyota (NYSE:TM) and Honda (NYSE:HMC) showed positive growth in sales. This happened primarily after they improved their supplies, which had been disrupted after a tsunami hit Japan last year. Of the Detroit Three, only Chrysler managed to achieve positive growth YoY. Sales declined for GM both YoY and MoM, primarily because of Japanese firms regaining their market shares and increasing their sales incentive.
The market has different points of view regarding the U.S. auto market's future. Some say that it is well on its way to a recovery after the 2009 crisis, and expect the SAAR to hit 15 million by the end of the year. Others think that sales will be highly volatile given that it is an election season and a lot will be decided by the Fed's actions.
Following chart shows the historical U.S. revenue figures for GM: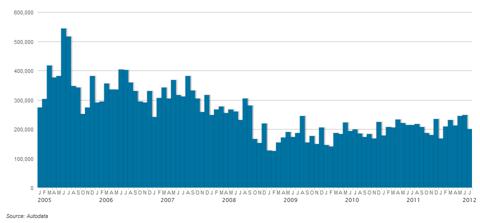 The chart shows how sales tumbled in 2008-09 in the U.S. The sales, though volatile, are regaining momentum now.
Even though the market is doubtful on the expansion or contraction in auto sales, one can easily foresee continued profits for GM in the U.S. given the popularity of its flagship Chevrolet car. According to analysts, the breakeven SAAR value for the U.S. is 10.5 million, which means that at this level of demand, an automaker in the U.S. will not be making any loss or profit. With the current level of 14 million, automakers are expected to make profits. To some extent, this ensures profitability for GM as well.
Operating Profits
Operating profits beat analyst estimates; however, they were well below the previous year's level, highlighting the decline in the global auto market.

*Actual and Estimate figures are in millions
GMNA
The operating profits for GMNA declined because of lower truck production during the second quarter. However, GMNA managed to beat estimates, as advertisement expenses were pushed to the third quarter due to the Olympics. GM has given a guidance of flat sales in the second half, in line with the first two quarters. The deferral of ad costs will hurt second half profits. The expected revenue will be $1.4-1.5 billion for the next two quarters each. The production of trucks is expected to remain constrained in 2013, as GM moves the production focus from old trucks to newer models.
GMIO
The decline in profits for GMIO sales was also not a positive sign, as Chinese sales form a considerable chunk of GMIO. The decline in profits acutely depicted the stagnant growth in China, worsened by intense competition from local competitors, which led to a decline in profits. Recent figures for deflation, consumer spending and slow Chinese GDP growth do not reflect a bright prospect for this year for Chinese operations, from where the company captures 10% of its sales. However, GM forecasts the market to be as large as 30 million vehicles by the end of 2020.
GMSA
A tight monetary policy in Brazil impacted GMSA (GM South America) profits, as last year's profits of $57 million plummeted to a loss of $19 million the same quarter this year. However, the government is actively implementing expansionary policies to stimulate economic growth, which will be helpful for GM sales moving forward.
GME
Europe is going through the worst crisis it has experienced since the formation of the European Union in 1999. After the Greek default, France, Italy and Spain are also heading towards a possible bailout. However, GME was able to beat analyst estimates in this region. One of the reasons was that GM managed to save $100 million in manufacturing and material costs due to restructuring. However, according to GM's CFO, a lot of effort is needed to address inventory issues, as the company managed to cut overall European production by 29 percent this year. Different analysts have different revised estimated losses from European operations for GM, ranging from $1.4-$1.6 million.
GM has tried to cut costs by forging ties with French car maker Peugeot (OTCPK:PEUGY) to share advertising costs, which will save GM $1 billion annually.
The Opel unit is GME's 'Achilles heel'. It is operating at 56% of its total capacity. The company is actively negotiating with German labor unions to cut labor costs and streamline operations. GM is also planning to introduce the newer Opel Adam and Opel Mokka (SUV) next year. Important to see will be whether these new additions will strengthen Opel as a brand in Europe.
When it comes to restructuring and how efficiently companies are managing their production capacity, an important ratio is net income per employee: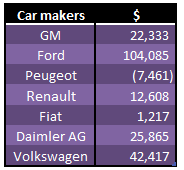 This shows that even though GM is doing better than three of its competitors, it still needs to put in more effort to streamline operations.
Market Shares, New Products & the Cadillac

Figures show that the company's market shares have risen in each part of the world over the past year. However, they declined from the previous month's mark by 190bps. This was inevitable, as Japanese automakers made a return to their businesses after the tsunami that hit the country had hampered their supply chain. Also, sales incentives for GM declined by 5%.
GM is expected to launch newer products at the end of this year and the year after, which will improve its market standing.
GMNA - In the second half of the year, GM plans to launch two new Cadillacs as well as refreshed versions of its Lambda SUVs. In 2013, new full-size pickup trucks are expected to be introduced. Named the K2XX Project, this transition from the old to new trucks is being anticipated by the market, and is considered to be an important catalyst for the company.
GMSA - GM recently introduced a new S-10 pickup truck and three new passenger cars - Chevrolet Cruze, Cobalt and Sonic. New entries include the Spin MPV, TrailBlazer SUV and a refreshed version of the Opel Mokka.
GME - The Mokka will be launched later this year and a smart car will be introduced in next January.
GM is expected to reap benefits in the form of increased earnings in 2013 and onwards.
GM's electric hybrid car, the Volt, has a considerable market in China. The car is already being sold in eight of the main Chinese cities. Till date, the Volt has not performed well in China. This is because of the import charges that almost double the car's price, which trades at just below $40,000 in the U.S. With the Chinese government's target of having 500,000 electric and hybrid cars by 2015, and 5 million by 2020, the Volt has a bright future in the country.
The Cadillac needs a special mention when it comes to the story of margins. Cadillac, being a luxury car, contributes the most to margins. In recessionary times, when margins of regular brand cars decline amidst price wars, margins from luxury cars normally remain unaffected. In such situations, it is companies with a vast line of luxury cars that benefit the most. Volkswagen (OTCPK:VLKAF) is one such example, with its Bentley, Bugatti, Lamborghini and Audi. VLKAF reported a 7.1% margin (mrq), whereas GM is making just 4%, which is also below Ford's 5.4% and Hyundai's 10.4%. Daimler AG is another example with its super hit Mercedes. GM needs to concentrate more on its luxury brand in order to improve margins.
Following table shows the performance of different GM cars on an annual basis: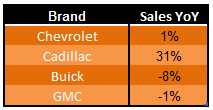 This shows that not only margins, but sales are also better for luxury cars in recessionary times.
Other Important Points to Consider:
The Chinese government recently decided to buy GM's illiquid private equity assets for $1.5-$2 billion. The pension liability is another risk to the company, as assets total only $109 billion, whereas obligations total $134 billion.
CEO Dan Akerson boosted his stakes in GM by 10%, and his total shares are now 272,828.
The current cash per share for GM is $20.08, whereas the stock is trading at $20.21. As global sales improve, the company can use excess cash to buy back the 32% stake that the U.S. Treasury still has in GM, which was acquired as part of the 2009 $50 billion bailout, or use the cash to pay the remaining $23.5 billion in debt.
GM CFO Dan Amann is determined to change the bureaucratic culture in the company's finance department, which was the main culprit behind GM's financial crisis of 2009. He has already removed the extra layers of management where there was mistrust between competing managers.
Valuations
Both bullish and bearish valuations have been given in the table below:

* EV/EBITDA's historical value of 2.84 has been used.
The stock is currently trading at $22. Using the bear case 2013 EBITDA of $14.6 bn and an EV/EBITDA multiple of 2.8x, the stock can trade at $31, representing an upside of almost 40%. In a bullish scenario, the stock can trade upto $38, an upside of 72%. The average of bull and bear case comes out to be 56%.
The company has no debt problem given its excess cash reserves. It seems that the stock's performance is currently tied to macro events. The stock will be a great player in case of a recovery in the European Auto Industry and an improvement in the Chinese GDP growth rate. Given the uncertain European market, the stagnant U.S. market, and the slowing Chinese economy, an investment in GM could be dead money for a short while, at least until the global Auto Industry recovers.
Disclosure: I have no positions in any stocks mentioned, and no plans to initiate any positions within the next 72 hours. I wrote this article myself, and it expresses my own opinions. I am not receiving compensation for it (other than from Seeking Alpha). I have no business relationship with any company whose stock is mentioned in this article.