Baxter International (NYSE:BAX) is a $31.97 billion large-cap manufacturer of products for hemophilia, infectious diseases, immune disorders, kidney diseases, trauma, and other conditions. The company operates in two segments: Bioscience and Medical Products. Baxter distributes its products to doctor's offices, kidney dialysis centers, nursing homes, rehab centers, medical labs, and to in-home patients.
Baxter pays a quarterly dividend which yields 3.1% annually. The company has raised the dividend payment every year since 2007. It offers a dividend reinvestment plan for those interested in automatically compounding their investment.
Baxter is fairly valued with a trailing PE ratio of 14.36, a forward PE ratio of 11.96, a PEG of 1.58, and a price to book ratio of 4.88. Although the company is fairly valued, the PE ratio has fallen steadily over the past 10 years, thus improving its valuation.
The company has a nice double-digit profit margin of 16.3% and an operating margin of 22.17%. For the past twelve months, it has pulled in $3.17 billion in operating cash flow and $1.7 billion in free cash flow. The balance sheet looks strong as it has 1.65 times more current assets than current liabilities.
For the past five years, Baxter has grown earnings annually at 9.27%. It is expected to grow earnings annually at 8.16% for the next five years. The combination of dividends and earnings growth should provide a total compound annual growth rate of about 11.26% over the next five years.
This is how Baxter stands up to its competitors:
Baxter

Becton Dickinson and Company (NYSE:BDX)

Fresenius Medical Care (NYSE:FMS)

Covidien (COV)

Forward PE

Ratio

11.98

12.9

17.18

12.48

PEG Ratio

1.58

1.94

1.71

1.4

Operating Cash Flow

$3.17 B

$1.73 B

$1.89 B

$2.21 B

Dividend Yield

3.1%

2.4%

0.9%

1.6%

5-Yr. Projected Annual Earnings

Growth

8.16%

7.17%

11.1%

9.2%
Although each company is not extremely different from each other fundamentally, Baxter does have the most generous dividend payment for those interested in generating income or reinvesting dividends to compound gains. That 0.7% dividend edge that Baxter has over Becton Dickinson and Company can add up significantly over time. Also factor in the 1% edge that Baxter has over BDX's expected earnings growth.
Although Fresenius Medical Care provides a higher total yield when combining dividend yield and expected earnings growth, it only provides dialysis solutions and is not as diverse in products as Baxter. Covidien does offer a diverse variety of medical products, but does not have the dividend yield that Baxter offers.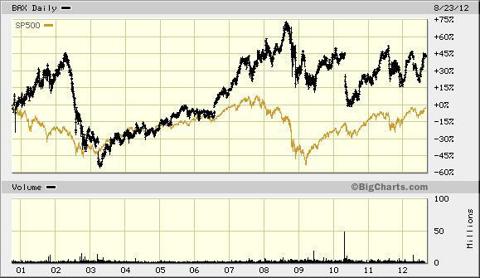 Overall, the healthcare sector looks promising for the long-term as the aging baby boomer demographic will need these critical products. Baxter is a steady dividend payer and strong player in this sector. Baxter should be considered as part of a diverse dividend portfolio.
Disclosure: I have no positions in any stocks mentioned, and no plans to initiate any positions within the next 72 hours. I wrote this article myself, and it expresses my own opinions. I am not receiving compensation for it (other than from Seeking Alpha). I have no business relationship with any company whose stock is mentioned in this article.