We recently wrote an article highlighting some of the reasons it might make sense to take a position in Pitney Bowes Inc (NYSE:PBI). We will recap a few of those reasons. The stock falls under the "dividend champion category" for it has consecutively raised its dividends for 30 years. Insiders also seem to be showing some interest as they purchased roughly 54,000 shares from the 14th of May to the 9th of June in the $13.51-$14.52 ranges.
Investors now have a chance to get into this stock at a price that is lower than that paid by the insiders. However, there is an even better strategy to leverage one's position in this stock for a relatively low fee. In essence, it involves selling a put and using the proceeds to purchase a call. This strategy offers investors the opportunity to leverage their position for a relatively low fee.
Additional reasons to like Pitney Bowes

Net income has increased for the past 3 years in a row
A positive levered free cash flow of $661 million. As its annual dividend payments amount to $317 million, it has no problems with meeting the payments and plenty of room to continue raising them. Cash flow per share has increased from 3.92 in 2009 to $4.31 in 2011
It has a great free cash flow yield of 25%
A manageable payout ratio of 65%
A very good yield of 10.8%
Technical Outlook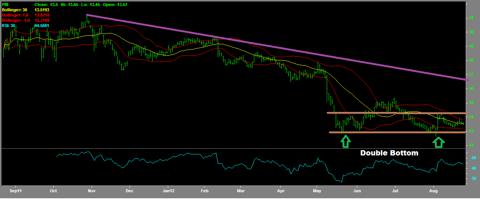 It has put in a nice double bottom formation and is now just waiting for a chance to break out of the current channel formation. Another bullish development is that it generated several positive divergence signals when it traded down to a new 52 week low ($12.64) on the 2nd of August. As long as it does not close below $12.64 on a weekly basis the outlook will remain neutral. A weekly close above $15.50 will turn the outlook to bullish. If it can break out of this channel formation, which falls roughly in the 14.30-14.40 ranges, it will be a good signal that it's ready to rally much higher. From a risk to reward perspective it makes sense to jump into this stock as it has taken a massive beating, appears to be putting in a bottom and has a very healthy annual dividend yield of 10.8%.
Suggested Strategy
Part 1

The Jan 2014, 12 puts are trading in the $2.20-$2.35 ranges. If you work the options a bit, you should be able to sell these puts at $2.25 or better. For each put sold, $225 will be deposited into your account. The proceeds of this transaction will be used to fund the second part of this strategy.
Part 2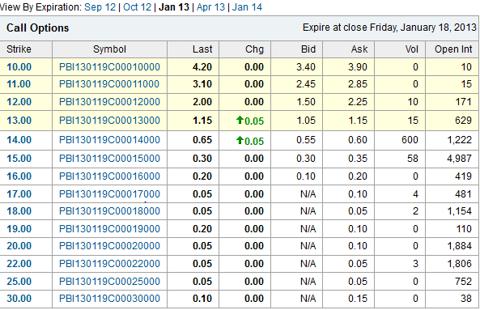 Then Jan 2013, 15 calls are trading in the $0.30-$0.35 ranges. We will assume that the calls can be purchased at $0.35 or better. For each put sold, you will be able to pick up to six calls. You will be left with a net credit of $15.00.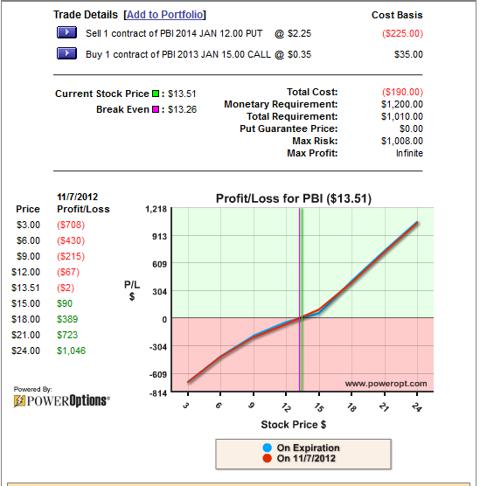 Advantages and risk associated with this strategy
This strategy provides bulls with a low-cost method of leveraging their position. In this instance, you would only have to put up $1200 to secure each put, but in return, you would be able to purchase up to six calls and control 600 shares. If you had to purchase those shares today it would cost you roughly $8100.
The other benefit is that you have the chance of getting into the stock at a lower price. If the stock trades below $12.00, the shares could be put to your account. Assignment typically occurs on the day the option expires. Depending on the number of calls you purchased, your final price would range from $10.10 (if you purchased one call only) to $11.85 (if you purchased six calls).
The only real risk is that you have a change of heart, and you now feel that the stock could trade well below the strike price you sold the puts at. In this case, you could roll the put. Buy back the old puts and sell new out of the money puts.
Company: Pitney Bowes Inc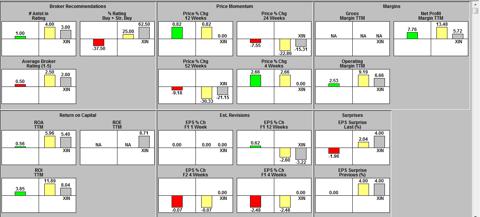 Basic overview
Sales vs quarter 1 year ago = - 5.2%
Net income vs quarter 1 year ago = - 1.9%
Net income 5 year average = -1.9%
Sales 5 year average = -1.63%
Quarterly revenue growth rate = - 5.2%
Quarterly earnings growth rate = -1.3%
Sales vs 1 year ago = -2.7%
Beta = 1.34
52 week change = - 27%
Growth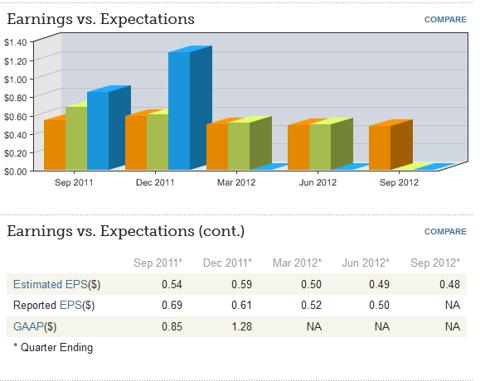 Net Income ($mil) 12/2011 = 617
Net Income ($mil) 12/2010 = 292
Net Income ($mil) 12/2009 = 423
EBITDA ($mil) 12/2011 = 817
EBITDA ($mil) 12/2010 = 838
Cash Flow ($/share) 12/2011 = 4.31
Cash Flow ($/share) 12/2010 = 3.76
Cash Flow ($/share) 12/2009 = 3.92
Sales ($mil) 12/2011 = 5278
Sales ($mil) 12/2010 = 5425
Sales ($mil) 12/2009 = 5569
Annual EPS before NRI 12/2007 = 2.71
Annual EPS before NRI 12/2008 = 2.78
Annual EPS before NRI 12/2009 = 2.28
Annual EPS before NRI 12/2010 = 2.23
Annual EPS before NRI 12/2011 = 2.26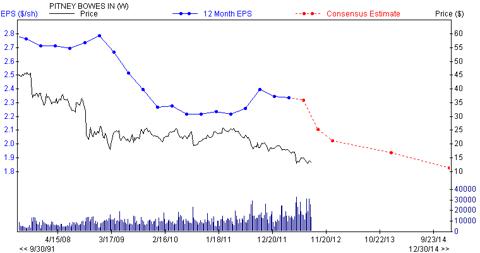 Dividend history
Dividend Yield = 10.8
Dividend Yield 5 Year Average = 5.8
Dividend 5 year Growth = 2.5
Dividend sustainability
Payout Ratio = 0.65
Payout Ratio 5 Year Average = 0.58
Performance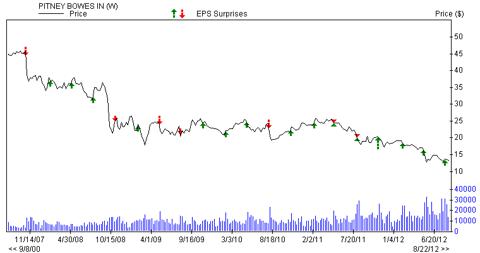 Current Ratio = 1.00
Current Ratio 5 Year Average = 1.09
Quick Ratio = 0.9
Cash Ratio = 0.36
Interest Coverage = 4.7
Conclusion
As a reminder only put this strategy into play if you are bullish on the stock and prepared for the shares to be put to your account. Based on the current technical pattern and insider purchases it appears that the stock is ready to put in a bottom. This stock is also a dividend champion as it has consecutively raised its dividend for 30 years. It also offers a rather handsome annual yield of 10.8%.
EPS, company vs industry and Price vs industry charts obtained from zacks.com. A major portion of the historical/research data used in this article was obtained from zacks.com. Options tables sourced from yahoofinance.com. Option Profit loss graph sourced from poweropt.com. Earnings vs expectations sourced from smartmoney.com.
Disclaimer
It is imperative that you do your due diligence and then determine if the above strategy meets with your risk tolerance levels. The Latin maxim caveat emptor applies - let the buyer beware.
Disclosure: I have no positions in any stocks mentioned, and no plans to initiate any positions within the next 72 hours. I wrote this article myself, and it expresses my own opinions. I am not receiving compensation for it (other than from Seeking Alpha). I have no business relationship with any company whose stock is mentioned in this article.
Additional disclosure: This article was prepared for Tactical Investor by one of our analysts. We have not received any compensation for expressing the recommendations in this article. We have no business relationships with any of the companies mentioned in this article.