General Growth Properties Inc. (NYSE:GGP) shares leaped almost 10 percent today on news that Pershing Square Capital Management LP's Bill Ackman is urging the retail giant to consider a sale in the face of what he deemed to be a "creeping takeover" by Brookfield Asset Management Inc.
In a letter published in an Aug. 23 amended ownership filing, Ackman (holds beneficial ownership of 7.7 percent of General Growth's stock), who is General Growth's second-largest shareholder, noted that Brookfield's stake (38.2 percent of the company's stock and holds warrants on an additional 6.4 percent) in the company has steadily grown since it, Pershing Square and Fairholme Capital Management LLC helped the company emerge from Chapter 11 bankruptcy protection in 2010.
As activist Ackman adds,
It is only a matter of time before Brookfield de facto controls the company. This inevitability is totally inconsistent with the intent of the parties at the time the original Brookfield investment was negotiated. More importantly, if control of the company is ceded to Brookfield, shareholders will suffer enormous and irreparable harm for they will lose the ability to capture an appropriate control premium for their shares.
Ackman explained that a 2011 takeover offer from Simon Property Group (NYSE:SPG) would have delivered a healthy premium to the company's Aug. 22 closing stock price.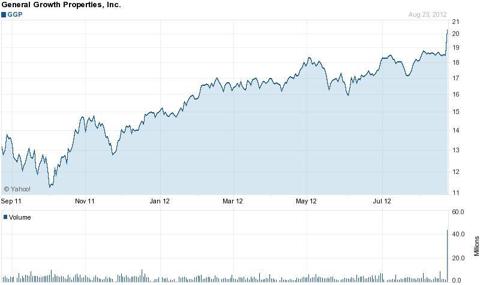 In his letter Ackman asked General Growth's board to form a special committee of directors unaffiliated with Brookfield, which is represented by three members, to consider the sale of the company, and for that committee to hire legal and financial advisers to manage a process that will maximize shareholder value. As he explained,
While we are not opposed to Brookfield having a full and fair opportunity to put together a competitive deal to acquire GGP, it should not have an unlimited and exclusive right to do so with unfettered assistance from GGP management while competitors are not offered the same opportunity.
General Growth shares rocketed 9.72 percent to $20.32 on Thursday, while shares of Simon slid 1.41 percent to $156.46. General Growth has a market capitalization of $19.065 billion and its current dividend yield is 2.17 percent. The company's year-over-year total return is 60.45 percent.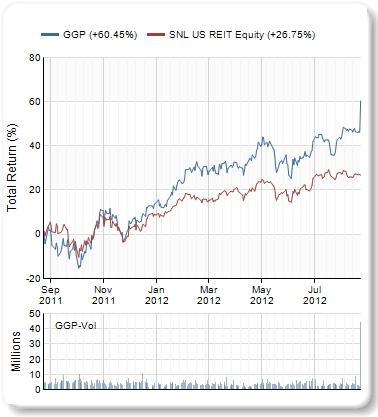 Source: Gabe LeDonne and John Yellig with SNL Financial contributed to this article.
Disclosure: I have no positions in any stocks mentioned, and no plans to initiate any positions within the next 72 hours. I wrote this article myself, and it expresses my own opinions. I am not receiving compensation for it (other than from Seeking Alpha). I have no business relationship with any company whose stock is mentioned in this article.