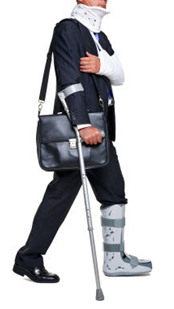 Jobless Claims rose (372K vs. 365K expected, and prior revised higher again to 368K). Claims have been revised higher for 32 consecutive weeks. The PMI Manufacturing Flash Index rose slightly (51.9 vs. 51 expected, and prior 51.8). The Bloomberg Consumer Comfort Index fell (-47.4 vs. 44.4 previous). New Home Sales rose (372K vs. 362K expected, and prior 350K) and FHFA Home Price rose (.7% vs. .6% expected, and prior .8%). So as far as U.S. data is concerned, things were mixed.
Rubbing salt in the wounds of the unemployed was the statistic from Reuters that 2.7 million U.S. jobs have been outsourced to China.
In the eurozone, Merkel and Hollande met, and the eurozone economy contracted (PMI 46) for the seventh straight month. In Asia, China manufacturing data weakened (47.8 vs. 49.3), and investors rallied many Asian shares on the belief there will be more QE and other stimulus.
Pimco's Mohamed El-Arian outlined what the eurozone has to do now beyond the talk. In other words, there is no margin for error.
The dollar (NYSEARCA:UUP) fell sharply, since some must think the euro is a safer bet, which seems odd. As Bucky fell, gold (NYSEARCA:GLD), silver (NYSEARCA:SLV) and commodities (NYSEARCA:DBC) overall rallied sharply. As stocks fell sharply, bonds (NYSEARCA:TLT) rose. The nervousness about markets is ubiquitous. Fear of being left out of equity rallies now equals staying in, it seems. Further, it was reported Thursday that only 58% of the 2300 companies reporting earnings have beaten expectations, and 48% beat on revenues -- the lowest since 2009.
Stocks fell sharply, as the air pocket was there staring us in the face, given the light volume. Some disasters of the day included (NYSE:HPQ), (NYSE:GES), (NYSE:BA) and (NYSE:X) to name a few. Volume on the decline remains light even as selling intensified, which just shows the total lack of participation -- light even by August standards. Breadth per the WSJ was negative.
Investment Tip: We exited many positions due to DeMark weekly 9 counts which was "a tell" that markets were stretched. It didn't predict the top, certainly coming off the Monday of last week, but no indicator is perfect.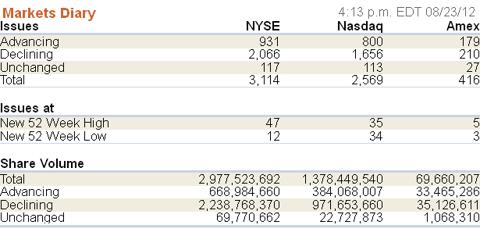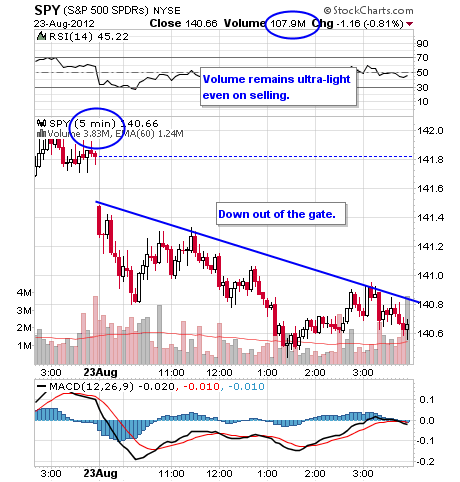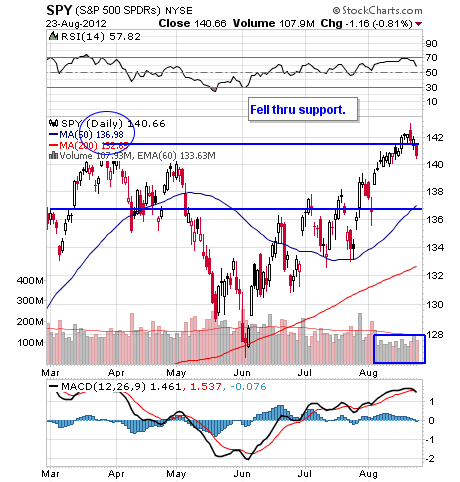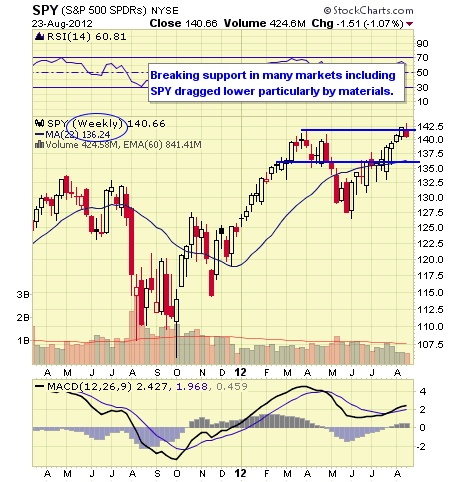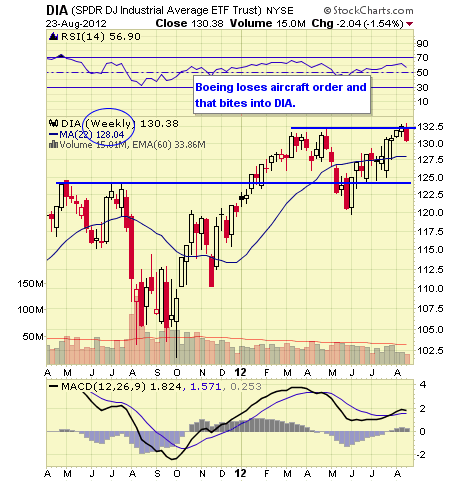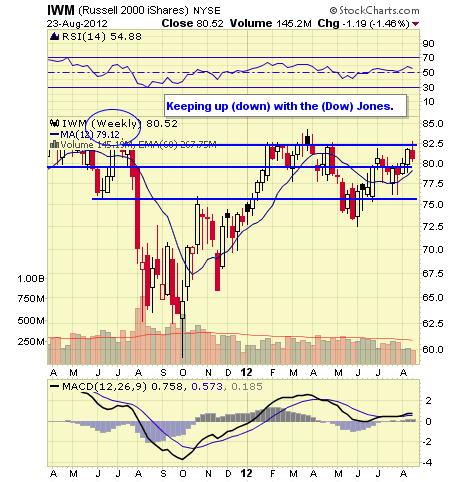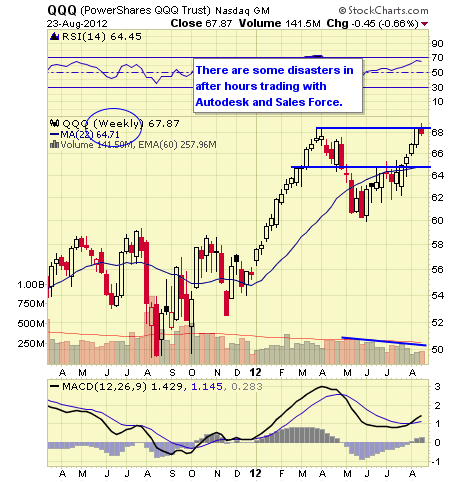 Continue to U.S. Sector, Stocks & Bond ETFs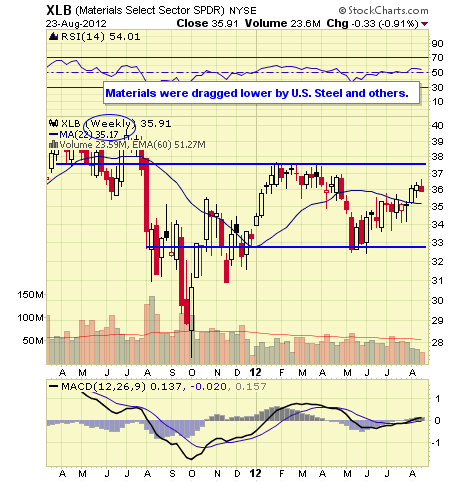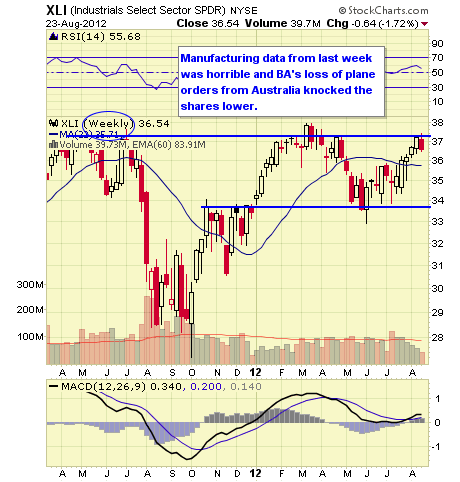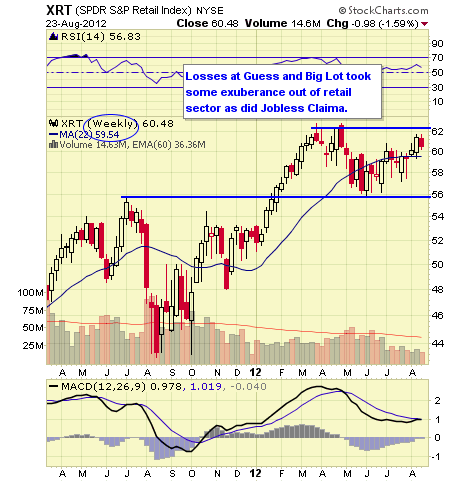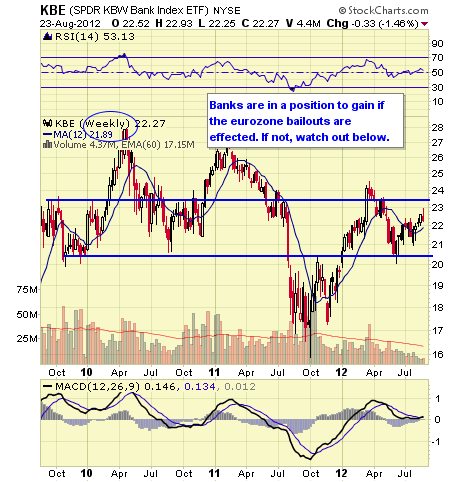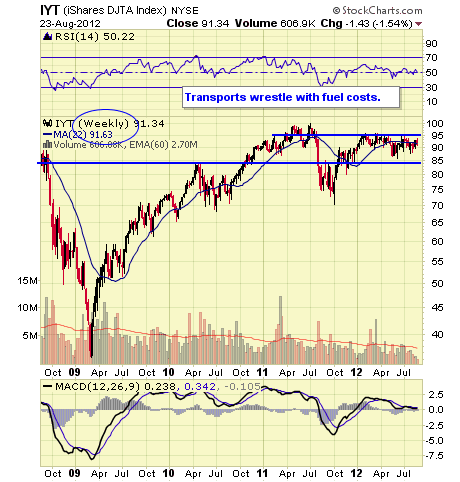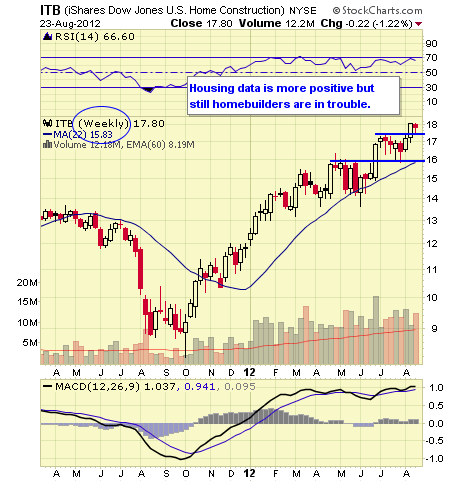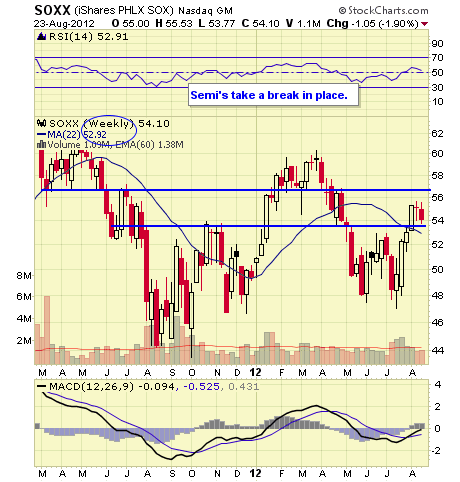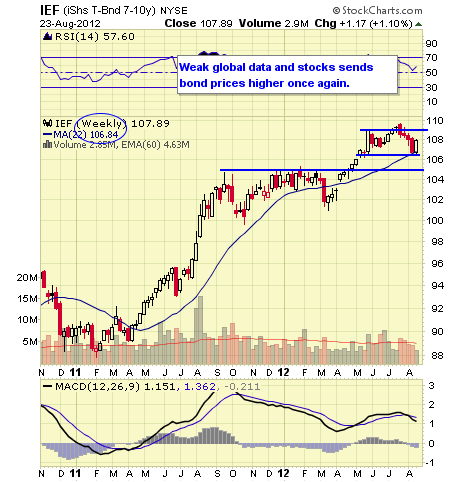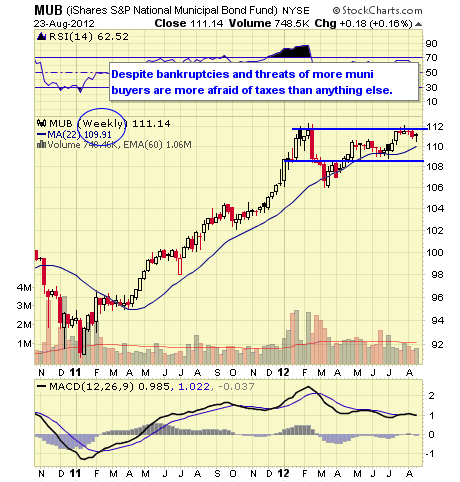 Continue to Currency & Commodity Market ETFs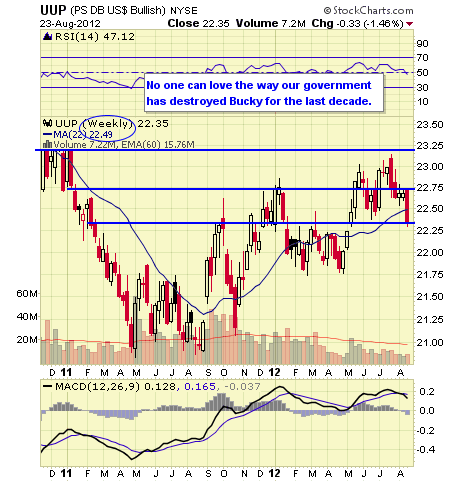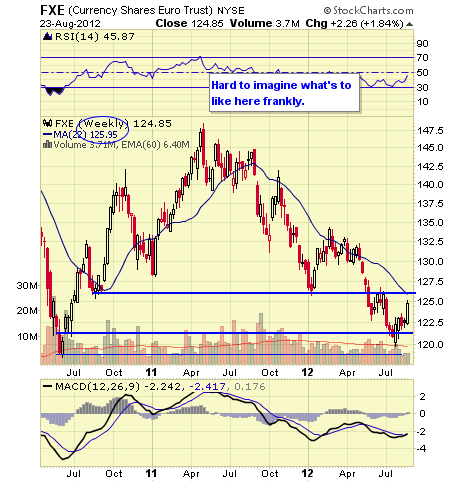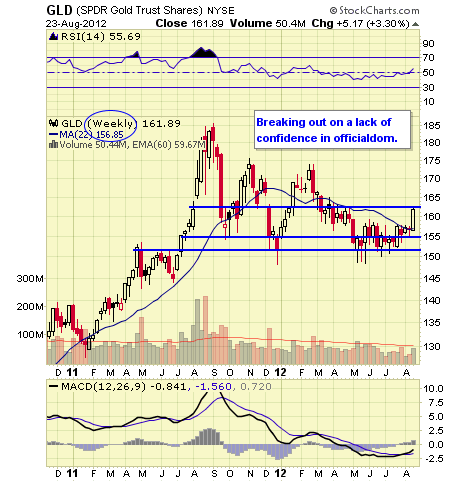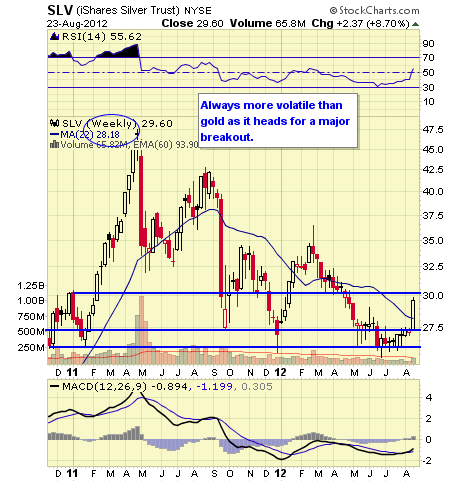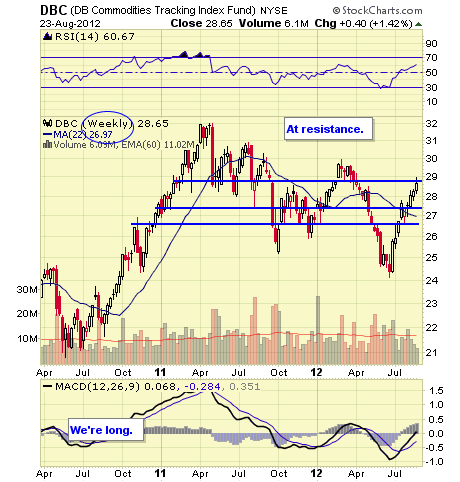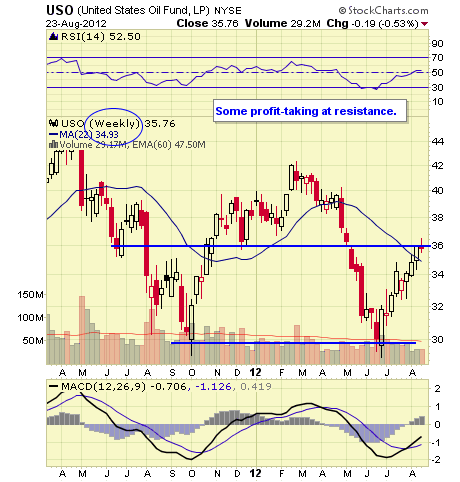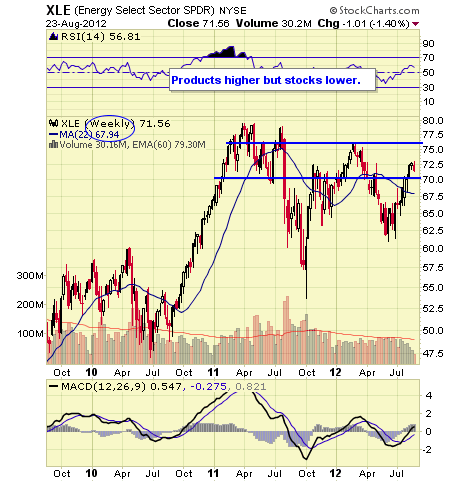 Continue to Overseas Sectors & ETFs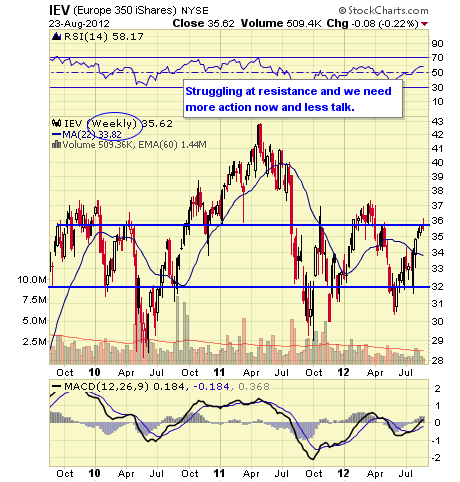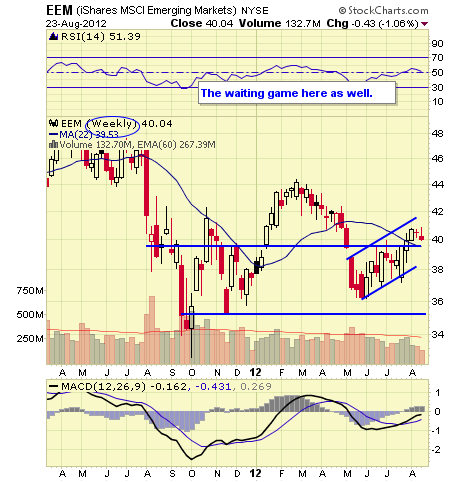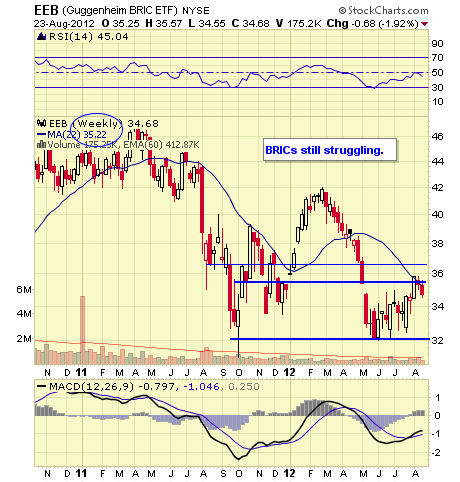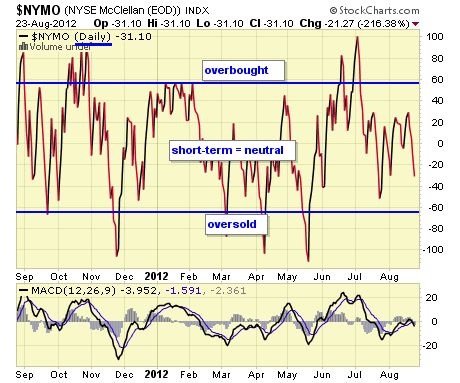 The NYMO is a market breadth indicator that is based on the difference between the number of advancing and declining issues on the NYSE. When readings are +60/-60, markets are extended short-term.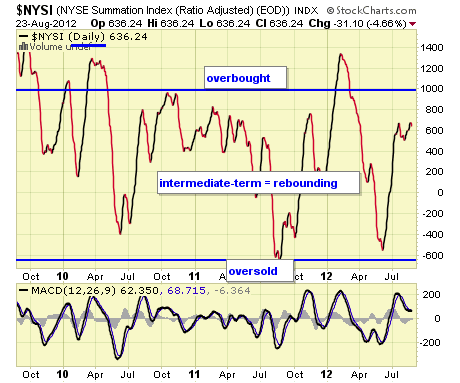 The McClellan Summation Index is a long-term version of the McClellan Oscillator. It is a market breadth indicator, and interpretation is similar to that of the McClellan Oscillator, except that it is more suited to major trends. I believe readings of +1000/-1000 reveal markets as much extended.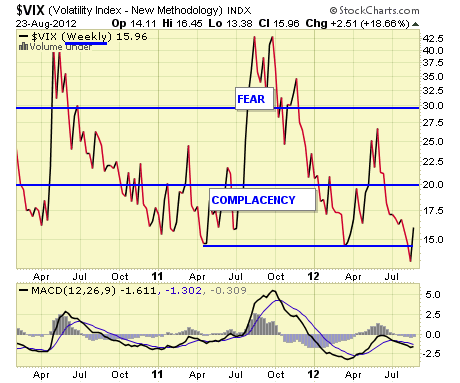 The VIX is a widely used measure of market risk and is often referred to as the "investor fear gauge." Our own interpretation is highlighted in the chart above. The VIX measures the level of put option activity over a 30-day period. Greater buying of put options (protection) causes the index to rise.
The market remains accident prone, given a sizable light volume melt-up we experienced the past few weeks. This creates a vacuum through which stock prices can fall.
Earnings, as we've noted, haven't been good overall, especially with data pointing to results being as poor as 2009. Many investors continue to leave markets, and this us part of the light volume we're seeing. Investors in the stricken eurozone are putting money overseas, which has offered some help to U.S. markets, but not nearly enough.
The glass is back to half full, but the week's not over, and Durable Goods Orders are on tap for Friday.
Disclaimer: The ETF Digest maintains an active ETF trading portfolio and a wide selection of ETFs away from portfolios in an independent listing. Current "trading" positions in active portfolios, if any, are embedded within charts: Lazy & Hedged Lazy Portfolios maintain the follow positions: VT, MGV, BND, BSV, VGT, VWO, VNO, IAU, DJCI, DJP, VMBS, VIG, ILF, EWA, IEV, EWC, EWJ, EWG, & EWU.
The charts and comments are only the author's view of market activity, and aren't recommendations to buy or sell any security. Market sectors and related ETFs are selected based on his opinion as to their importance in providing the viewer a comprehensive summary of market conditions for the featured period. Chart annotations aren't predictive of any future market action rather, they only demonstrate the author's opinion as to a range of possibilities going forward.
Disclosure: I have no positions in any stocks mentioned, and no plans to initiate any positions within the next 72 hours. I wrote this article myself, and it expresses my own opinions. I am not receiving compensation for it (other than from Seeking Alpha). I have no business relationship with any company whose stock is mentioned in this article.