Shares of Walgreen Co. (WAG) have jumped 25% from their 52-week low of $28.53 touched in June. At $35.66 per share, the stock is trading very close to its 52-week high of $37.61 attained almost a year ago. Will the upward price action continue? In this article, I will walk you through my thoughts that may help in formulating your investment decision.
My analysis is based on a set of comparable peers including Express Scripts, Inc. (NASDAQ:ESRX), CVS Caremark Corporation (NYSE:CVS), Rite Aid Corporation (NYSE:RAD), AmerisourceBergen Corporation (NYSE:ABC), and Cardinal Health Inc. (NYSE:CAH). Let's first focus on Walgreen's relative financial performance:
Click to enlarge

1. Growth potential is Walgreen's weakest point. Analysts on average predict Walgreen's revenue, EBITDA, and EPS to growth by 2-year CAGRs of only 1.2%, 1.3%, and 1.5% over the current and next fiscal years. The rates are substantially lower than the peer averages of 3.8%, 13.2%, and 9.0% (see table above).
2. However, Walgreen has demonstrated a superior profitability in almost every relevant measure. All of Walgreen's margin metrics are more than twice of the peer averages. The capital return metrics such as ROE and ROIC are also significantly superior to the peer averages (see table above).
3. In terms of its liquidity position, Walgreen also outperforms the group. Its LTM FCF margin is higher than the average. The company is the least leveraged and as such it is able to maintain a strong interest coverage ratio. Both the current and quick ratios are above the peer averages, reflecting a healthy corporate balance sheet (see table above).
Overall, Walgreen is in a healthy financial condition with superior profitability and ample financial resources. But it appears that the slow growth prospects may be a valuation dragger. Then, let's talk about valuations:
1. My valuation model is based on five different peer-average trading multiples. However, as most of the companies included in the analysis are in a relatively matured stage, multiples such as EV/EBITDA, EV/FCF, and P/E would be more meaningful relative to EV/Sales and P/S. Thus, the former three multiples are assigned a 25% weight each in determining Walgreen's estimated stock value and the latter two are each weighted by 12.5%. With these assumptions, the current stock price of $35.67 implies a valuation premium of 6.6% over the five peer-average trading multiples (see below). I believe this slight valuation gap is justifiable, given that the valuation impact from WAG's superior profitability and liquidity conditions may be largely offset by that of the weak growth ahead.

2. Accounting for the weak earnings growth, WAG stock trades at a reasonable 1.0x PEG, very much in line with the peer average of 1.0x.
3. Both Walgreen's LTM P/E and EV/EBITDA multiples are currently trading very close to their 10-year lows. In addition, it appears that there have been strong valuation supports for both valuation metrics since 2008 (see below).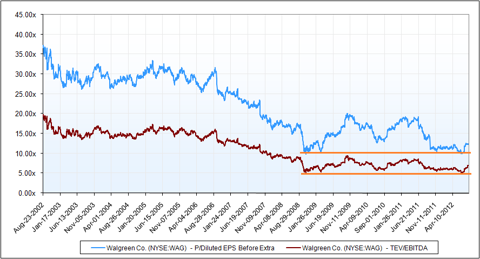 As Walgreen's valuation looks reasonable, let's analyze the current dividend payout, which yields decently at 3.1%:
1. Since 2004, the stock's annual dividend per share has been raised from $0.18 in FY2004 to $0.75 in FY2011 by a significant 7-year CAGR of 22.4% (see below), reflecting a healthy dividend policy.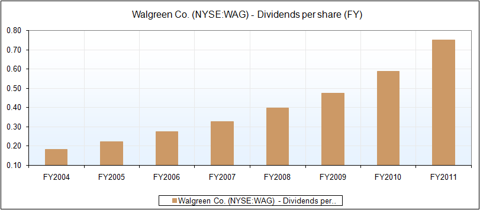 2. Walgreen appears to have ample capability to sustain or even raise the current dividend level. The chart below shows that FCF has been improved substantially since 2008, and annual dividend paid only represents a small portion of the annual FCF generated. Moreover, Walgreen tends to spend the remaining FCF in share repurchase, further indicating management's strong commitment to return capital to shareholders.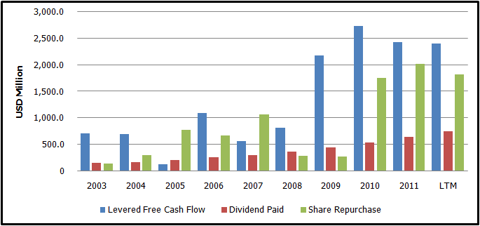 Lastly, on a technical perspective, the current price trend would likely be followed by a further upside. The chart below shows a pattern since 2009 such that when the stock largely surpassed its 50-day simple moving average, it continued trending up for a few months. As the recent upward price action exactly matches the initial stage of the pattern, the probability of additional upside is high.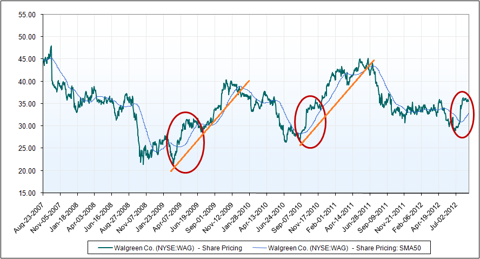 Bottom line, in the light of Walgreen's reasonable valuation and solid dividend yield, I recommend acquiring the shares at the current price. If the current valuations are not compelling to you, selling out-of-money puts to establish a long position would be another wise option.
Comparable analysis and relative valuation tables are created by author, all other charts are sourced from Capital IQ, and all financial data is sourced from Capital IQ and Morningstar.
Disclosure: I am long WAG. I wrote this article myself, and it expresses my own opinions. I am not receiving compensation for it (other than from Seeking Alpha). I have no business relationship with any company whose stock is mentioned in this article.