In this article, I take a look at Starbucks Corporation (NASDAQ:SBUX), a specialty eatery. We'll examine the industry, valuations, the financial performance and position to determine what investors should do with the common equity shares of Starbucks.
Industry
Starbucks operates in the specialty eatery industry. Its competitors in the industry are Panera Bread Co. (NASDAQ:PNRA) and Caribou Coffee Company, Inc. (NASDAQ:CBOU). I would add McDonald's to the list, although, McDonald's doesn't compete directly in the specialty eatery category. Starbucks is in the service sector. Its principal business activity is selling coffee through its stores. Starbucks also sells other beverages and food.
In terms of business cycle sensitivity, Starbucks is non-cyclical. The specialty eatery or restaurant industry in the U.S. is in the mature life-cycle stage: In the China/ Asia Pacific region, the market is in the growth stage.
In terms of strategic analysis, Starbucks coffee is a premium brand and it faces the threat of substitute products from discount brands such as McDonald's and Dunkin' Donuts coffee. The customers of Starbucks don't have much, if any, bargaining power. Starbucks' suppliers do have bargaining power: Starbucks relies on high quality coffee beans that are limited. There is always the threat of new entrants into the restaurant industry and the specialty eatery industry could become increasingly competitive.
Starbucks benefits from the increasing use of technology. There are social influences that help drive increasing revenue. The restaurants are trendy and they serve as excellent locations to socialize, while drinking a high quality cup of coffee, and conducting financial and technical analysis.
Rating System
Buy - Be long
Neutral - No position
Sell - Be short
(The rating, research and analysis in this article should be considered as starting point for further research.)
Starbucks - Buy
Investment Thesis
The valuation of Starbucks has declined substantially. The financial performance and position of the firm remain excellent. As such, investors should wait for the share price to form a bottom and accumulate shares of Starbucks. Starbucks could trade at 3.5-4.0 times sales from roughly 2.75 times sales.
Enterprise Operations
Total current assets increased 20.4 percent to $4.57 billion in the second quarter of this year compared to the third quarter of 2011. Almost every category increased. The exception was a decrease in deferred income tax. Total assets increased 12.9 percent to $8.03 billion. Almost every non-current asset account increased. Total current liabilities declined 2.8 percent to $2.02 billion. The current ratio increased from 1.83 to 2.26. Total liabilities decreased slightly. The financial leverage ratio went from 1.68 to 1.54.
Total revenue in the second quarter, compared to the year-ago quarter, increased 12.7 percent to $3.3 billion. Total operating expenses increased 11.2 percent to $2.86 billion. Operating income increased 22.2 percent to $491 million. Operating margin went from 13.7 percent to 14.9 percent. Net income increased 19.3 percent to $333 million. The profit margin went from 9.5 percent to 10.1 percent. The cash dividend increased 30.7 percent.
In the second quarter of 2012, earnings were high quality. Cash from operations was enough to cover cash used in investing activities. Cash from operating activities was roughly unchanged compared to the year-ago quarter. Net income increased compared to the year-ago quarter and the flat operating cash flow suggests the firm's cash performance was poor. The firm was able to cover its financing activities with cash from operations, however, Starbucks issued shares of common stock. The cash balance at the end of the period was $1.5 billion.
The financial performance was excellent. The financial position is strong. That said, cash flow management could have been better during the period. I would have liked to have seen growth in cash flow from operations, but the cash was used to pay outstanding accounts - which is good.
Legal Proceedings
Starbucks could owe Kraft roughly $3B pending the outcome of arbitration.
Operating Segments
Revenue grew in all operating segments. The EMEA, China/ Asia Pacific, and channel development segments had strong revenue growth. Operating income increased in all the segments, except the EMEA segment.
Company v. Industry
Return on Assets: 17.96 v. 4.91
Return on Investment: 24.02 v. 6.36
Return on Equity: 28.46 v. 11.81
(The company versus industry data is courtesy of Reuters.)
Click to enlarge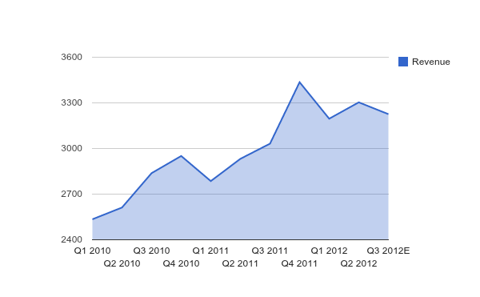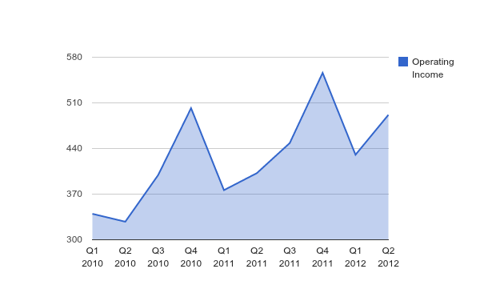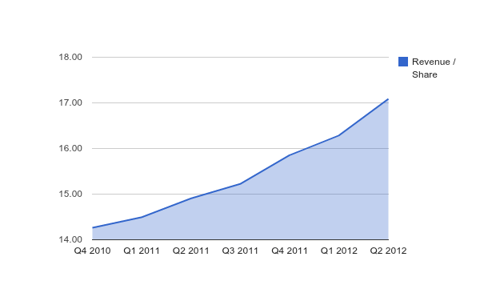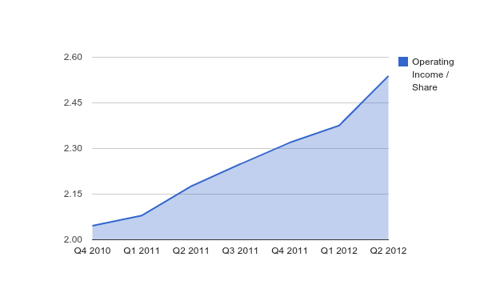 Starbucks' revenue and operating income are trending higher. I consider that bullish for the share price of Starbucks. Shares outstanding are declining and investors are getting more revenue and operating income per share.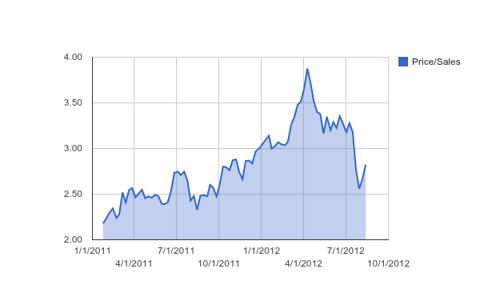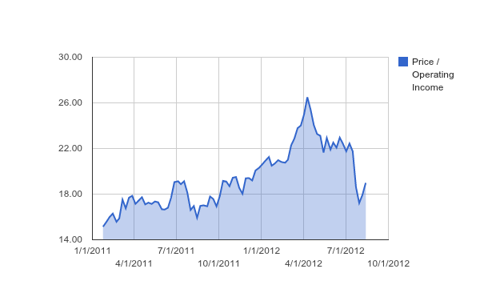 Starbucks' valuation metrics have declined substantially recently. The valuation metrics can be interpreted as suggesting Starbucks is undervalued relative to its recent valuations. I would accumulate shares of Starbucks while the price-sales ratio is below three.

Disclosure: I have no positions in any stocks mentioned, and no plans to initiate any positions within the next 72 hours. I wrote this article myself, and it expresses my own opinions. I am not receiving compensation for it (other than from Seeking Alpha). I have no business relationship with any company whose stock is mentioned in this article.
Disclaimer: This article is not meant to establish or continue an investment advisory relationship. Before investing, readers should consult their financial advisor. Christopher Grosvenor does not know your financial situation and ability to bear risk and thus his opinions may not be suitable for all investors.