Yesterday, Savient Pharmaceuticals (OTC:SVNT) broke its three-month high on twice the average trading volume, and it looks like it's going further.
The following is a six-month chart of SVNT's price movements.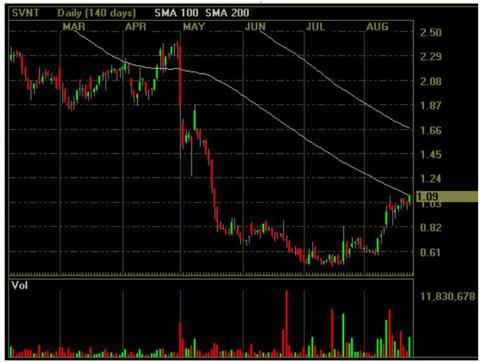 The stock ended on a high note yesterday, up 8% to $1.09. This is connected right on the 100-day Standard Moving Average (SMA). My technical analysis trader friend told me:
"SVNT has consolidated a 96% gain since its August 8th earnings release. The stock has formed a bullish ascending triangle. SVNT is now testing the upper portion of that triangle and a break of the triangle would coincide with a break above the 100dma. A move above $1.10 will cause new buyers to enter the market, and short sellers scrambling for the exits. Currently, there are 25.9M shares short of SVNT, plenty of fuel to send SVNT shares higher."
Fundamentals also justify the stock's great run. After a favorable earnings report on August 8, the stock has been on an upside tear ever since.
Savient's drug to treat Refractory Chronic Gout (RCG), KRYSTEXXA, achieved $4 million in sales, which was a 30% increase in the $3.1 million in sales from the previous quarter. This growth proves that the drug has been very successful in treating RCG patients. Earlier this year, there was a fear that some physicians might not prescribe Krystexxa because of adverse side effects. However, the company has found a way to only recommend the drug to patients who likely won't have those side effects. In the Q2 2012 conference call, Savient's CEO, Louis Ferrari, said:
"if you even look at our label or if you even look at the phase III trial, you find that approximately half of those patients, let's say if they have a serum uric acid that's been over six in the second consecutive blood test if you will, then that patient we recommend not go on KRYSTEXXA and we have actually found that with those guidelines implemented that the safety of the product is performing very well."
Savient is now executing an aggressive marketing campaign for Krystexxa, educating physicians about the drug's positive effects and increasing awareness.
An upcoming catalyst for Savient, is the Committee for Medicinal Products for Human Use (CHMP) is meeting next month for possible European Union approval for Krystexxa. Approval is expected for Krystexxa in the EU, as there is no currently approved therapy for RCG there. Savient demonstrated good results at the European Union League Against Rheumatism this past June in Berlin.
Louis Ferrari also said in the conference call:
"Right now while you can never predict what these regulatory agencies will or will not do or how quickly they do them, I think that right now we have no reason to think that we won't see an approval by the end of 2012 (in the EU)."
In July, Mr. Ferrari replaced the previous CEO, and started an extensive restructuring plan that's expected to generate approximately $56 million in annual operating expense savings by 2013. With enough cash to last at least two more years, the company is on track to possibly be cash flow positive by 2014. And that's not even sacrificing its current trials for getting Krystexxa to be used for other afflictions, like kidney failure.
The following table is taken from Smith On Stocks' Krystexxa revenue prediction from his article in December, 2011.
Worldwide Revenue Model for Krystexxa
2011
2012
2013
2014
2015
Number of patients with refractory gout
50,000
52,000
54,080
56,243
58,493
% who are prescribed Kyrstexxa
0.5%
2.0%
4.0%
8.0%
12.0%
Number of new patients who are prescribed Krystexxa
260
1,040
2,163
4,499
7,019
% who don't respond to Kyrstexxa
58.0%
58.0%
58.0%
58.0%
58.0%
Non-responders who stop therapy at two months
151
603
1,255
2,610
4,071
Patients who remain on therapy for nine months
109
437
909
1,890
2,948
Number of infusions of non-responders
603
2,413
5,019
10,439
16,284
Number of infusions for responders
1,966
7,862
16,354
34,016
53,065
Total infusions
2,569
10,275
21,372
44,455
69,349
Price of each infusion
$2,300
$2,300
$2,300
$2,300
$2,300
U.S. revenues (millions)
$5.9
$23.6
$49.2
$102.2
$159.5
European revenues (millions)
$0.0
$0.0
$5.9
$23.6
$49.2
Worldwide revenues (millions)
$5.9
$23.6
$55.1
$125.9
$208.7
While Smith's logic was sound, actual revenues realistically should be about 75% of these predictions. The company expects sales growth to continue growing at about 30% per quarter in the United States. Being conservative, let's say sales growth is 20% per quarter. That puts 2012 revenues at $18.3 million, 2013 revenues at $41 million, and 2014 revenues at $94.5 million. Even if revenues were $60 million in 2014, that would make the company profitable and cash flow positive.
In the end, will Savient survive the weight of its debt load? Could it be a buyout candidate? Those are both good questions. However, the fact is many investors right now are very optimistic about Savient's future. And that optimism could take the stock price up another 50% or more by the end of the year.
Disclosure: I am long OTC:SVNT. I wrote this article myself, and it expresses my own opinions. I am not receiving compensation for it (other than from Seeking Alpha). I have no business relationship with any company whose stock is mentioned in this article.