Shares of Swiss banking giant UBS AG (NYSE:UBS) jumped more than 5% on Tuesday morning as rumors resurfaced that it may be the subject of an $80-billion takeover. The stock had fallen to its lowest level since 1998 on Monday.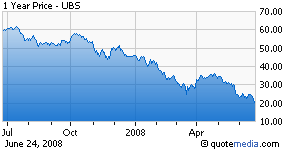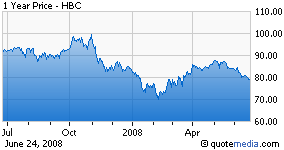 Reports said traders in Zurich suggested the cheap share price and rumors that British bank HSBC Holdings (HBC) may be eying its rival sparked the buying.
UBS is considered Europe's biggest victim of the credit crunch, having reported $37-billion in write-downs and a $11.5-billion first quarter loss.
On Tuesday, UBS announced it was buying VermogensGroep, a Dutch wealth manager that focuses on ultra-high net-worth clients.