According to SNL Financial, US equity REITs have raised $35.27 billion so far this year (through August 10th). That is $3.82 billion more than the $31.42 billion raised in the same period in 2011. Common equity deals were the highest of the type of capital raised, at $14.72 billion. Senior debt followed at $13.53 billion and preferred equity brought up the rear at $7.02 billion. For the same period in 2011, those figures were, respectively, $17.93 billion, $10.30 billion and $3.19 billion.
Health Care REIT (NYSE:HR) completed the largest common stock offering this year (on August 7), totaling $810.8 million. Kilroy Realty (NYSE:KRC) holds the second place in common equity raises during the period with a $230.5 million offering. Another notable common equity offering was by Taubman Centers (NYSE:TCO), at $218.5 million.
SL Green Realty (NYSE:SLG) completed the largest preferred offering (6.5 % Series I) between July 28 and August 10, raising $230 million on August 7, SNL said. Taubman Centers raised the second-largest preferred equity offering (6.5% Series J) at $175 million, raised August 3. Investors Real Estate Trust (NASDAQ:IRET) completed a preferred offering (7.950% Series B) totaling $115 million at the end of July. Hospitality Properties Trust (NYSE:HPT) raised $500 million on August 9 via a senior debt offering. Host Hotels & Resorts (NYSE:HST) clocked in at second in this category, with $450 million raised August 2. The day before, Entertainment Properties Trust (NYSE:EPR) completed a senior debt offering totaling $350 million.
SNL Financial also broke down the data by sector, noting that health care REITs raised the most capital during the time period studied, with $7.7 billion. Retail followed at $7.61 billion.
images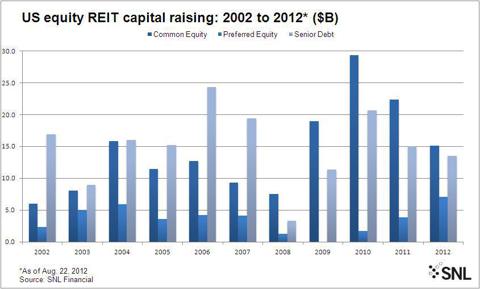 Think Outside the Box by Investing in Preferred REIT Shares
REITs are taking advantage of the strong investor demand as 2012 already ranks as the most active year for preferred stock issuance since 2004 when REITs issued over $6.1 billion. Accordingly, this increase in demand for preferred stock is so strong that REITs have been able to issue shares at all time lows. REIT sponsors realize that they may never be able to issue preferred shares this cheap again.
Regency Centers (NYSE:REG) recently raised around $75 million from a public offering of perpetual 6.0 percent (Series 7) cumulative redeemable preferred shares. And Public Storage (NYSE:PSA) issued $287.5 million in preferred stock prices at 5.6 percent (Series U).
Historically, preferred stocks have offered yields that range from 6.3 percent to 9 percent with an average yield spread over 10-year Treasuries of 480 basis points. However, the yields on recent issuances have compressed the yield spread and preferred rates now range from 5.6 to 6.5 percent - still more appealing than today's low yielding bond instruments.
Prior to 1997, there was a limited amount of REITs that issued preferred stock and today there are more than 50 REITs that do so. Generally REITs issue around 10 percent in preferred stock as this is an attractive alternative to traditional debt, and the decision to issue this type of stock is viewed as a form of permanent debt for their companies.
Preferred Shares Provide a Low-Risk Value Proposition
Most investors view preferred stock as bond alternatives because the preferred stock is a low-risk investment proposition that offers a higher yield than bonds. Not only do REIT preferred dividend yields generally exceed the dividend yield on the common stock, they are fixed and do not fluctuate with REIT earnings.
However, this can be a double-edged sword if a REIT's taxable income increases and it decides to increase its common dividend payments since preferred stock investors are unable to share in the upside. Importantly, dividends for preferred stock are perpetual-they also accumulate and accrue over time. If a REIT cuts or suspends its dividend, they continue to accrue for preferred shares, and the REIT will have to make good on the unpaid dividends.
Moreover, preferred stockholders receive their dividend before common stock investors receive any payment. In practical terms, this means that if a REIT finds it challenging to continue to pay interest on its bonds and dividends for its shareholders, the amount of money that is available to meet financial obligations is paid first to bondholders, then preferred stockholders and finally common stockholders.
Preferred stock investors are exposed to some reinvestment risk since REITs can redeem preferred stock. Most REIT preferred stocks are callable in whole or in part by the issuer five years after issue and anytime thereafter.
Many investors have implemented a blended strategy-buying both REIT common stock and preferred stock. This strategy allows investors to take advantage of any dividend growth and stock appreciation from common stock, while enjoying higher dividend yields from preferred stock.
For more information on REIT preferred shares consider reading Michael Terry's articles: Regency Centers: The REIT Refi-O-Rama Continues, Kimco Joins The Preferred Stock Parade, (NYSE:KIM), and Public Storage - Preferred Stock Revolving Door.
Source: Data and Graph from SNL Financial
Here is a snapshot of preferred transactions year-to-date: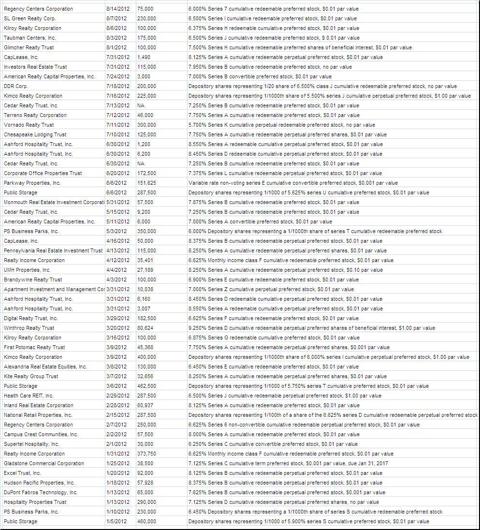 Disclosure: I have no positions in any stocks mentioned, and no plans to initiate any positions within the next 72 hours. I wrote this article myself, and it expresses my own opinions. I am not receiving compensation for it (other than from Seeking Alpha). I have no business relationship with any company whose stock is mentioned in this article.