If endless bad jobs reports and negative news from Europe, a prominent investor predicting a 100% chance of recession in 2013, and the CBO predicting doom if Congress doesn't extend the Bush tax cuts and agree on spending cuts wasn't enough to convince you that this economic depression will continue for the foreseen future, perhaps the addition of this chart will do the trick.
Charting the DOW/Gold ratio from 1920 to present, we see a nice correlation with economic performance, with peaks correlating with boom times and troughs correlating with times of stagnation, recession, and depression. According to the chart, the DOW/Gold ratio is headed to 1:1, meaning we should expect economic malaise for some time. Indeed, the student loan bubble will eventually burst, and some economists are expecting that crisis to be worse than the mortgage crisis. Happy times are here to stay.
Oh, and one more thing: The chart also suggests the stock market will lose nearly 75% of its value.
image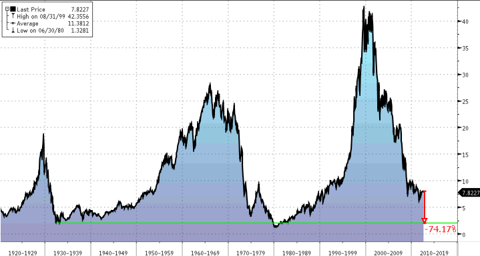 Disclosure: I have no positions in any stocks mentioned, and no plans to initiate any positions within the next 72 hours. I wrote this article myself, and it expresses my own opinions. I am not receiving compensation for it (other than from Seeking Alpha). I have no business relationship with any company whose stock is mentioned in this article.