Catalyst run-up trades in the bio pharma sector can provide big profits if traded correctly. Some traders and investors who enjoy bringing more risk into play often times will hold through the catalyst event. While this does bring a lot more risk into play, the reward from engaging in this can be a massive one.
The bio-pharma company listed below has a strong near-term catalyst event associated with it in my opinion::
Catalyst Pharmaceutical Partners (NASDAQ:CPRX). Pps: $1.72, Market cap:46.18M.
Catalyst is a biopharmaceutical company focused on the de­vel­opment and commercialization of prescription drugs to fight addictions, as well as treat diseases of the central nervous system such as epilepsy.
Catalyst is de­vel­op­ing vigabatrin (des­ig­nated CPP-109 by Catalyst) for the treatment of cocaine addiction, meth­am­phet­a­mine, and other addictive substances. The FDA has designated cocaine addiction a serious life-threatening condition for which there is no cur­rent drug treatment. As pressure continues to mount to find effective treatments, government agencies have begun putting significant resources into the effort. The National Institute on Drug Abuse and The Department of Veteran Affairs Cooperative Studies Program have been so impressed with the promise of CPP-109 for cocaine addiction that they paid for most of the recently concluded Phase II B clinical trial, and have committed 11mm to the research.
Catalyst trade for Catalyst pharma: Phase II trial results to be released in September for CPP-109.
Catalyst Chief Executive Officer, Patrick J. McEnany, recently announced
We are pleased that we will be able to report the top-line results of our CPP-109 Phase II clinical trial sooner than expected. We are committed to bringing safe and effective breakthrough products for the treatment of cocaine addiction to the market as quickly as possible, and the earlier reporting of these data is consistent with that philosophy.
Top line results are expected in late September 2012. Because of CPP-109's fast track status, if the results of the trial are deemed compelling enough, the FDA may allow an NDA filing on the basis of the Phase II trial and previous studies of vigabatrin .
The possible market for CPP-109 is impressive. The following graph taken from the Catalyst website, focuses solely on the market for treating Cocaine/Methamphetamines addiction and reveals a $600 million market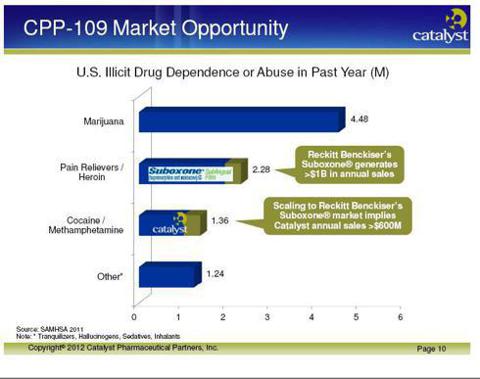 Without any competitors for market share, a well-executed distribution plan should take a sizeable chunk of that market. The long term goals of the company seem to be considerably more ambitious, however. Catalyst is also de­vel­op­ing a more potent form of vigabatrin (des­ig­nated CPP-115 by Catalyst). CPP-115 is part of a group of novel GABA aminotransferase inhibitors and derivatives of vi­ga­ba­trin discovered by Northwestern University. It has been shown to be at least 200 times more potent than CPP-109 in both in vitro and animal model studies. The increased potency could enable the development of superior and/or alternative dosage forms for routes of administration. Catalyst hopes that these important benefits will allow it to develop not only next-generation addiction products, but a broad range of other central nervous system therapies, beginning with epilepsy and pain management. The head of the development team of scientists at Northwestern that discovered the group of compounds Catalyst is developing as CPP-115 is Dr. Richard B. Silverman. He is also the inventor of Pfizer's (PFE) pregabalin (Lyrica®), which in 2009 had $3 billion in sales.
Pregabalin is an anticonvulsant drug used for neuropathic pain and as an adjunct therapy for partial seizures with or without secondary generalization in adults. It has also been found effective for generalized anxiety disorder and was approved for this use in the European Union. Dr. Silverman designed the drug as a more potent successor to gabapentin.
The Broad Market Applicability of CPP-109 and CPP-115 is pretty far ranging in scope, and it's difficult to project out the possibilities for a drug that could prove effective for even half of these indications:
CPP-109 and CPP-115
Addictions
Obsessive-Compulsive Disorders
Nicotine
Eating Disorders
Alcohol
Gambling
Cocaine
Other OCDs
Methamphetamines
Opiates/Prescription Pain Killers
CPP-115
Epilepsy
Other Central Nervous System Disorders
Pain Management
Infantile Spasms
Post-Traumatic Stress Disorder
Reduction of Opiate
Addiction Liability
Complex Partial Seizures
Migraine
Other Myoclonic Epilepsies
Restless Leg Syndrome
Broad Potential Applicability
Of course, getting the drug to market is the focus right now, assuming compelling results for CPP-109 are announced in September -- significant challenges remain to make this happen.
According to the most recent 10Q, Catalyst management estimates that it has sufficient working capital to support its operations through the first quarter of 2014. Cash is always a concern, but the company's management has been pretty responsible up to this point. Dilution has been held in check, and Catalyst carries zero debt. Outstanding shares are 30.74M and the float is 23.32M. A quick look at the insider buying table reveals a number of recent insider buys.
*Insider Transactions
| | | | | | |
| --- | --- | --- | --- | --- | --- |
| Date | Insider | Shares | Type | Transaction | Value* |
| Jul 2, 2012 | MILLER STEVE Officer | 40,000 | Direct | Purchase at $0.55 per share. | 22,000 |
| Jul 2, 2012 | GRANDE ALICIA Officer | 20,000 | Direct | Purchase at $0.54 - $0.55 per share. | 11,0002 |
| Jul 2, 2012 | MCENANY PATRICK J Officer | 700 | Direct | Purchase at $0.54 per share. | 378 |
| Jul 1, 2012 | MCENANY PATRICK JOfficer | 30,500 | Direct | Purchase at $0.54 per share. | 16,470 |
| May 31, 2012 | O'KEEFFE CHARLES B Director | 20,000 | Direct | Purchase at $0.57 per share. | 11,399 |
| May 29, 2012 | GRANDE ALICIA Officer | 17,300 | Direct | Purchase at $0.57 per share. | 9,861 |
| May 29, 2012 | MCENANY PATRICK J Officer | 10,000 | Direct | Purchase at $0.58 per share. | 5,800 |
| May 28, 2012 | TIERNEY DAVID S Director | 20,000 | Direct | Purchase at $0.58 per share. | 11,600 |
| May 28, 2012 | WALLACE MILTON J Director | 11,100 | Direct | Purchase at $0.57 per share. | 6,326 |
| May 23, 2012 | WINSHIP M DOUGLAS Officer | 12,500 | Direct | Purchase at $0.80 per share. | 10,000 |
| May 23, 2012 | O'KEEFFE CHARLES B Director | 31,250 | Direct | Purchase at $0.80 per share. | 25,000 |
| May 23, 2012 | WALLACE MILTON J Director | 125,000 | Direct | Purchase at $0.80 per share. | 100,000 |
| May 23, 2012 | HUCKEL HUBERT E MD Director | 125,000 | Indirect | Purchase at $0.80 per share. | 100,000 |
| May 23, 2012 | MCENANY PATRICK J Officer | 31,250 | Direct | Purchase at $0.80 per share. | 25,000 |
| Feb 13, 2012 | MCENANY PATRICK J Officer | 25,000 | Direct | Purchase at $1.10 - $1.15 per share. | 28,0002 |
The insider buying table above reveals a number of recent insider buys. Insider buying on the open market is always a good sign, and may offer a bit of insight into the upcoming Phase II results.
In my opinion, a partner should be courted in order to effectively scale out the cocaine addiction drug. Finding a willing partner should not prove to be a difficult task in today's biotechnology M&A climate. M&A activity is up 150% in 2012 over last year. As major pharmaceuticals scramble to replace expiring patents and fill their pipelines. Catalyst Pharmaceutical Partners may find itself in an enviable position when the big boys come calling because of the following factors:
Fast & Treat earmarked drug in CPP-109 with blockbuster potential.
Backing of The National Institute on Drug Abuse and The Department of Veteran Affairs.
The next generation of vigabatrin,CPP-115, already building scientific excitement in Phase I clinical trials
Another factor that cannot be overlooked is the significant short interest.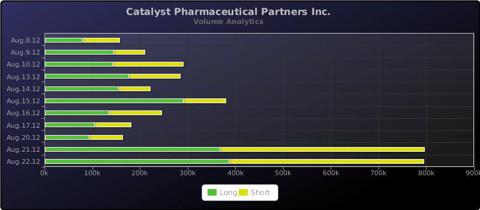 As we can see from above, the short interest has reached large proportions. A continued move higher will almost certainly set off a short squeeze. This move could be amplified by the relatively low float of 30.74 million shares, which would send shorts scrambling to cover.
Catalyst has been enjoying a nice run recently. The stock boasts a 1 year return of 22.88% and is trading up 228% off its low of $0.50. The 52 week high of $1.90 is within shouting distance. Is there still room for Catalyst to reach new levels? An assortment of factors would seem to indicate the run may continue higher, maybe much higher:
A possible blockbuster drug addressing an unmet medical and societal need.
Insider buying and positive signals leading up to the September announcement of Phase II results.
A robust M&A climate in the biotechnology sector.
It's my opinion that a market capitalization of $46.18M is not representative of Catalyst Pharmaceutical Partners' potential. A market cap of $110M is more appropriate in my opinion. I expect to see the share price push into the $3.00-$4.00 range leading up to the September announcement.
Positive phase II results from small cap biopharmas often times translate into higher stock prices from run-up catalyst trading and actual clinical data results.
Threshold Pharmaceuticals (THLD) stock price ran up from $1.18 to $9.07 before announcing positive phase II data for its drug TH-302. The data showed a statistically significant progression free survival benefit in its 214-patient randomized controlled clinical trial ("404 trial") evaluating the efficacy and safety of two doses of TH-302, a hypoxia-targeted drug, in combination with gemcitabine compared to gemcitabine alone in patients with first-line advanced pancreatic cancer. The company also received a $20 million milestone payment from Merck (MRK).
Vertex Pharmaceuticals (VRTX) gapped up from $37.41 to $58.12 when the company announced in May of this year an interim analysis of data from an ongoing Phase 2 study of VX-809 and KALYDECO (ivacaftor). The data showed significant improvements in lung function among adults with cystic fibrosis who have two copies (homozygous) of the most common mutation in the cystic fibrosis transmembrane conductance regulator (CFTR) gene, F508del.
Sarepta Therapeutics (SRPT) stock soared 140% from a prior session's close of $3.46 to $8.52 on July 24th of this year after the company released positive Phase IIb clinical results for its drug candidate eteplirsen. The drug is being tested to see if can slow the progression of Duchenne muscular dystrophy. Duchenne muscular dystrophy is a genetic disease that causes increasing muscle weakness. It is caused by a lack of the protein dystrophin, and it affects only boys. The National Institutes of Health say patients typically die before the age of 25 and the condition occurs in about 1 out of every 3,600 male infants. Patients in the trial were between the ages of 7 and 13.
Catalyst Pharmaceuticals might see a similar stock rally to what these other companies enjoyed, and may be well on the way to a stronger position in its respective market if it can demonstrate the positive results I expect.
*Data provided by EDGAR Online
Disclosure: I have no positions in any stocks mentioned, and no plans to initiate any positions within the next 72 hours. I wrote this article myself, and it expresses my own opinions. I am not receiving compensation for it (other than from Seeking Alpha). I have no business relationship with any company whose stock is mentioned in this article.
Additional disclosure: Family member is long CPRX. Disclaimer: This article is intended for informational and entertainment use only, and should not be construed as professional investment advice. They are my opinions only. Trading stocks is risky -- always be sure to know and understand your risk tolerance. You can incur substantial financial losses in any trade or investment. Always do your own due diligence before buying and selling any stock, and/or consult with a licensed financial adviser.