On August 24, I posted an article regarding the Japanese energy policy and how there is growing pressure to structurally shift away from nuclear power as a primary energy source that could have dramatic implications across the energy markets, with particular emphasis on liquefied natural gas. The gist of my argument was that LNG will be increasingly exported to Japan to be used by utility companies in lieu of nuclear power capacity. I also argued that LNG shipping companies are a potentially safer way to place a constructive bet on the growing LNG market relative to LNG production plays.
Since that time, Golar LNG Limited (NASDAQ:GLNG) has posted its Q2 earnings update in which it noted that:
"Far East demand, particularly in Japan, increased during the quarter which created competition with the counter seasonal markets in the Middle East and South America pushing up LNG prices."
The company went on to note how this strength manifested itself in the LNG shipping market and it provided its outlook for the LNG shipping market going forwad:
"The market tightened during the second quarter as a result of stronger Far East demand for LNG and increasing availability of cargoes both in the Atlantic and Pacific basins. Charter rates experienced upward pressure due to a lack of vessel availability. Increasing LNG production and increasing tonne/mile ratios as well as fleet renewals will continue to drive demand for medium and long-term charters. Shorter-term tightness in the market is expected to remain through 2012-13." As a consequence of tighter market conditions in the short term "Time Charter Equivalent ("TCE") rate for the second quarter at $97,118 per day compared to $90,464 for the first quarter."
I would argue that data points like the ones provided by Golar LNG are exactly what investors should expect to see as validation that:
(1) The LNG market continues to grow,
(2) LNG shipping companies will continue to participate and prosper in the bustling LNG market, and
(3) Japan represents a particularly strong export market for LNG - which stands to become an even stronger market for LNG if there is in fact a structural shift in Japan's energy policy.
According to the analysts offering 12-month price forecasts, which the Financial Times was kind enough to aggregate on its website, there is quite a bit of upside vs. downside for the GLNG stock over the next 12 months. In fact, the lowest analyst price forecast for GLNG is a mere 4% lower than the current market price of $39/share - whereas the potential upside, using the median price forecast of $47.50, is nearly 22% higher than the current market price.
Click to enlarge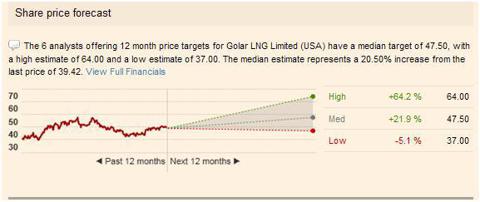 In addition to the potential upside price appreciation, GLNG pays a relatively nice dividend that was just raised to 40 cents/share or a 4% yield - which compares favorably to 10-year treasury yields.
All in all, I believe the data continues to paint a favorable backdrop for the LNG market and particularly for the LNG shipping market - and unless the data changes, there is no reason to change course.
Disclosure: I am long GLNG. I wrote this article myself, and it expresses my own opinions. I am not receiving compensation for it (other than from Seeking Alpha). I have no business relationship with any company whose stock is mentioned in this article.